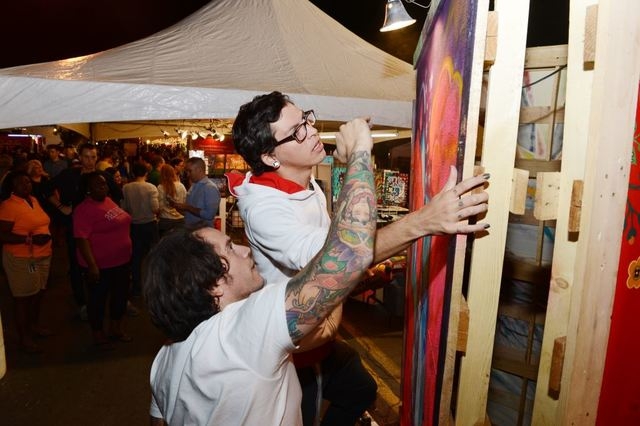 STEM CAREERS PROGRAM PLANNED FOR HIGH SCHOOL STUDENTS
The Nevada System of Higher Education plans to host a free STEM Careers Investigation Program at 4:30 p.m. Thursdays Oct. 16 through Nov. 20 to introduce high school students to the possibility of pursuing career in science, technology, engineering and math.
The sessions will be about 90 minutes and are scheduled at the Bennett Development Center on the north side of the UNLV campus, 4505 S. Maryland Parkway. An expert in the field from each STEM area will present each week. Some of the speakers invited include safe drinking water specialists from the Nevada Division of Environmental Protection; a representative from NV Energy; a civil engineer who works in data visualization; a soil scientist; and software developers/game designers from Petroglyph games.
Students who sign up must plan to attend all six courses. Students can sign up by emailing vallett@unlv.nevada.edu or calling 702-895-4756.
PARENT/CHILD LITERACY CLASSES SCHEDULED THROUGH OCTOBER
The University of Nevada Cooperative Extension is offering a parent/child interactive literacy series at the Whitney Ranch Recreation Center, 1575 Galleria Drive, this fall. The Family Storyteller program is a six-week program aimed at encouraging and training parents to play a vital role in the early literacy development of their children. The class is set to meet from 12:30 to 1:30 p.m. Tuesday. Parents and their children will participate in reading and language activities together. Session II is scheduled for Oct. 28 through Dec. 2.
To register, visit the information desk at the center or cityofhenderson.com/parks, or call 702-267-5850.
ADELSON EDUCATIONAL CAMPUS TO HOST GALA NOV. 22
The Adelson Educational Campus, 9700 Hillpointe Road, plans to to honor activist, writer and politician Ayaan Hirsi Ali at the 11th annual In Pursuit of Excellence Gala, scheduled for 6 p.m. Nov. 22 at The Venetian. Hirsi Ali will be honored with the campus' highest recognition, the In Pursuit of Excellence Award, for her support of human rights and access to education for all people. She is the founder of the AHA Foundation, which works to protect and defend the rights of women and girls in the United States from harmful traditional religious and cultural practices such as honor violence, forced marriage and female genital mutilation.
Tickets are $250 or $125 for university students, educators, military personnel, retirees, nonprofit employees and Adelson Educational Campus parents. Corporate sponsorships and tables are available. Proceeds will benefit the school's scholarship program to provide funds for students in need.
To purchase tickets or make a donation, visit adelsoncampus.org or call Davida Sims, director of development, at 702-515-8203.
GRIMALDI'S PIZZERIA SPONSORING ESSAY CONTEST FOR KIDS
Grimaldi's Pizzeria has partnered with the Clark County School District School-Community Partnership Program to host a Perfect Pizza Art and Essay Contest for all elementary and middle school students.
Students are encouraged to express in a one-page essay their vision of the perfect pizza along with a picture of what that pizza would look like. The school with the most entries will receive a $1,000 donation from Grimaldi's. Three winning students and their teachers will be selected to receive the following prizes: first place, $250 cash prize and pizza party for entire class; second place, $100 Grimaldi's gift card; third place, $50 Grimaldi's gift card. Every student who enters will receive a $5 Grimaldi's gift card.
The deadline is Oct. 30. All entries must be mailed or hand-submitted to the attention of Cheryl Wagner at the School-Community Partnership Program, No. 145, Western High School, 4601 W. Bonanza Road, Las Vegas, NV 89107.
NEVADA RECYCLES PLANS RECYCLED ART CONTEST
The Nevada Recycles program has partnered with Las Vegas Sands Corp. to support a statewide recycled art contest to increase Nevadans' awareness and interest in recycling.
Entrants must be Nevada residents, and projects must be composed of used recyclable materials. In addition to a $200 prize to the first-place class project, Las Vegas Sands Corp. will provide first-, second- and third-place winners (who will receive $250, $100 and $50, respectively) prizes in four categories: kindergarten through fifth grade, grades six through eight, grades nine through 12, and adult.
Materials that can be used include, but are not limited to, tires, electronics, appliances, plastic bags, bottles, batteries and aluminum cans. Fastening materials may include tape, glue and/or string.
The entry form and photos of artwork are due by Oct. 31. Winners are to be announced before America Recycles Day on Nov. 15. For more information, visit nevadarecycles.nv.gov.
YES! PARTNERS WITH SCHOOL DISTRICT FOR THINK CLEAN CONTEST
Yes! Air Conditioning & Plumbing is partnering with the Clark County School District-Community Partnership Program to raise water conservation awareness in schools through the Think Clean contest.
The contest encourages students in kindergarten through 12th grade to submit their best creative ideas on how to conserve water in the form of essays, drawings and models, showcasing what the impact would be on the community. Two winners will be selected in each category and rewarded with cash prizes. The first-place winners from the high school level will receive $250, the second-place winners from middle school $150, and the elementary school winners will receive third place and $100. In addition, Yes! will donate $100 to each of the winners' schools.
Submissions will be accepted Oct. 13 through Nov. 14. All entries must include a thorough explanation of the idea, the potential impact of the idea on the economy and community and how the idea can be implemented throughout the community. Projects must be submitted via email to toyesthinkclean@boltpr.com or mailed to Yes! Think Clean, 9731 Irvine Center Drive, Irvine, CA 92618.
For more information, email yesthinkclean@boltpr.com or visit ccsd.net.
DISCOVERY CHILDREN'S MUSEUM AND SPREAD THE WORD PLAN BOOK DRIVE
The Discovery Children's Museum, 360 Promenade Place, has partnered with nonprofit Spread the Word Nevada to host a book drive through Jan. 4.
The museum will collect new or gently used books targeting a pre-kindergarten to eighth-grade reading level, to be distributed to children in Southern Nevada. Anyone donating a book will receive $2 off museum admission.
The book drive is being held in conjunction with the literacy-based traveling exhibit "Storyland: A Trip Through Childhood Favorites," which features seven beloved children's books. It will be at the museum through Jan. 4.
For more information, visit discoverykidslv.org. For more information on Spread the Word Nevada, visit spreadthewordnevada.org.
STUDENTS INVITED TO ENTER LEIF ERIKSON DRAWING CONTEST
Children in grades one through five are invited to enter the Leif Erikson drawing competition sponsored by the Vegas Viking Lodge of the Sons of Norway. Drawings should depict the Viking Leif Erikson and his men traveling to America. The four key traits of Erikson and his men should be incorporated: imagination, vision, collaboration and fearlessness. Leif Erikson Day was Oct. 9.
Drawings must be submitted on 11-inch by 8½-inch or 11-inch by 17-inch paper using any medium. The winning students in each grade will receive Target gift cards valued at $100, $50 and $25 for first, second and third place, respectively.
Entries must be postmarked by Dec. 15 and mailed to the attention of Christian Schoyen, Leif Erikson drawing competition, 1930 Village Center Circle, No. 3-211, Las Vegas, NV 89134. All entries must include the child's name, address, grade, home phone number and school.
UNITED WAY GRANTS TO HELP PROVIDE EARLY CHILDHOOD SCHOLARSHIPS
United Way of Southern Nevada was awarded a $1 million grant to provide children 5 or younger with an opportunity to attend high-quality preschool programs. Windsong Trust, a private foundation for children's education, funded the grant that will provide 250 full-time scholarships for one full year, as well as teacher training and professional development for 135 teachers. This is the fourth year that United Way has received the grant.
Licensed centers interested in partnering with the United Way should call 702-892-2309. Scholarships are available. Interested applicants may apply at uwsn.org/taps.
For more information, contact Angela Rose, director of community development, at 702-892-2324 or angelar@uwsn.org.