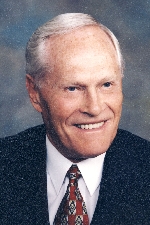 He was a father to his two kids and a "father figure" to Karen Phillips.
Phillips opened Clifford J. Lawrence Junior High School, 4410 S. Juliano Road, in 1999 as its inaugural principal. That father figure was the school's namesake.
"He was my mentor and very much like a father to me after mine passed away," Phillips said of Lawrence. "Whatever I would do, before I did it, I would run it past him. It was wonderful to have him be a part of the school."
And Lawrence knew a thing or two about running a school. For 22 years he was an educator in the Clark County School District. He started in 1955 as a teacher and worked his way up to principal. Later he was the deputy superintendent of schools for the district before taking over as superintendent for the Carson City School District from 1977 to 1982. He was a member of the Las Vegas Rotary Club and an adviser to the Junior League of Las Vegas. He was also involved with local charities, including the United Way of Southern Nevada. Lawrence was born in Spanish Fork, Utah, in 1926 and served in the Air Force from 1950 to 1954.
Lawrence died on Jan. 31, 2009, of bladder cancer, and his wife, Carolyn, followed in November of the same year from complications related to Alzheimer's disease. They are survived by their son, Gregg Lawrence; a daughter, Terri Manoogian; and several grandchildren.
Manoogian remembered her dad being "excited" on the day the school opened, an event his whole family attended.
"He was just absolutely thrilled that he would be considered for that," she said. "It meant a lot to him to be recognized for his dedication to education and kids."
When Lawrence found out he would be a school's namesake, he preferred that his name be on a southwest-area school near his home on Turnberry Lane in Spanish Trail.
And Lawrence was active in the school, which ended up being about three miles from his home. Phillips said he made contributions to the school's time capsule that was sealed in 2000 and is scheduled to be opened in 2025.
He helped in classrooms and enjoyed interacting with students, Phillips said.
Before the school opened, Lawrence traveled to feeder elementary schools with Phillips to give presentations to students.
"Kids knew he was a real person, not just a name," Phillips said.
His biggest contributions, said Phillips, were "his smile and his support."
"There are times when you're opening a new building, and just to have that smile and that reassurance that, 'Hey, you're doing OK,' was huge," she said.
The school's current principal, Bevelyn Smothers, said the school gives a Clifford J. Lawrence Award to a male and a female student at the end of each year. Gregg Lawrence and Manoogian, who live out of state, participate in the selection of students, and at least one of them attends the end-of-the-year ceremony.
The family also gives out a $1,000 scholarship to one high school senior each year who is a former Lawrence student.
Manoogian said Lawrence's grandchildren select the recipient.
Contact View education reporter Jeff Mosier at jmosier@viewnews.com or 702-224-5524.
Naming Las Vegas
The history behind the naming of various streets, parks, schools, public facilities and other landmarks in the Las Vegas Valley will continue to be explored in a series of feature stories appearing in View editions published on the first Tuesday of every month.
If you're curious about how or why something got its name, post a comment on our Facebook page, facebook.com/viewnewspapers, or email sblust@viewnews.com.
Thanks for reading View.