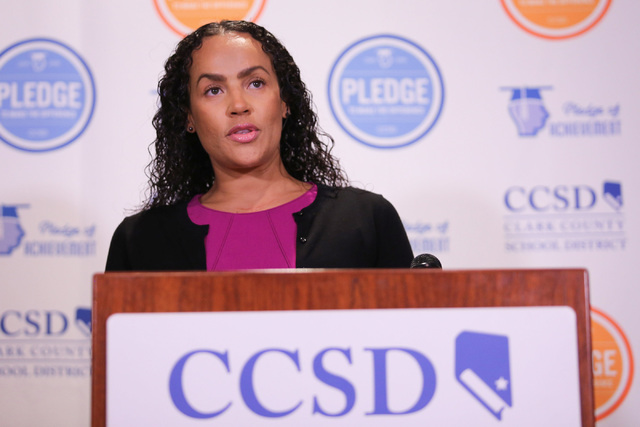 The Clark County School District found elevated lead levels in certain water fixtures at three elementary schools in districtwide testing that began in November, but no contamination was detected in drinking fountains.
The lead testing was conducted as part of a $90,000 grant that paired the district with the Nevada Division of Environmental Protection to test 213 schools built before 1989.
At Dondero Elementary, the water from one kitchen faucet had a lead level as high as 36 parts per billion, well above the 20 parts per billion action level designated by the grant, according to a district spokeswoman Melinda Malone.
That sink was not used for food preparation or consumption, Malone said, and students do not have access to it.
"NDEP's understanding is there was no exposure to children," said environmental division spokeswoman JoAnn Kittrell.
The district notified parents about the finding on Dec. 20. Even though a water fountain that was tested showed acceptable lead levels, officials still brought in water coolers for drinking water out of an abundance of caution.
After authorities replaced the faucet and flushed out the school's water system, the water was retested and no longer showed elevated levels of lead, according to the district.
At Stanford Elementary, another kitchen sink tested at 37 parts per billion. The aerator was cleaned out and the water line was also flushed, after which that sink showed barely detectable lead levels, according to the district.
Indian Springs Elementary, in the unincorporated community of Indian Springs, also had a classroom sink that produced a level as high as 520 parts per billion, although Malone said that sink had not been used for several years. The water line was flushed out, after which no detectable levels of lead were found.
Lead testing under the grant will continue until this September, with spot tests mainly conducted on one kitchen sink and one drinking fountain at each school. The district has tested 15 schools so far.
The grant provides $30,000 for lab expenses and $60,000 for repair parts.
"It's good we're discovering old sinks that need to be replaced," Kittrell said.
Schools are not required to test for lead, but the drinking water system that serves them is regularly monitored for lead and other contaminants.
The Las Vegas Valley Water District is assisting with the grant work by conducting concurrent testing of the municipal water being fed to schools, said Bronson Mack, spokesman for the utility.
"There isn't lead-laden water being delivered to those schools," Mack said.
He added that the water district collects more than 50,000 water samples annually from throughout the valley's distribution system and tests for dozens of regulated contaminants, including lead.
The community's water continues to meet or surpass all federal safe drinking water standards, Mack said.
Contact Amelia Pak-Harvey at apak-harvey@reviewjournal.com or 702-383-4630. Follow @AmeliaPakHarvey on Twitter. Contact Henry Brean at hbrean@reviewjournal.com or 702-383-0350. Follow @RefriedBrean on Twitter.