Can too many administrators spoil the classroom? That's a question a Board of Regents member seemed to ask the Nevada System of Higher Education.
At a June board meeting, Regent Trevor Hayes questioned the necessity of hiring a seventh vice chancellor — with a $175,000 annual salary.
"Are we top-heavy?" Hayes asked. "Do we need any more (vice chancellors)?"
NSHE Chancellor Thom Reilly, hired in June, said he wants to ensure system priorities are where they should be. An October board retreat will examine system priorities and aim to ensure that NSHE and its schools are meeting goals such as improving access to higher education and overall degree completion.
"We're looking to see if we need to rightsize our offices to meet those strategic goals," Reilly said. "We're going to put it on the table — what do they (the institutions) want this office to do?"
He is not bothered, however, by the administration's size.
"At this point, there doesn't seem to be huge red flags that the system office has increased at a significant rate over a period of time," he said.
In August, Reilly hired Western Nevada College President Chet Burton to evaluate spending and fiscal priorities.
"Not only is he a financial wizard but … he brings a really important perspective as a president, and from a community college, to our office," Reilly said, adding that he's heard concerns that system office administrators are disconnected from the campuses they oversee.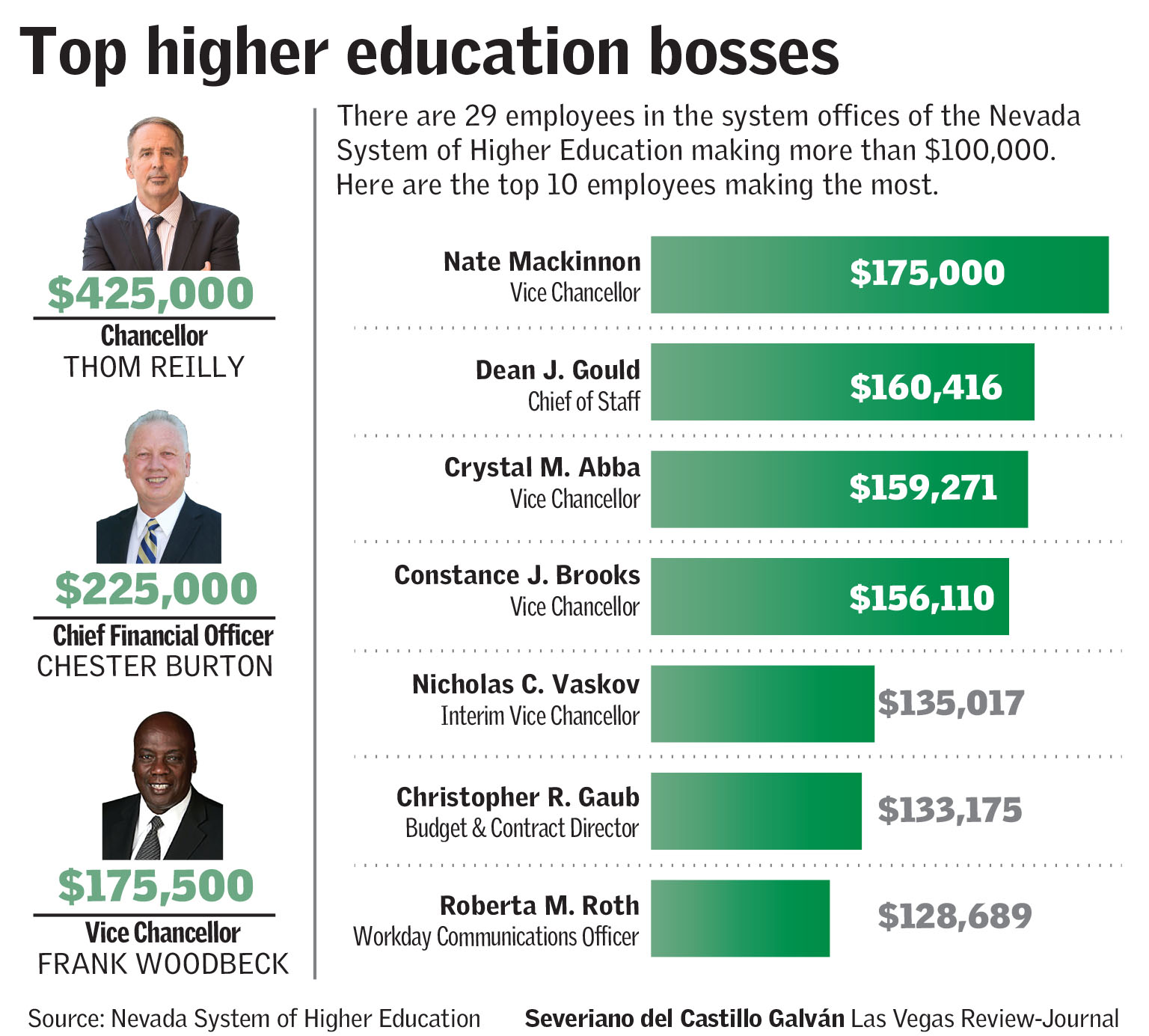 An 'epidemic'
Despite Reilly's equanimity, Bob Martin, a professor emeritus of economics at Centre College in Danville, Kentucky, called administrative growth "real cancer" and an "epidemic" on almost every campus. System-level bureaucracy, he added, has exacerbated the problem and deplete resources for classroom instruction and research.
"The system level has been growing without constraint because they're not in daily contact with students," he said. "They're only in contact with senior administrators at the universities over which they have a governance role."
Howard Bunsis, an Eastern Michigan University accounting professor who has studied this issue, said too many administrators make "too much money," prompting schools to hire contingent faculty rather than staff members on track for tenure.
"Students need faculty who are committed long-term to their education," Bunsis said.
An analysis of the Integrated Postsecondary Education Data System shows that dollars allocated to administrative functions at Nevada's public colleges increased about 3 percent between 2005 and 2015. Salaries devoted to instruction and research have been stagnant during that time.
"Over time, and at every university and every system I look at, I see an increase in the numbers and dollars allocated to administrative costs and a decrease in dollars allocated to the core mission of classroom instruction and research," Bunsis said. "The priorities are just not where they should be."
Burton, however, said Nevada has seen a "fairly significant" investment in higher education.
"If you look at the whole operating budget from 2015 to 2019, statewide, we're up almost 13.5 percent, and the vast majority of that has gone to the institutions," Burton said.
Appropriations to system administration have increased about 3 percent each year.
"Traditionally, overhead has gone up at a much slower rate than overall spending," he said. "The spending model is dedicated to classroom spending and instruction."
Reilly said he is confident Burton will properly address potential administrative bloat.
Dr. Jim Thomson, UNLV special adviser to the president for regional development, said although some oversight of NSHE by the Board of Regents is wise, micromanagement of institutions can have an adverse effect.
"In this system, you've got 13 people feeling perfectly comfortable inserting themselves into the management of the university, which is disruptive," said Thomson, the former CEO of RAND Corp., a nonprofit, global policy think tank.
Regent Allison Stephens said the board's job to dole out directives and ensure the institutions execute those directives is a "delicate balance."
"In cases when they don't execute, or are not executing well, it's going to fall on the board," she said.
Lawmakers seek change
Bills to reform NSHE emerged during the 2017 Nevada Legislature, evoking grumbling in some corners.
A resolution that would give the Legislature more oversight of the Board of Regents passed this year, but because it would remove the board from the state Constitution it must also pass the Legislature in 2019 and be approved by voters in 2020.
"The system would become more accountable in an eyeblink," said Dick Richardson, an expert who has studied Nevada's educational system.
NSHE has not altered significantly — other than two name changes — since it was formed in 1968. At the time, the system oversaw the University of Nevada, Reno; UNLV and the Desert Research Institute. Four community colleges have since been created and absorbed into the university system.
"Most higher education systems have undergone changes, fine tuning, and tinkering that makes them more responsive to what they need now, rather than in 1968," Richardson said. "There's very little today that looks to me like what I saw back then."
One institution — the College of Southern Nevada — has grown to an enrollment of more than 35,000 students and is among the largest community colleges in the country.
Another bill suggested giving community colleges their own governing body. But that would add a new layer of bureaucracy and administration, potentially diverting more resources from students, Burton said.
"To me, that's not an efficient model," Burton said.
Contact Natalie Bruzda at nbruzda@reviewjournal.com or 702-477-3897. Follow @NatalieBruzda on Twitter.
Top-heavy
The 2017-18 operating budget shows that state appropriations for system administration, excluding the Silver State Opportunity Grant, is a $25.5 million enterprise.
The system office receives more general fund appropriations than four institutions within the system: Nevada State College, Western Nevada College, Great Basin College and the Desert Research Institute.
The Nevada System of Higher Education employs 136 people in its Las Vegas and Reno offices; 29 have annual salaries over $100,000. Of the 136 employees, 42 are part of the chancellor's office, while the remaining individuals work out of ancillary offices, such as system computing services, which manages system-wide information services.
Chet Burton, Chief Financial Officer for the Nevada System of Higher Education, said the ancillary offices, which provide information technology and other back-office support, skews the numbers.
"Those numbers have not gone up in the last five years at least," Burton said. "We have not added people."
However, those who work in the chancellor's office hold titles such as Vice Chancellor of Academic Affairs and Vice Chancellor of Legal Affairs, with the top administrator, the chancellor, earning $425,000. The Nevada Board of Regents recently hired Dr. Thom Reilly for the role at this salary. By comparison, UNLV President Len Jessup earns a salary of $534,668 according to Transparent Nevada.
Other top administrators include the Vice Chancellor of Workforce Development, at a recently approved salary of $175,500 and a Vice Chancellor for Community Colleges, at a salary of $175,000.