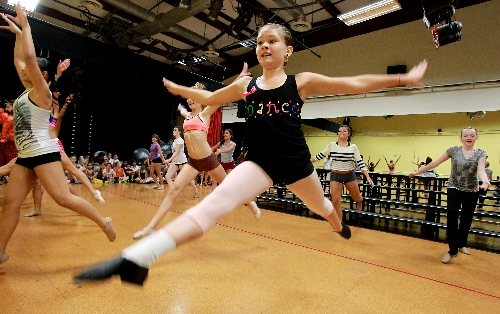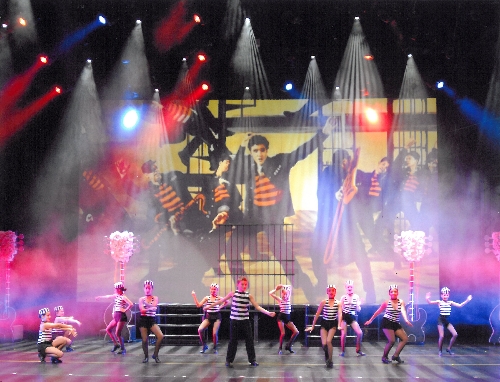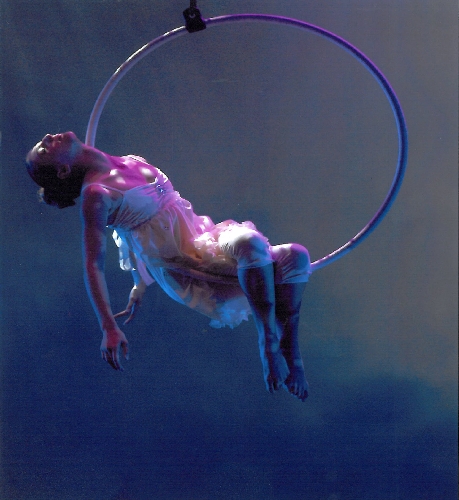 Coronado High School senior Ariana Mazzagatti has studied at the Fern Adair Conservatory of the Arts since she was 2, 16 years ago. She studies several forms of dance, including ballet, jazz, pointe, lyrical and pas de deux.
"It's not that unusual," Mazzagatti said. "I've got seven friends who have done the same thing for just as long."
The conservatory at 3265 E. Patrick Lane includes six dance rooms and rehearsal spaces and an 8,000-square-foot gym, with an in-ground tumble track and trampoline, a foam pit and a section of floating floor, which reduces noise and vibration while enhancing dance and gymnastic performance. The space, with professional lighting and sound, is also rented out as a rehearsal space or filming location.
Instructors teach a wide range of physical and performing arts with classes in dance, gymnastics, yoga, piano, strings and voice. There are even classes in aerial acrobatics, where students dangle from the ceiling suspended by a lyra hoop or silks, strips of cloth. Both feature prominently in many modern circuses.
"There's something going on all the time," said Victoria Hetey, who handles public relations and marketing for the conservatory. "In the day we have adults and preschool programs, (and) in the evenings we have a lot of the performers from the shows in town come in to work on their stunts or warm up before their shows."
The busiest time is just after school when young performers converge. For a few hours it becomes "Fame" and "Glee" all rolled into one.
"This is their home away from home," Hetey said. "It's a big family here. We know how they're doing in school. We know when they're testing. They dance, they take a break and work on homework, they dance some more."
Fern Adair and her husband, Ray Criddle, came to Las Vegas from California in 1972. Adair was a professional dancer specializing in tap. She worked on radio and talk shows and toured, including a stint with the USO.
The couple ran dance studios in California, and in 1974 they started the Fern Adair Dance Studio in a shopping center in Las Vegas. By 1986 they had expanded to seven storefronts in the center. They decided to build a custom studio at the current location.
Though Adair employ s a school full of teachers, she's never far from the classroom.
"Fern's a member of the Dance Educators of America," Hetey said. "She goes and speaks to teachers and students who are becoming teachers. She's always happiest in the classroom, but she ends up in the back offices a lot, taking care of things."
In addition to dance and friendship, Fern Adair stresses citizenship.
"Fern likes to teach the kids to give back to the community," Hetey said, "because they're blessed with being able to do something that they enjoy doing."
The conservatory puts together a special set of performances each August, Concert Fantasy and Fantasy Petite, as a benefit for the Make-A-Wish Foundation. In recent years the concerts have been at the Cashman Center.
"Over the years, we've donated over half a million dollars, mostly to the Make-A-Wish Foundation," Hetey said. "Next year, we've been asked to perform our charity concerts at the Smith Center. We're very excited about that."
The dancers also perform at several smaller shows throughout the year. The staff is always on the lookout for a performance opportunity to give students a chance to perform live.
"I got to perform with the Russian Ballet two years ago doing 'Nutcracker,' " Mazzagatti said. "It's really cool to be able to perform for kids and families."
Cassidy Simpson, 16, has attended the conservatory for 13 years and appeared in numerous plays, including "Into the Woods" and "Thoroughly Modern Millie," in which she played the lead. Her mother was a student at Fern Adair, too.
"I'm hoping to get into a show on Broadway or here in Las Vegas" Simpson said. "I've got a few backup plans, all in stage work. I'm going to school for fashion design, thinking about costume design."
Conservatory instructors like to teach with practical application, putting on shows and performances.
"We're currently working on a production of 'The Musical Adventures of Flat Stanley Jr.' and we're still looking for a few more performers," Hetey said. "All of our shows are musical theater with a choreographer, vocal director and acting director working with the kids."
For students such as Mazzagatti, who have literally grown up there, the conservatory is more than a collection of classrooms and performance spaces.
"It's like a huge family," Mazzagatti said. "The atmosphere is great. The little kids are adorable. It's a really cool place to learn. I love it. I wouldn't want to go anyplace else."
For more information about the Fern Adair Conservatory of the Arts, call 458-7575 or visit www.fernadair.com.
Contact Sunrise/Whitney View reporter F. Andrew Taylor at ataylor@viewnews.com or 380-4532.