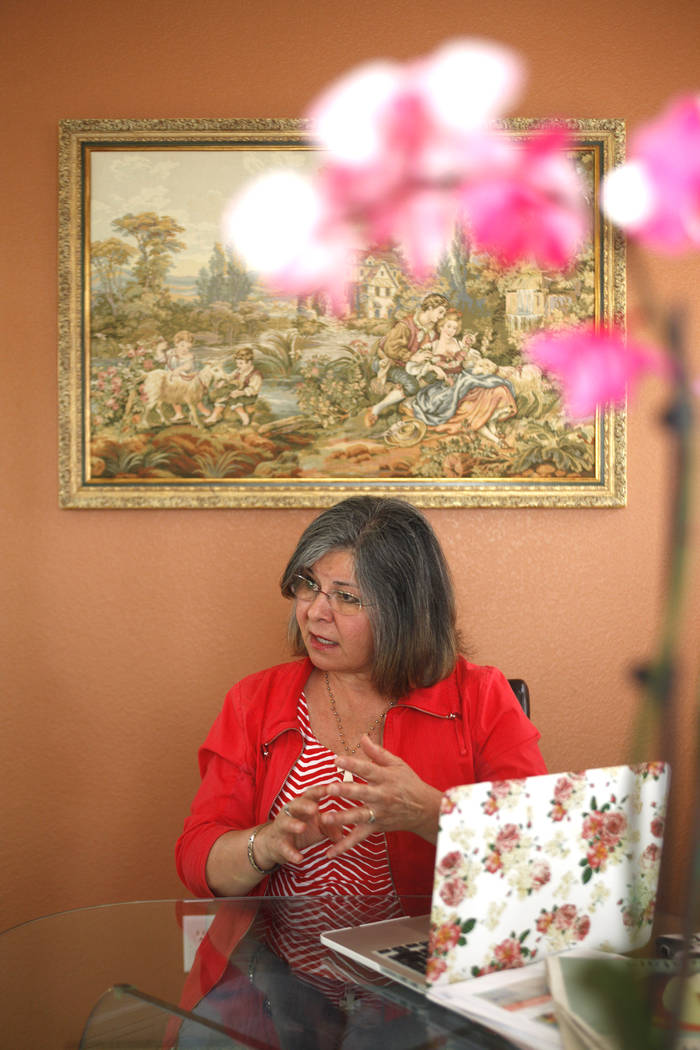 People who work in Nevada's public schools are supposed to have clean records. They're fingerprinted and screened at the local, state and national levels for criminal histories.
But the process isn't foolproof.
In fact, the checks are largely repetitive: the state Department of Education and the Clark County School District each vet candidates using three different databases that generate essentially the same background reports, an investigation by the Las Vegas Review-Journal shows.
Background checks are limited in what they show state and district officials in the hiring process. Experts say predators can exploit loopholes in the process and continue working in schools even if they've previously been accused of sexual misconduct with minors.
Anything below the level of an arrest — including police interrogations, school district investigations and previous complaints of sexual misconduct involving students — isn't captured in any of the criminal background checks performed by the Clark County School District or the state Department of Education.
The flawed background check process is a major contributor to an ongoing crisis in the school district, as employees with histories of sexual misconduct allegations can be hired because they don't have a criminal history.
Since July, 11 district employees have been arrested on charges relating to sexual misconduct with students. It's unclear whether expanded background checks would have prevented any of these 11 individuals from working in schools, but experts say school districts should be looking beyond arrests.
"It's a false sense of security because so many of these predatory teachers have been passed from jurisdiction to jurisdiction, school to school, district to district, state to state," said Terri Miller, president of Las Vegas-based Stop Educator Sexual Abuse Misconduct & Exploitation, which formed in 1996. "And because of that, they don't have a criminal history."
It's the kind of loophole that allows abusers to game the system, stay under the radar and preserve access to potential victims, according to experts who want reforms and additional protections before employees set foot in schools.
Take, for example, Melvyn Sprowson, a former Clark County kindergarten teacher charged in 2013 with kidnapping a 16-year-old girl. Sprowson came to Nevada in 2012 from the Los Angeles Unified School District, where he faced a number of accusations of student sexual abuse.
In March, Sprowson was found guilty on four counts of unlawful use of a minor in the production of pornography, as well as one count each of first-degree kidnapping and child abuse or neglect. Sprowson appeared in court Wednesday to face sentencing, but errors in a pre-sentence investigation report prompted the judge to postpone until June 26.
Sprowson wound up in a Clark County classroom partially because none of the accusations in Los Angeles resulted in an arrest. The information about the accusations never made it into the hands of Clark County hiring officials, although Los Angeles school officials told the Review-Journal at the time that all Clark County had to do was ask.
Superintendent Pat Skorkowsky said that case prompted change in the district.
"It was when our school district police arrested Sprowson that we realized that we had to put in more stringent policies. We do have new procedures and practices in place where we contact the district directly."
Skorkowsky said the system's human resources department calls all references and former employers of applicants, but he blames a lack of transparency from districts nationwide in disclosing investigations involving sexual misconduct.
"Until there is a national policy on this, it limits what we can find out because we are not always going to get the truth from other districts and other employees," he said.
Skorkowsky said he did not know of any district policy that requires the screening of social media activity or Internet vetting of potential employees.
"We get so many applicants that would be a challenge," he said.
The Nevada Legislature is considering reforms to help prevent predators from getting into schools in the first place.
Assembly Bill 362, also called the "SESAME Law," after Miller's national nonprofit that advocates on the issue, would add a new layer to background checks, and Senate Bill 287 expands the mandated reporting requirements, by requiring districts to share and check all past employment records of applicants.

The bills are sponsored by Assemblywoman Jill Tolles, R-Reno, and Sen. Heidi Gansert, R-Reno, respectively.
Creating a 'new layer'
State Superintendent of Public Instruction Steve Canavero cautioned that the vetting process for licensed employees shouldn't end just because the state has issued a license. "Soft vetting," done by district human resources departments, can often help find information an application or background check may not show.
That includes an Internet search, he said, and thorough reference checks.
"Google is a wonderful way for us, and I hope for districts, to do some quick scanning of candidates, their references as well as previous jobs that are not listed that may raise some red flags," Canavero said.
Even then, there may be some individuals who are still under the radar, Canavero said.
Gansert and Tolles' legislative proposals are aimed at catching those who won't show up on criminal background checks.
"These address a different layer where you have investigations or individuals who have been investigated but that investigation did not lead to a criminal conviction," Canavero said.
Gansert's SB287 expands on the existing mandatory reporting laws, which right now only require school employees to report to law enforcement potential child abuse or neglect suspected to have been caused by a parent or guardian. Gansert wants to expand that and require employees to report on other employees, she said.
Telling law enforcement triggers the welfare agency, and if the report ends up being substantiated, it'd be added to the central registry.
"One of my concerns was when you keep reports in house and it's handled as a personnel issue, that's a huge issue. The offender can be allowed to resign without any consequences," Gansert said. "Screening up front will help us not to inherit these individuals."
The SESAME Law
Tolles' AB362 requires applicants to disclose past allegations, if they left their job while there were pending allegations, and if they had a license suspended or revoked while there were pending allegations.
"We know that the vast majority of abusers would not show up [on a background check] because there hadn't been a conviction, but there could be a scenario where there's an accusation, an investigation and even awaiting trial and they might be dismissed from one school but they could go to another school even within the same district," Tolles said. "What this seeks to do is close that reporting and communication loophole."
Under the bill, applicants would be required to disclose all past employment where they had direct contact with children, contact information for those districts and a written statement describing whether the person had been investigated for alleged sexual misconduct.
Districts would be required to share information about sexual misconduct investigations. The bill prohibits districts from signing agreements to keep investigations under wraps.
Finally, her bill requires the state Department of Education to keep and distribute to districts a list of people who have been denied licenses because of sexual misconduct charges.
Both bills are still working through the legislative process. Assembly Bill 362 was heard by the Assembly Committee on Ways and Means but has not yet received a vote. Senate Bill 287 has passed the Senate and is awaiting a vote by the Assembly.
The state teacher's union, Nevada State Education Association, did not take a position on either bill. The local teacher's union, Clark County Education Association, supports both bills.
Beyond Nevada
Even with the potential new protections from lawmakers, there's only so much in Nevada's control. There are no mandated federal tracking or reporting requirements for teachers under investigation for sexual misconduct.
The National Association of State Directors of Teacher Education and Certification clearinghouse, called NASDTEC, is pointed to by experts as a resource, but it's an incomplete one. The database notes whether states have taken action against someone's license, such as a suspension or revocation.
Agencies can report action taken against employees and can run potential employees' names through the database. But reporting is voluntary and can often lag behind, Nevada licensing officials said. Nevada reports suspended or revoked licenses and also runs applicants from other states through the system.
"It's very manual," said Jason Deitrich, the director of educator licensure for the state Department of Education.
But it's not always updated in real time. An employee who flees one state to start over in Nevada may not show up in the database immediately, because officials in the previous state might be slow to upload their report.
NASDTEC said all 50 states now use the tool, but Phil Rogers, the executive director called it "simply an alert system."
"It's not meant to be used for research or anything like that," he said. "It's simply meant to allow that state to know that they need to contact the state where the person came from if they need more information."
Gansert said new protections are about restoring trust and safety.
"We all have the expectation when we send out children to school that it's a safe place. We trust the individuals who are there and when you think about children, they have a very high level of trust and respect, and that's what we teach our children," Gansert said. "They should be in an environment that is safe."
How current background checks work
The state Department of Education and the Clark County School District check job applicants against multiple databases. None of the databases will show misconduct below the level of an arrest, a loophole experts say allows predators to move from school to school. Here's how the current process works.
— For most applicants, the background check begins with the Nevada Department of Education, which grants licenses to certain school applicants, including teachers, administrators, psychologists, nurses, speech pathologists and others.
— As part of the licensing process, those individuals undergo both a state and federal criminal background check. The background checks are repeated when the individual applies to renew the license. Licensed are renewed on a three-, five- or eight-year rotation.
— Fingerprints are sent to the state Department of Safety and the FBI, a process that can take between four and six weeks — sometimes longer.
— The report generated by the background check will indicate no record for the individual or it will indicate arrests and convictions.
— In the past two years, the Department of Education has denied 120 people licenses because of background check issues. The state approved 25,000 new or renewed licenses in that same time frame.
— The Clark County School District also checks the background of every applicant, include those who already have completed and passed background checks from the state. Clark County conducts background checks on nonlicensed employees, too, including bus drivers, janitors and food service employees.
— The district again sends fingerprints to the FBI, which returns the same report generated by the state.
— For local checks, the district uses the Shared Computer Operations for Protection and Enforcement database. All local law enforcement entities, including the Metropolitan Police Department, feed information into the system.
— "SCOPE" reports again show arrests and convictions, but again won't show investigations.
— The district's human resources department reviews the reports to determine whether any charges would bar the applicant from being employed.
— All new teachers who started working in the district for the 2016-17 year had cleared the SCOPE report prior to being employed in the district, according to figures provided by the Clark County Schools District.
— Even so, 249 of the 1,509 — or 16.5 percent — new teachers began working before the federal background report was returned to the district, allowing applicants who possibly had criminal charges or convictions in other states to work with students. The district said all of the federal checks were approved when they were returned. Information about checks for other employees was not readily available.
Contact Meghin Delaney at mdelaney@reviewjournal.com or 702-383-0281. Follow @MeghinDelaney on Twitter. Contact Amelia Pak-Harvey at a-pakharvey@reviewjournal or 702-383-4630. Follow @AmeliaPakHarvey on Twitter.
RELATED
Sex misconduct in CCSD is a system-wide crisis of broken trust