Las Vegas' affordable rent could be one incentive for new college graduates to move to the state, according to a recent report.
The study, titled "Where New Grads Can Find a Roof and a Paycheck," was created by real estate website Trulia and job-searching website Indeed.
Researchers looked at 100 metro areas in the United States to find the most welcoming cities for recent college graduates, measuring the number of graduate-friendly jobs and reasonably priced rental options.
While Las Vegas came in 34th for affordable rental options, the city fell behind on grad-friendly job availability at 64th.
Finding the perfect city for graduates, one that offers both affordable rent and an abundance of entry-level jobs, is nearly impossible, according to Ralph McLaughlin, chief economist at Trulia.
"The most difficult lesson in life is that new grads are going to face that right off the bat," he said. "It's tough to find a place you're likely to find a job and not pay a lot for housing."
The reason, McLaughlin said, is because those cities tend to pay higher wages, which in turn increases rent prices. Additionally, many graduate-friendly jobs are located in cities that aren't building a lot of homes, like San Jose or San Francisco.
"It's very difficult to build new housing in those cities, and they do have a high number of job posting," McLaughlin said.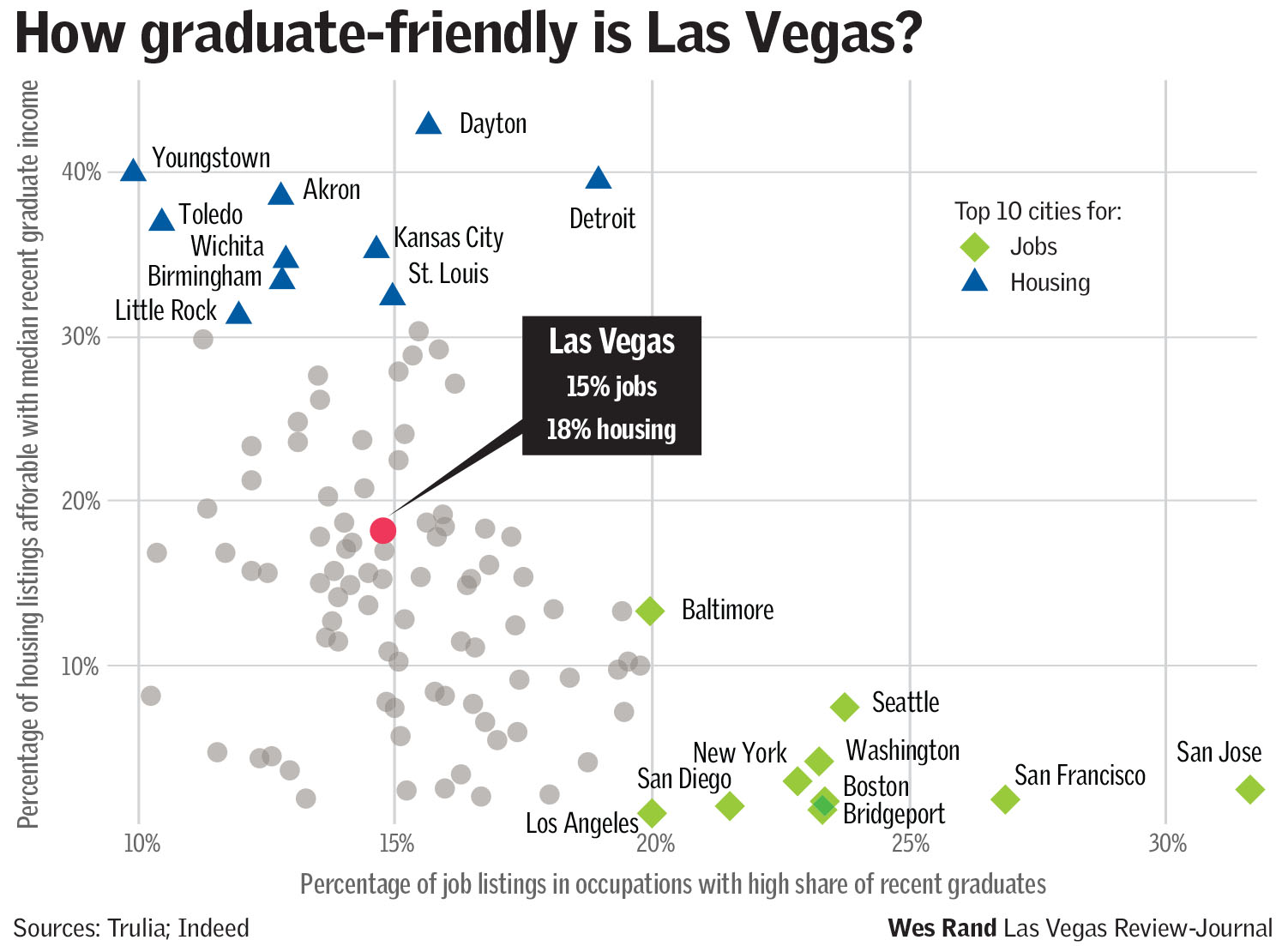 Rental affordability
According to the study, about 18 percent of rental listings in Las Vegas are considered affordable for recent graduates.
The report defined affordable rent as taking up less than 30 percent of the median monthly income for college graduates between the ages of 22 and 30. For recent graduates living in Las Vegas, the median monthly income was calculated to be $2,581.
Las Vegas units are able to offer low rent because Southern Nevada has available land and a growing supply of affordable housing, according to Tim Whitright, deputy administrator of the Nevada Housing Division.
"The average market rental rate of $948 is affordable to new grads who earn about $38,000 a year," Whitright wrote in an email.
Additionally, Whitright said recent statistics from Colliers International, a commercial real estate company, show development of multi-family units is strong, with "3,000 units currently under construction and another 7,500 units in the planning stages."
But Las Vegas renters can expect to see prices increase in the future, said Spencer Ballif, a senior vice president at the commercial real estate company CBRE.
"Rents are definitely going to continue to move up for the next few years," Ballif said. "We were the hardest hit in the (economic) downturn, and we've just barely in the first quarter of this year surpassed the peak rents of 2007, which were previously the high … we're early on in the recovery side of things."
But Ballif said rising rent prices are "healthier than creating a bubble."
Grad-friendly jobs
Job postings in Las Vegas are considered less graduate-friendly than most other cities; only 15 percent are in occupations with a high share of graduates. But McLaughlin said cities can add more graduate-friendly jobs by attracting industries that employ a large number of recent graduates.
"It may be somewhat tough to do so in the desert," McLaughlin said. "Many of these jobs are in mining and engineering, so mineral extraction. Petroleum mining and geological engineers rank high, so places that tend to do well tend to have a lot of natural resources for extracting."
McLaughlin said other industries hiring graduates include those in hard sciences, such as chemical engineering. Focusing on education within these fields could be another way for the city to attract these industries and offer more jobs to recent graduates, McLaughlin said.
"You could try to pump money into UNLV or other universities in the area," McLaughlin said. "Make those fields a high priority for funding."
While Las Vegas may not be hiring the most recent graduates, Bill Anderson, chief economist for the state Department of Employment, Training and Rehabilitation, said the state's overall labor markets are performing at their strongest levels since the recession.
"Our job growth rate is in the top five consistently nationwide," Anderson said. "We're operating at record levels of employment."
While unemployment in Nevada peaked at around 13.7 percent during the recession, the Bureau of Labor Statistics reported state unemployment at 4.7 percent in April.
"Our view of the labor market is quite favorable," Anderson said. "As we look forward statewide, we're looking at, on average, 40,000 new jobs every year."
Contact Bailey Schulz at bschulz@reviewjournal.com or 702-383-0256. Follow @bailey_schulz on Twitter.