Former educators' names will grace new Clark County schools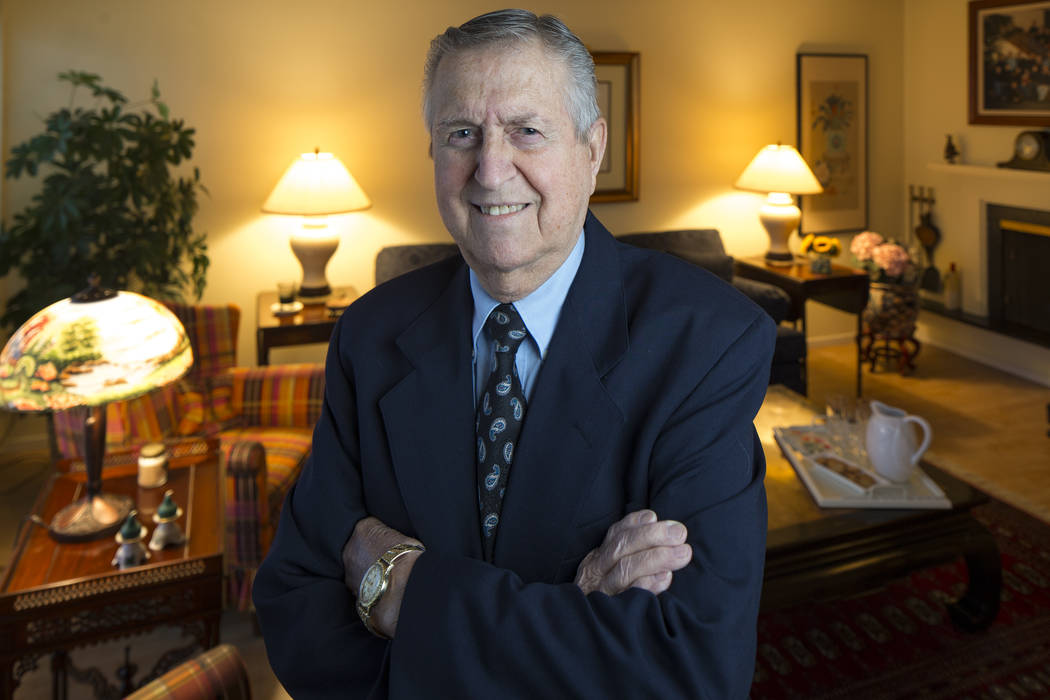 Even after graduating and leaving the state, Tina Chandler felt compelled to write a letter to her former Bonanza High School teacher, Earl Jenkins, in 1979.
"I have never seen a teacher motivate a whole classroom of students to learn before," wrote his former student, then enrolled at Arizona State University. "Although some students learned more than others, I'm sure every person that graduated from your government class did so with a much better understanding of the systems of government."
Chandler wasn't the only student to reach out after leaving Jenkins' class.
The 81-year-old teacher, now retired, has a binder full of letters spanning decades from former students expressing their gratitude for his teaching style.
"You have taken a class that could be very dull and boring and made it the most interesting and informative class I have," one student said in 1990.
Jenkins, who enjoyed a 26-year career in the Clark County School District, is one of three people whose names will grace new Clark County elementary schools when they open for the 2019-2020 and 2020-2021 school years.
'Phenomenal' honor
"It's just phenomenal to me," Jenkins said of the honor, sitting in the living room of his Las Vegas condo surrounded by photos of former students.
The two other new schools will be named after Sandra B. Abston, a former Batterman Elementary principal from 2005 to 2014 who led one of the highest-performing schools in the district, and Helen Aileen Anderson Toland, the district's first female African American principal, who served as principal at Kit Carson Elementary and later held a leadership position at Lake Elementary during the time of integration.
While the district has approved the names, it hasn't yet assigned them to a specific school.
Two schools are planned to open in 2019, one on Vegas Valley Drive and Hollywood Boulevard and another on Tompkins Avenue and Conquistador Street. A third school off Chapata Drive and Casady Hollow Avenue in Henderson will open in 2020.
Jenkins, a native Alaskan, loved his career. He teared up as he quoted the old adage, "If you do what you love, you'll never work a day in your life."
He came to Bonanza when it opened up in 1976 after teaching at Garside Junior High School. There, he taught social studies and world history before settling into teaching government to seniors.
"I used to say at the beginning of the year, I said, 'Nobody's going to fail here for sure, because I know you all want to graduate," he said. "But you still have to learn the material."
Jenkins also created a "Wheel of Misfortune" that his students would spin to get questions they would have to answer.
Outside of the classroom, Jenkins led the Close-Up Program that took students to Washington, D.C., for a look at the nation's government.
Strong community involvement
Other namesakes also had strong community involvement outside the classroom.
Toland opened the world to her students through field trips and outdoor education programs. She is also known for community yard sales through which she continues to raise money to send students to school in both Las Vegas and South Africa.
Sandra Abston, who spent 50 years in education, said the honor rightfully should be shared with her former Batterman Elementary staff.
"I used to say I have the best staff in the world. They were phenomenal," she said. "…because of their hard work and because of how they dug in, we were one of the top 10 performing schools."
Her philosophy as principal, she said, was to do what's right for kids. She hired a very young staff who brought intense enthusiasm.
And even though she retired from the district, she can't stay out of the classroom — she works with student teachers as a site facilitator for UNLV.
But she watches the district from afar with a positive outlook, and looks at her Batterman experience with pure joy.
"That whole school when we were there together was kind of like a fairy tale," she said. "I've worked in lots of schools, and I've never worked in a school that was like that. But it was my staff."
Contact Amelia Pak-Harvey at apak-harvey@reviewjournal.com or 702-383-4630. Follow @AmeliaPakHarvey on Twitter.
Where will the students come from?
The three new schools will draw from the following populations in existing nearby schools to relieve overcrowded conditions. Their locations and the schools they will pull students from are:
— Vegas Valley Drive: Iverson, Hal Smith and Cunningham elementaries.
— Tompkins Avenue: Goolsby, Hayes, Rogers and Batterman elementaries.
— Chapata Drive: Vanderburg, Twitchell, Kesterson and Newton elementaries.