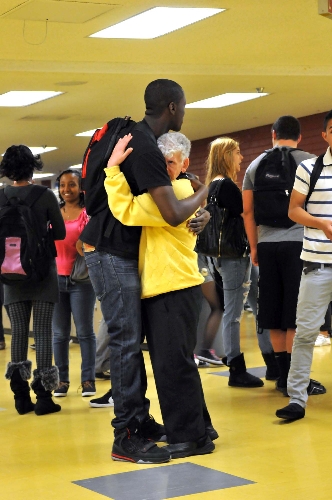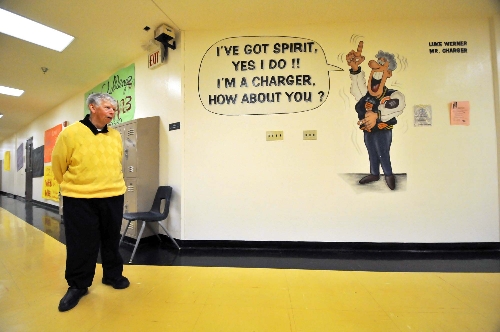 It is a little before 8 a.m. at Clark High School. Luke Werner is sitting on a chair in the hallway. It is his perch, he says.
Dozens of students and faculty members pass by, smile and say, "Hi, Luke." Others stop to converse with "Mr. Charger," as he is known. The school's team name is the Chargers.
Some call him Clark's "Radio," after the lead character in the 2003 movie of the same name starring Cuba Gooding Jr.
Like Radio, Luke is intellectually disabled. Also like Radio, he is a fixture at his alma mater. After all, Luke's perch is under a mural of himself.
Luke graduated from Clark, 4291 W. Pennwood Ave., in 1976 and never left. Coaches at the school asked him to help out with sports. Football, baseball, basketball, wrestling, soccer — every sport — Luke was there.
"He would do just about anything that needed to be done," said former Clark football coach Jim Massey. "He helped every way he could. If it was serving water or getting our equipment out or whatever.
"No matter what the score was, Luke was always upbeat, always positive," Massey said. "He never complained."
Luke's demeanor had a lasting impact on Clark graduate Joe Colletti, who has called Luke on Christmas Day every year for the past 36 years.
Colletti and Luke graduated together. Colletti was on the varsity football team and one of Luke's best friends.
"I watched out for him all through high school," Colletti said. "I didn't let any of the jocks play with him."
Colletti recalled a time some "punks" played a trick on Luke. It is something he will remember for the rest of his life, he said.
Colletti was absent from school for two days, and Luke did not know why. A group of students told him that Colletti had died in a car accident.
Luke was devastated.
"I came into the cafeteria the next morning," Colletti said, "and Luke let out a scream that echoed from one end to the other. Everyone dropped their trays, it was so loud. He was drooling and crying and hugging me — it was the most touching thing in my life."
Former Clark principal Wayne Tanaka recalled a time in the 1990s when Luke was riding the bus home, and a student threatened him and took his Clark Charger shirt. Word of the incident spread throughout the school, and the shirt was returned two days later.
"It was an entire community of kids showing him adoration and respect," Tanaka said.
Luke was born in Wisconsin as the seventh of nine kids. His family moved to Las Vegas in 1973, and Luke enrolled at Clark. He was wrongly diagnosed with Down syndrome as a boy. Recently, he was diagnosed with Williams syndrome, a similar neurological disorder.
It hinders his speech a little, and there are some cognitive setbacks, but Luke has a vast knowledge of history, his favorite subject.
Luke goes to the library once a week to get books and historical documentaries. He lives with his sister, Maureen Woods, and stepbrother, John Woods.
He collects "old" things. He has stacks of oldies records in his closet. He has old appliances from the 1940s in the garage. He listens to cassette tapes and makes his own mixtapes with famous speeches by the likes of Winston Churchill and others.
Luke used to go to Clark to help as a hall monitor every weekday but has cut back to Mondays and Fridays because of health issues. Luke was diagnosed with cancer in 2006 and given a 15 to 30 percent chance of survival. After years of chemotherapy treatments, his curly, gray hair is back, and he is home again at Clark.
While out for treatment, he received more than 200 cards from students and faculty members, both former and current.
"I've been there 36 years, and they treat me so well," Luke said. "It's the greatest school in Nevada and the greatest school in the world. I mean it. All these other schools, forget it."
Contact View education reporter Jeff Mosier at jmosier@viewnews.com or 224-5524.