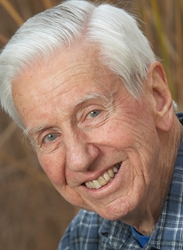 David Winthrop Emerson, a U.S. Army veteran and former dean of the College of Sciences at UNLV, has died. He was 83.
Emerson, who died Jan. 12, served in World War II and the Korean War. A longtime chemistry professor at the University of Michigan-Dearborn, he joined UNLV in 1981 to serve as dean of what was then the College of Math, Science and Engineering.
Under his direction, the Howard R. Hughes College of Engineering was founded.
Emerson continued to serve as dean of the College of Sciences until 1989, when he returned to full-time teaching. He retired in 1998.
The prestigious UNLV Emerson Medal is named in his honor. It is awarded by the College of Sciences to individuals who have made distinguished and sustained contributions to the sciences and who have played a strategic role in the development of the field. Emerson was awarded the Donna Weistrop Career Achievement Award from UNLV in 2009. A student computer lab in the chemistry building is named in his honor.
A memorial service is scheduled for 3:30 p.m. today in the university's new Science and Engineering Building's auditorium. Free parking is available in the Cottage Grove parking lot.
Emerson is survived by his wife of 57 years, Shirley; three children, Richard, Eric and Ellen; and seven grandchildren.
In lieu of flowers, the family suggests contributions to the UNLV Foundation's David Emerson Memorial Fund, to be used for scholarships and research support for students.
Contact reporter Richard Lake at
rlake@reviewjournal.com or 702-383-0307.