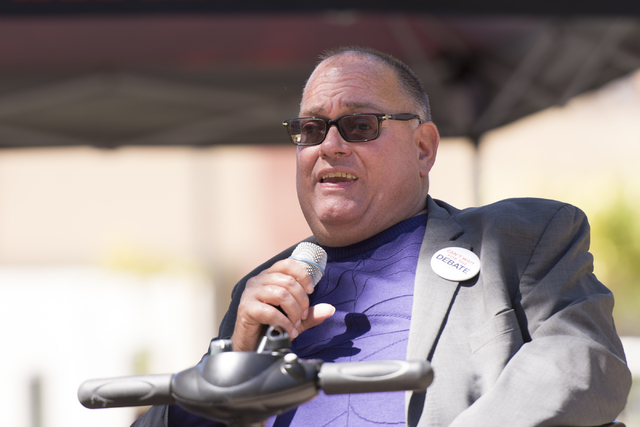 A member of the state Board of Regents on Friday said the new GOP tax plan will impede local efforts to make higher education accessible to more Nevadans.
"If students and staff have to worry about their very survival, they're not going to go and continue to enhance their academics, which will limit what they can do in the workforce in the future," Regent Sam Lieberman said. "In one way it's the same old story. In another way, it's a real, real issue that's affecting people's lives."
Lieberman spoke at an event on UNLV's campus organized by U.S. Rep. Dina Titus, who called the plan, passed by the House on Thursday, a "tax scam."
"It is a terrible bill," Titus told a crowd of about 25 people. "The impacts are not only short term, but can last for generations."
The bill would repeal the student loan interest deduction, which allows borrowers who make up to $65,000 and married couples who make up to $130,000, to lower their taxable income by $2,500.
The Tax Cuts and Jobs Act would also ban people from contributing to college savings accounts. Tuition waivers, which allow graduate students to attend college tuition-free in exchange for working at a university, would be taxed as income.
The bill's passage comes just after the regents gave the green light to five strategic goals for the Nevada System of Higher Education, with improving access as the No. 1 priority.
"The hardest thing is we are trying to make higher education more accessible to people," Lieberman said. "The oldest student at UNLV right now is 77 years old. Most of them are veterans, most of them are family people with multiple jobs and multiple people living in the same home, and this is not going to allow people to enhance their education. It's going to limit their education opportunities."
Kanani Espinoza, president of the graduate and professional student association at UNLV, said she worries the bill could negatively impact graduate student enrollments, which have rebounded from the 2008 recession and with more than 5,000 students, is at an "all-time high" for UNLV.
According to the American Council on Education, close to 145,000 graduate students received a tuition reduction in 2011-12.
"We don't want to impede on their ability to come back to school," Espinoza said.
A contingent of student government members will be going to Washington, D.C. in January to lobby against the bill, Espinoza said.
"We were trying to go out before the vote was passed in the House, but it didn't happen. So we're sending letters to our representatives, making calls," Espinoza said, adding that they're looking for at least some changes before it becomes law.
Lieberman agreed.
"I don't know the specifics enough to say it's all bad, but I don't think it's moving in the right direction for students, for staff and for donors who want to invest in our students' future," Lieberman said.
Contact Natalie Bruzda at nbruzda@reviewjournal.com or 702-477-3897. Follow @NatalieBruzda on Twitter.