High school journalists recognized with Review-Journal awards
Updated May 7, 2018 - 8:29 pm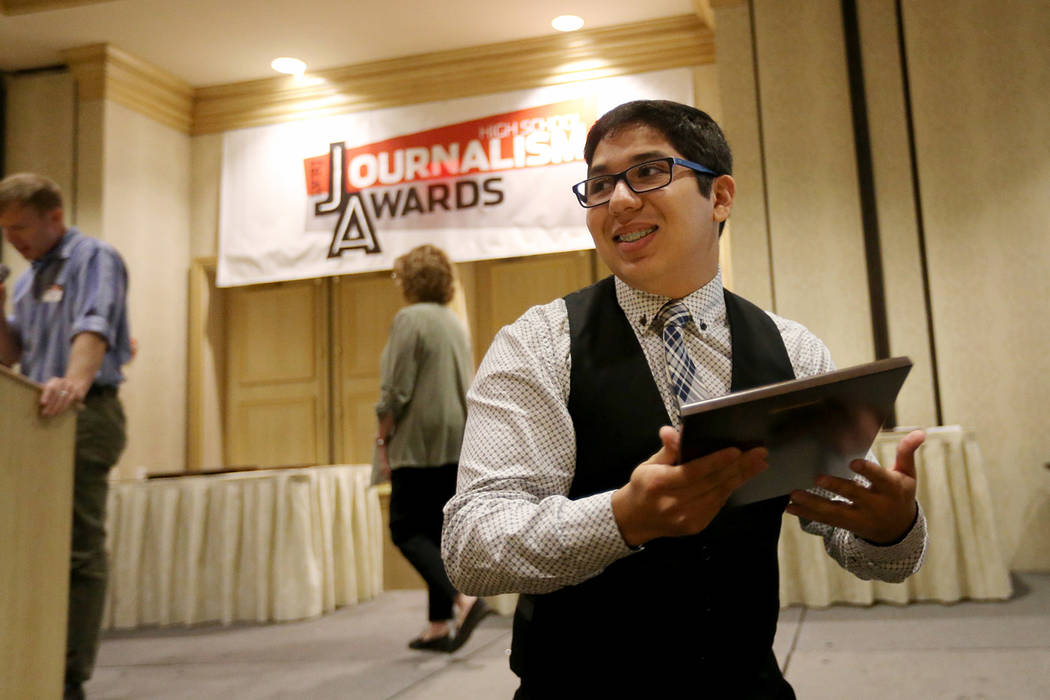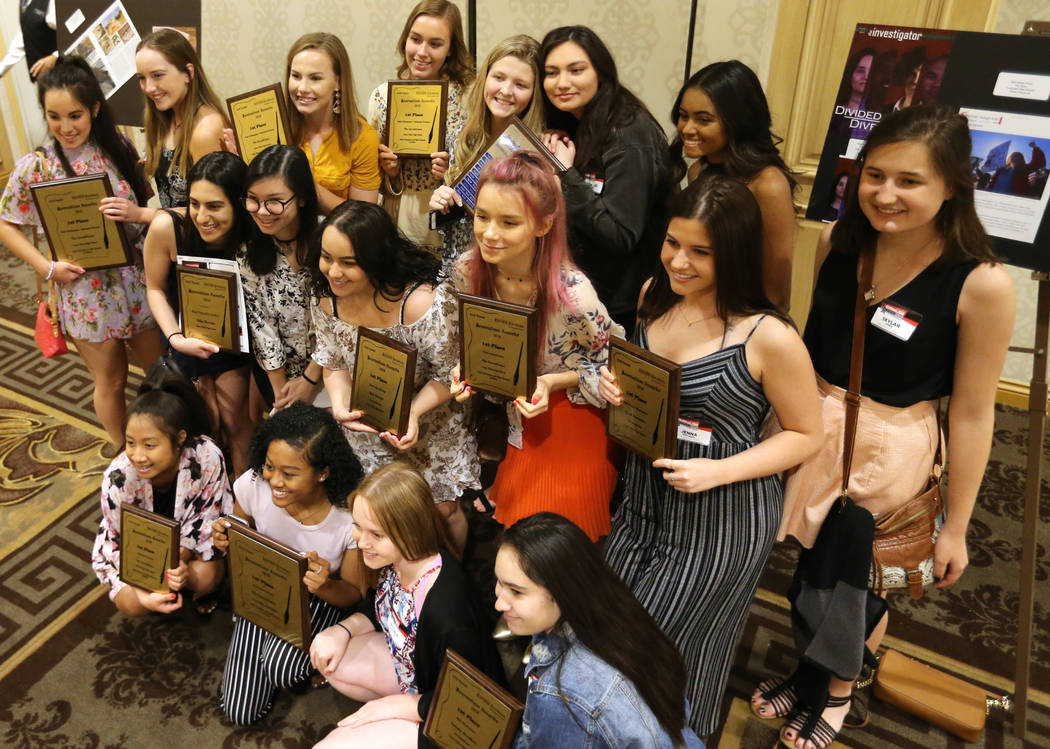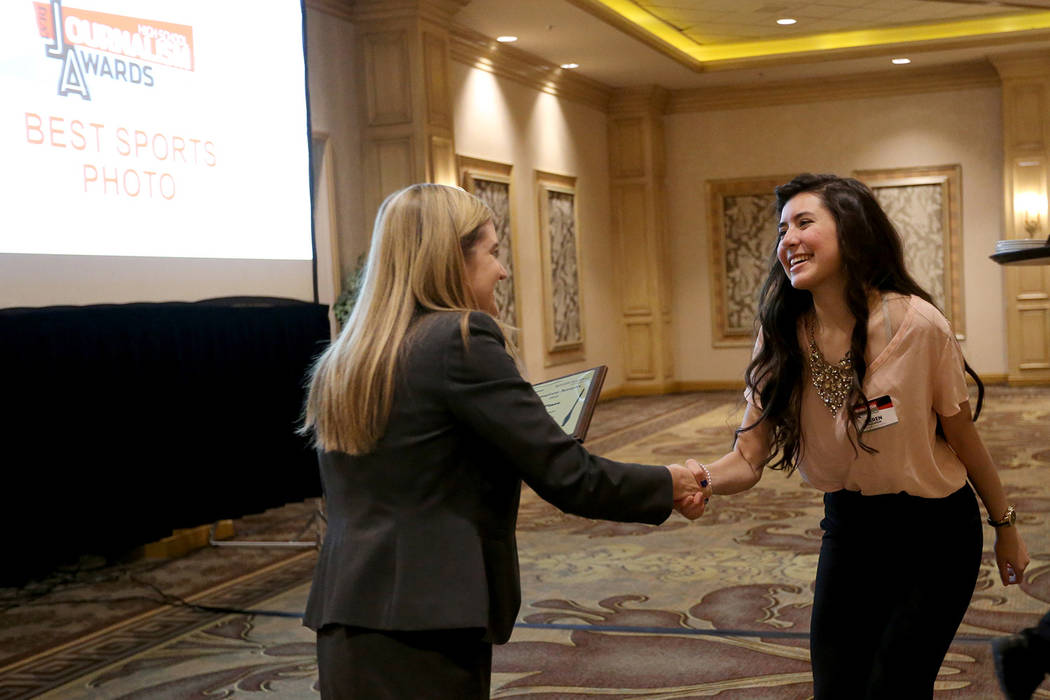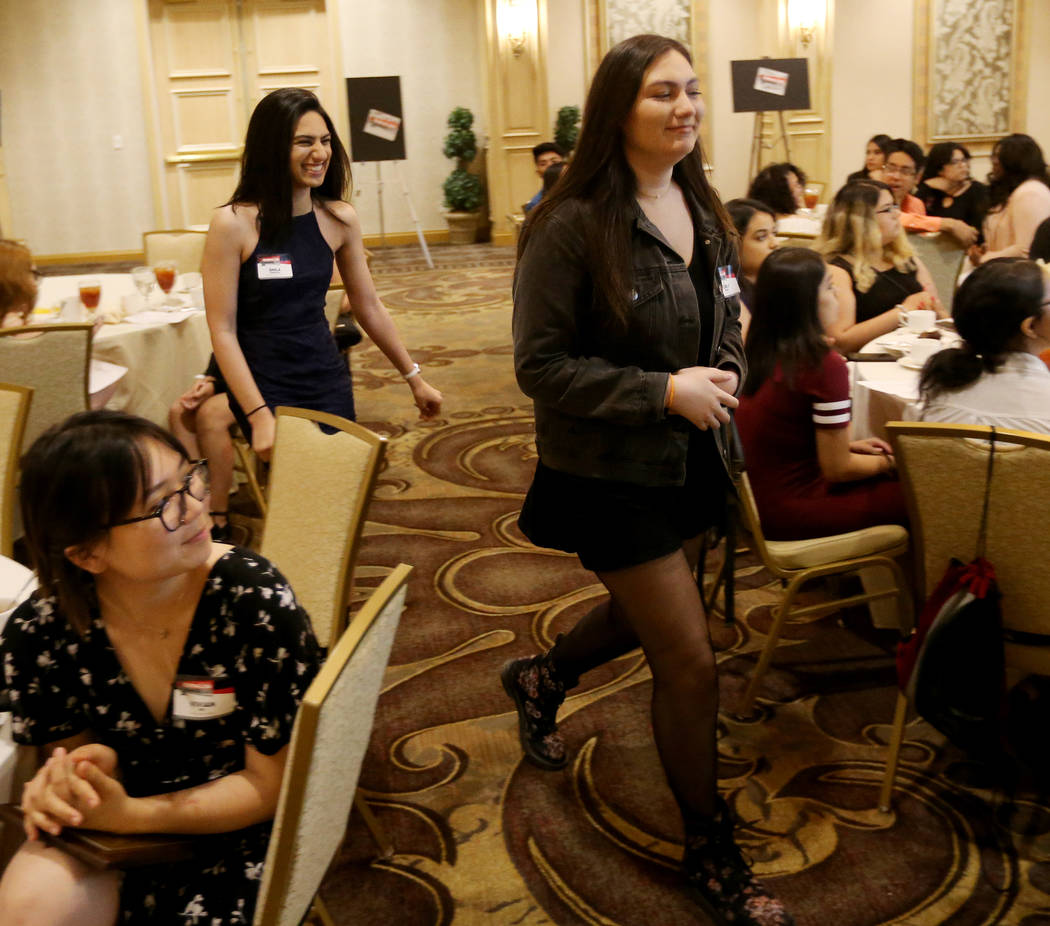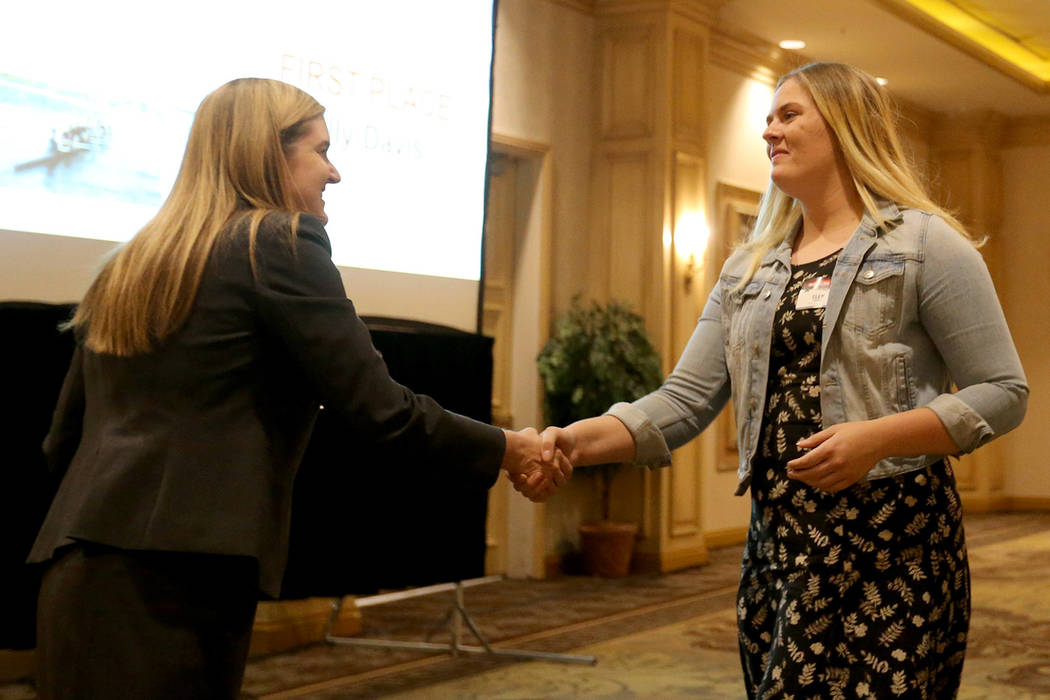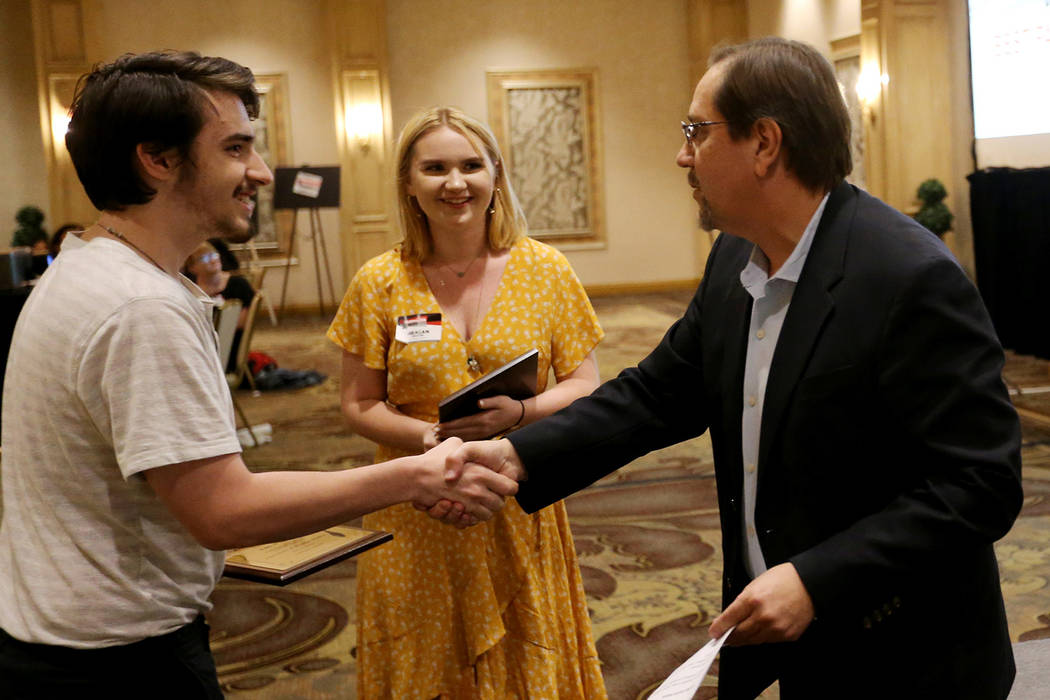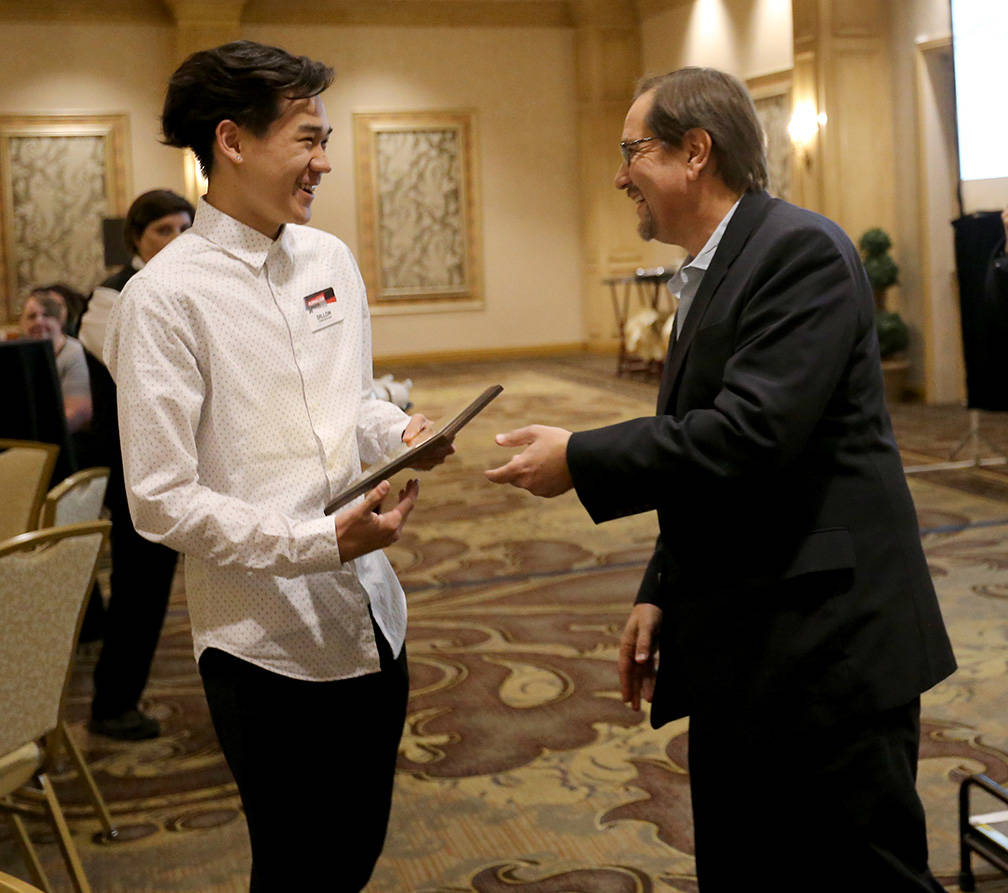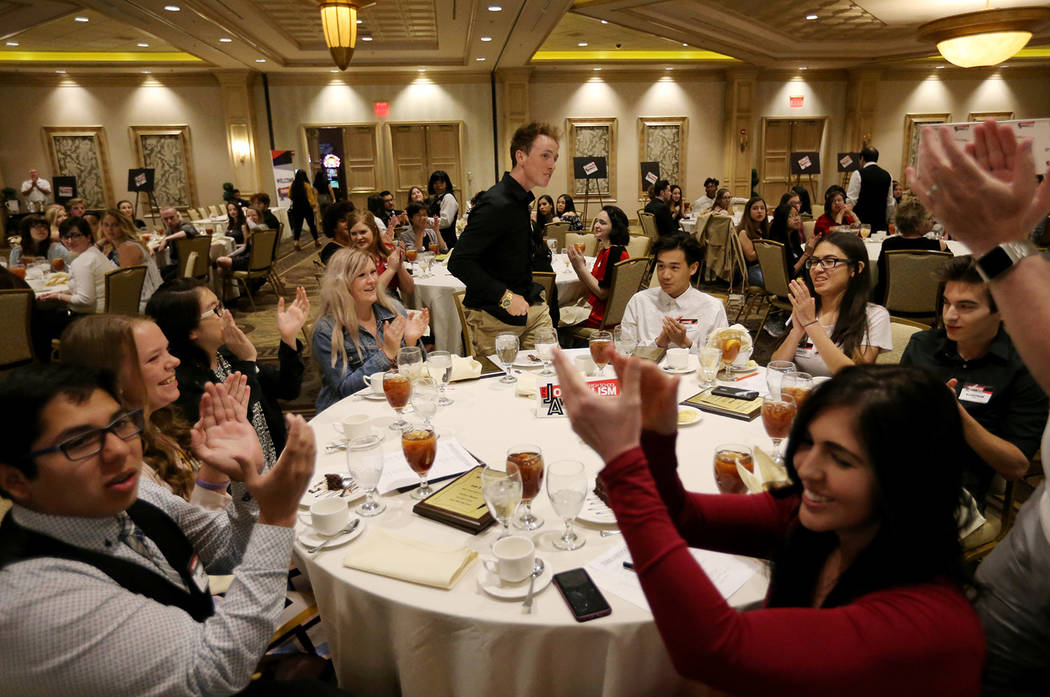 The all-female staff of student journalists at Green Valley High School took home top honors Monday at the 42nd annual Las Vegas Review-Journal High School Journalism Awards.
Green Valley's newspaper, The InvestiGator, was named the best newspaper in the reduced format and captured the RJ's First Amendment Award.
Seventeen high schools across the valley took home awards Monday during a ceremony at the Suncoast. In addition to the best newspaper awards, students were honored for headlines, copy editing, design, photography and advertisements.
Green Valley has a history of producing high-quality journalism. Monday marked the 19th top award for the paper, which competed in the standard format category before switching to a smaller size a couple years ago.
"There's this really high standard," said Shila Sherafat, a 17-year-old senior who serves as one of the paper's co-editors-in-chief.
Other than adviser Eric Johnston, the staff of the newspaper is all female. Sherafat and managing editor Erinn Veach, a 17-year-old junior and managing editor of the paper, said they weren't sure why. A wall in the classroom displays photos of past editors of the paper.
"There was a guy about eight years ago, but since then it's been all girls," Veach said.
In the larger format, The Grizzly Growler of Spring Valley High School netted the best newspaper award under its editor-in-chief, Donovan Souder.
The paper's news editor, Andrew Mendez, brought home two first-place awards and a second-place award and was named the paper's most valuable staffer. The latter award is based on nominations from the newspaper's adviser. Other awards are judged by Review-Journal staff.
Mendez said he's motivated to make sure the student newspaper is as diverse as the school's population, which speaks more than 30 languages. Mendez plans to study journalism at the University of Nevada, Reno next year.
"That's what I want to do for the rest of my life, get these voices heard," he said.
One of Mendez's awards was for an article he wrote on the Route 91 Harvest festival shooting, a common subject among works honored in a busy news year in Clark County.
Review-Journal Executive Editor Glenn Cook commended the students for their coverage of that shooting and of the debates that erupted on high school campuses after the school shooting in Parkland, Florida, in February. Student work this year also covered the Clark County School District's budget crisis and search for a new superintendent.
"The ever-higher quality of entries we see never ceases to amaze," Cook said.
Contact Meghin Delaney at 702-383-0281 or mdelaney@reviewjournal.com. Follow @MeghinDelaney on Twitter.
Best newspaper / standard format
1st Place – The Grizzly Growler – Spring Valley High School – Editor-in-Chief: Donovan Souder
2nd Place – Sunrise Mountain Echo – Sunrise Mountain High School – Editor: Karen Virgen
3rd Place – Mountain Lion Messenger – Sierra Vista High School – Editors: Jubelyn Lumboy,
Deyan Vekic, Katherine Mohler, Luis Gutierrez, Marisol Reano-Lopez, Loi Sheih
Honorable Mention – The Silverado Star – Silverado High School – Editors: Taylor Lane and Morgan Allen
Best newspaper / reduced format
1st Place – The InvestiGator – Green Valley High School – Editors: Sarah Fernandez and Shila Sherafat
2nd Place – Hillside Hotwire – Foothill High School – Editors: Elly Davis and Kaylee Schwurack
3rd Place – LVA Accolades – Las Vegas Academy – LVA Accolades Staff Members
Best news website
1st Place – Southwest Shadow – Southwest Career and Technical Academy
2nd Place – Crusader Chronicle – Faith Lutheran High School
3rd Place – Maverick Pulse – Advanced Technical Academy
Honorable Mention – West Tech Times – West Career and Technical Academy
First Amendment
1st Place – Sarah Fernandez, Shila Sherafat – The Investigator – Green Valley High School
2nd Place – Jubelyn Lumboy – Mountain Lion Messenger – Sierra Vista High School
3rd Place – Taylor Lane – Silverado Star – Silverado High School
Honorable Mention – Chloe Brown and Juliette Singer – LVA Accolades – Las Vegas Academy
Best editorial
1st Place – Dillon Concepcion – The Grizzly Growler – Spring Valley High School
2nd Place – Dillon Concepcion – The Grizzly Growler – Spring Valley High School
3rd Place – Southwest Shadow Editorial Board – Southwest Shadow – Southwest Career
and Technical Academy
Honorable Mention – Taylor Lane – Silverado Star – Silverado High School
Opinion writing / Humorous
1st Place – Drew Comer – Maverick Pulse – Advanced Technologies Academy
2nd Place – Sabrina Galaviz – Silverado Star – Silverado High School
3rd Place – Vinh Tran – Southwest Shadow – Southwest Career and Technical Academy
Honorable Mention – Sage Tipple – The Roar – Coronado High School
Opinion writing / Serious
1st Place – Hanna Helfand _ The Grizzly Growler – Spring Valley High School
2nd Place – Jake Grosvenor and Eli Duncan – Panther Print – Palo Verde High School
3rd Place – Laura Sanchez Zavala – Maverick Pulse – Advanced Technologies Academy
Honorable Mention – Portia Bingham – Sunrise Mountain Echo – Sunrise Mountain High School
Opinion writing / Pro – Con
1st Place – Vinh Tran and Cassie Valdez – Southwest Shadow – Southwest Career and Technical Academy
2nd Place – Samantha Hays and Deyan Vekic – Mountain Lion Messenger – Sierra Vista High School
3rd Place – Casey Li and Erinn Veach – The InvestiGator – Green Valley High School
Honorable Mention – Rachel Haunschild and Kate Oshin – West Tech Times – West Career and
Technical Academy
Best illustration
1st Place – Nicholas Horrilleno – The InvestiGator – Green Valley High School
2nd Place – Cristine Laxamana – Hillside Hotwire – Foothill High School
3rd Place –Kalana Em – Sunrise Mountain Echo – Sunrise Mountain High School
Honorable Mention – Nicholas Horrilleno – The InvestiGator – Green Valley High School
Best informational artwork
1st Place – Vivian Wu – LVA Accolades – Las Vegas Academy
2nd Place – Cristine Laxamana – Hillside Hotwire – Foothill High School
3rd Place – Dillon Concepcion – The Grizzly Growler – Spring Valley High School
Honorable Mention – Delany Fallico – Hillside Hotwire – Foothill High School
Best editorial cartoon
1st Place – Juliette Singer – LVA Accolades – Las Vegas Academy
2nd Place – Cristine Laxamana – Hillside Hotwire – Foothill High School
3rd Place – Isabelle Del Rosario – Southwest Shadow – Southwest Career and Technical Academy
Honorable Mention – Isabelle Del Rosario – Southwest Shadow – Southwest Career
and Technical Academy
Best sports news story
1st Place – Katherine Mohler – Mountain Lion Messenger – Sierra Vista High School
2nd Place – Donovan Souder – The Grizzly Growler – Spring Valley High School
3rd Place – Leticia Gonzalez – Sunrise Mountain Echo – Sunrise Mountain High School
Best sports feature
1st Place – Emerald Green – The Roar – Coronado High School
2nd Place – Miguel Navarro – Hillside Hotwire – Foothill High School
3rd Place – Amai Mims – The Grizzly Growler- Spring Valley High School
Honorable Mention – Erinn Veach – The InvestiGator – Green Valley High School
Best news story
1st Place – Deyan Vekic – Mountain Lion Messenger – Sierra Vista High School
2nd Place – Andrew Mendez – The Grizzly Growler – Spring Valley High School
3rd Place – Elly Davis – Hillside Hotwire – Foothill High School
Honorable Mention – John Blake, Kloe Dougherty, Jasper James and Juliette Singer – LVA Accolades
– Las Vegas Academy
Best news feature story
1st Place – Andrew Mendez – The Grizzly Growler – Spring Valley High School
2nd Place – Loreen Jantono – Mountain Lion Messenger – Sierra Vista High School
3rd Place – Juliette Singer – LVA Accolades – Las Vegas Academy
Honorable Mention – Shae Turner – Crusade Chronicle – Faith Lutheran High School
Best feature story
1st Place – Cosette Zielinski and Jackelyn Romo – Southwest Shadow – Southwest Career
and Technical Academy
2nd Place – Kaeli Britt – The InvestiGator – Green Valley High School
3rd Place – Kushtrim Muja – The Grizzly Growler – Spring Valley High School
Honorable Mention – Joanna Bieda – Maverick Pulse – Advanced Technologies Academy
Best entertainment story
1st Place – Olivia Fink – Maverick Pulse – Advanced Technologies Academy
2nd Place – Hannah Serquina – The InvestiGator – Green Valley High School
3rd Place – Vivian Wu – LVA Accolades – Las Vegas Academy
Honorable Mention – Kaya Thomas – Crusader Chronicle – Faith Lutheran High School
Best review
1st Place – Katherine Alexander – LVA Accolades- Las Vegas Academy
2nd Place – Nicole Burton – The Eagle's Landing – College of Southern Nevada High School
3rd Place – Cierra McGinn– Mountain Lion Messenger – Sierra Vista High School
Best Page One design / standard format
1st Place – Angelica Marroquin – The Grizzly Growler – Spring Valley High School
2nd Place – Karen Virgen – Sunrise Mountain Echo – Sunrise Mountain High School
3rd Place – Morgan Allen – Silverado Star – Silverado High School
Best Page One design / reduced format
1st Place – John Blake and Meagan Shaffer – LVA Accolades – Las Vegas Academy
2nd Place – Kaylee Schwurack – Hillside Hotwire – Foothill High School
3rd Place – Sarah Fernandez – The InvestiGator – Green Valley High School
Honorable Mention – Miranda O'Donnell – The Eagle's Landing – College of Southern
Nevada High School
Best sports page design / standard format
1st Place – Amai Mims – The Grizzly Growler – Spring Valley High School
2nd Place – Donovan Souder – The Grizzly Growler – Spring Valley High School
3rd Place – Karen Virgen – Sunrise Mountain Echo – Sunrise Mountain High School
Best sports page design / reduced format
1st Place – Elly Davis – Hillside Hotwire – Foothill High School
2nd Place – Erinn Veach – The InvestiGator – Green Valley High School
3rd Place – Kira Leal – The Eagle's Landing – College of Southern Nevada High School
Best features, arts or entertainment page design / standard format
1st Place – Jubelyn Lumboy – Mountain Lion Messenger – Sierra Vista High School
2nd Place – Kushtrim Muja – The Grizzly Growler – Spring Valley High School
3rd Place – Morgan Allen – Silverado Star – Silverado High School
Honorable Mention – Nidian Navarrete – Sunrise Mountain Echo – Sunrise Mountain High School
Best features, arts or entertainment page design / reduced format
1st Place – Zack Jackson – Hillside Hotwire – Foothill High School
2nd Place – Kaeli Britt – The InvestiGator – Green Valley High School
3rd Place – Kira Leal – The Eagle's Landing – College of Southern Nevada High School
Honorable Mention – Juliette Singer – LVA Accolades – Las Vegas Academy
Best copy editing
1st Place – Shila Sherafat – The InvestiGator – Green Valley High School
2nd Place – Sarah Fernandez – The InvestiGator – Green Valley High School
3rd Place – La Chine Wong – The Grizzly Growler – Spring Valley High School
Best headline
1st Place – Andrew Mendez – The Grizzly Growler – Spring Valley High School
2nd Place – Juliette Singer – LVA Accolades – Las Vegas Academy
3rd Place – Grace Fitzpatrick – The Meadows Sentinel – The Meadows School
Best advertisement
1st Place – Olivia Santos – Silverado Star – Silverado High School
2nd Place – Elly Davis – Hillside Hotwire – Foothill High School
3rd Place – Breanna Burns – The Eagle's Landing – College of Southern Nevada High School
Honorable Mention – Cole Miele – Mountain Lion Messenger – Sierra Vista High School
Best sports photo
1st Place – Cherish Jones – Mountain Lion Messenger – Sierra Vista High School
2nd Place – Esmeralda Arias – Sunrise Mountain Echo – Sunrise Mountain High School
3rd Place – Ryan Kelleher – The Roar – Coronado High School
Honorable Mention – Leigh Quarles – Hillside Hotwire – Foothill High School
Best news photo
1st Place – Karen Pegueros – The Roar – Coronado High School
2nd Place – Erinn Veach – The InvestiGator – Green Valley High School
3rd Place – Jason Park – Maverick Pulse – Advanced Technologies Academy
Honorable Mention – Caitlin Gaddis – The Grizzly Growler – Spring Valley High School
Best feature photo
1st Place – Caitlin Gaddis – The Grizzly Growler – Spring Valley High School
2nd Place – Cherish Jones – Mountain Lion Messenger – Sierra Vista High School
3rd Place – Manon Ladeyn – Eye of the Tiger – Bonanza High School
Honorable Mention – Brynne Hilton – The InvestiGator – Green Valley High School
Best photo illustration
1st Place – Sarah Fernandez – The InvestiGator – Green Valley High School
2nd Place – Sarah Fernandez – The InvestiGator – Green Valley High School
3rd Place – Miguel Navarro – Hillside Hotwire – Foothill High School
Honorable Mention – Taylor Lane and Morgan Allen – Silverado Star – Silverado High Schoo
MOST VALUABLE STAFFER
Jason Park, ATECH
Monique Raven, Basic Academy
Alondrah Ramirez, Bonanza
Saveria Farino, Coronado
Breanna Burns, CSNHS
Trinity Goldsmith, Durango
Shae Turner, Faith Lutheran
Elly Davis, Foothill
Shila Sherafat, Green Valley
Juliette Singer, Las Vegas Academy
Jake Grosvenor, Palo Verde
Jubelyn Lumboy, Sierra Vista
Morgan Allen, Silverado
Andrew Mendez, Spring Valley
Karen Virgen, Sunrise Mountain
Minahil Tufail, The Meadows
Natalie Johnson, West CTA