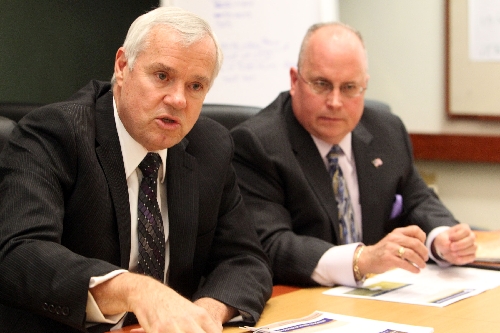 A rewrite of the formula used to divvy up state funds to colleges and universities will be a priority among higher education leaders this year, the chancellor said Wednesday.
The state higher education system has requested $472 million a year over the next two years, the same budget the system had the past two years.
But officials have been working to rewrite the formula that helps split that money up between a research institute, two research universities, a state college and four community colleges.
The old formula used a complicated system to split the money, mostly by rewarding institutions that increased enrollment year after year.
But the new proposal would start with a base budget and add on money based on performance in areas such as graduation rates. Those rates are lower in Nevada than the national average. Both universities' rates have hovered near 40 percent the past few years.
The rewrite would allow the institutions to keep tuition and fees collected there, which would be a major change that would especially benefit UNLV. The university attracts thousands of out-of-state students, who pay more than Nevada residents.
Currently, tuition and fees are funneled back to the state general fund and then distributed back to the institutions as part of their regular state-funded budget.
Southern Nevadans have complained that the northern institutions get more than their fair share of state money.
The new proposal seeks to fix that. All three southern institutions – UNLV, the College of Southern Nevada and Nevada State College – stand to gain under the new proposal.
UNR's budget would be about the same, while the three community colleges in Northern Nevada would lose money.
Klaich told the Review-Journal's editorial board that two versions of the new proposal try to mitigate the loss to the rural colleges. One phases in the loss over four years, while another provides additional funding for the first two years.
He said other priorities this year will be the restoration of pay cuts throughout the system and money for the Knowledge Fund.
The fund was created in the past legislative session as a way to spur economic diversification in the state through the universities, but it was not funded.
Contact reporter Richard Lake at rlake@reviewjournal.com or 702-383-0307.