Hiring, firing changes collide with looming cuts for teachers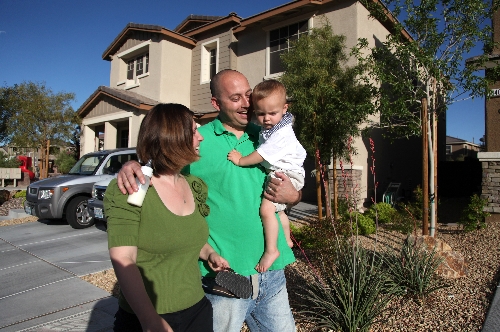 It's like watching players stack their pieces of wood in a game of Jenga.
As lawmakers strive to construct a budget for Nevada's public schools through funding takeaways and givebacks, teachers with jobs, salaries and programs at stake are bracing to see if the partisan shuffling of revenue blocks will stand firm or topple like a tower without adequate support.
"This is an extraordinary period for us," says 53-year-old Cindy Johnson, whose job as a project facilitator for the cash-strapped Clark County School District's teaching and learning collaborative already has been eliminated for next year. "I've been here for 26 years and we've never had anything like this."
Gov. Brian Sandoval's initial education budget, unveiled in January, was a package of proposed reforms and program shrinkage built on dismal revenue projections and absolutely no new taxes. His then-$2.4 billion, K-12 budget for 2011-13 represented an 11 percent cut from what lawmakers approved in a 2010 special session.
The first-term GOP governor's plan set the district — the state's largest school system and Nevada's largest employer — on a crash course with mass layoffs, increased class sizes and the elimination of special programs and extracurricular offerings.
The picture has since improved — all but $15 million of the state funding cut made to education during a 2010 special session was restored after Nevada's Economic Forum upgraded revenue projections on May 2. Sandoval has pledged to funnel most of the $270 million in newly projected revenue into education, with the lion's share going to K-12 schools.
But one thing remains the same — updated budget scenarios from both the governor and the district still call for teachers and other school employees to take pay cuts, give up raises and absorb increased contributions to health care and retirement benefits.
Sandoval also is standing firm on his call to overhaul the way public school teachers are laid off and fired.
"It seems as if we're getting punished," says Paul Hernandez, a geography teacher at Guinn Middle School whose wife is a middle school counselor. "In my family, we have double the commitment to public service."
He pauses to shake his head.
"When did we become the enemy?"
THE CARROT AND THE STICK
In the years when Nevada was all about growth and the district was a teacher-hiring machine, compensation was treated as a carrot.
New teacher pay was bumped up to lure candidates to Clark County, which became the nation's fifth-largest school system with more than 309,000 students and 37,000 employees. From 2001-09, a state-funded program awarded $2,000 signing bonuses to new teacher hires. Fast tracks to licensure were created for would-be teachers with college degrees who lacked the required credentials.
But in the teeth of a national recession, budget-conscious politicians and special interests unhappy with the return on the investment of public money into public schools began calling for the creation of some kind of stick in matters of teacher evaluation and compensation.
The eye of the storm in Nevada is Sandoval's push for a system of teacher retention based on merit instead of seniority, which is packaged in Assembly Bill 555. At least 50 percent of a teacher's or administrator's evaluation would be based on student progress.
The polarizing bill would toss out existing policies for educator layoffs based on "last in, first out" and end automatic raises for teachers who earn advanced degrees. Licensed personnel would become one-year contract employees with no guarantee of being rehired.
"We owe it to our students and teachers to change the failing culture that has become all too pervasive in our places of education," Sandoval told Silver State residents in a televised speech May 3. "Nevada's graduation rate remains the worst in the nation. Thousands of our students underperform in virtually every academic subject on every possible test. The input does not match the output."
But Sandoval's proposals have yet to gain traction in the Legislature, where Democrats control both the state Senate and Assembly. They offer competing, softer bills on teacher performance. On the same day as Sandoval's public plea for support for his reforms, Democratic lawmakers in a joint meeting of state Senate and Assembly money committees rejected key pieces of the governor's plan, including proposals to cut school employees' pay by 5 percent.
In the district, employees still face a possible 8 percent or more pay and benefits cut, partly because of local revenue shortfalls.
Sandoval has succeeded in alienating teachers, says Ruben Murillo, president of the Clark County Education Association, which represents the district's nonadministrative licensed personnel.
"My members are torn, they're confused, they feel insulted," Murillo says. "They feel they're being made to suffer the consequences of poor decision-making."
In a district with high student transiency, Murillo questions the fairness of judging teachers on the performance of students who often haven't been with them for a full academic year. He also takes issue with imposing tougher mandates on teachers while handicapping them with growing class sizes and dwindling resources.
Joyce Haldeman, associate superintendent of community and government relations, says the terms of AB555 also present a problem for the district. As written, the bill would siphon $20 million away from full-day kindergarten and class-size reduction programs to create pay-for-performance incentives for teachers.
"That's difficult for us to accept," she says.
Haldeman also worries that the big picture on school funding is being obscured by lawmakers who talk about the district's budget in a way that isolates revenue streams — just because state funding may rise doesn't mean all budget gaps are closed.
"The Nevada (school funding) plan is a complex instrument and you have to take everything into consideration, including the local revenue picture," she says.
Assemblyman Randy Kirner, R-Reno, who has a doctorate in education, says the Republican caucus supports the governor's call for reform: "I've talked to the governor and I know his heart's in the right place. We need to fundamentally change what we do."
That's not likely to happen with the current legislative divide. While Sandoval lacks the votes needed to pass his reforms in the Legislature, Democrats don't have the two-thirds majority needed to override the governor's promised veto of any budget that contains new taxes or tax increases.
The schism was underlined on Tuesday when both the state Senate and Assembly approved $2.8 billion for public schools in 2011-13 on party line votes. Democrats also spiked Sandoval's proposal to divert school construction bond debt reserves to the classroom. The political brinksmanship puts Democratic lawmakers a step closer to a showdown with Sandoval in the last weeks of the session, which ends June 6.
RED INK AND SALARY CUTS
The welcome infusion of new state funding doesn't erase the bitter budget pill expected by the Clark County School District in fiscal year 2011-12.
Chief Financial Officer Jeff Weiler anticipates the district will get up to $80 million more in state funding next year from the improved economic projections. But that money just wipes out the leftover red ink left outstanding in next year's district operating budget.
The district still anticipates a shortfall of $407 million in its tentative budget for 2011-12. And the remedy for that still includes asking employee unions for pay and benefits cuts worth 8 percent or more and eliminating 1,800 jobs.
Without employee contract concessions, the reduction in force will have to be even deeper, district officials say.
"That, to me, is very frightening," worries Johnson, who's returning to the classroom as a music teacher because her current position has been eliminated. "I have 26 years of outstanding evaluations behind me. I have two kids in college here in the state. I'm a single mom. Thinking about how I'm going to keep my girls in college keeps me up at night."
For Johnson, who will have to take a pay cut after being bumped, the additional salary concessions sought by the district may well force her to choose between keeping her house or keeping her daughters in school.
In the two-educator Hernandez family, imposing an 8 percent cut in pay and benefits on each breadwinner may force one to stop working to stay home with their 1-year-old son. The impact of losing that income jeopardizes their ability to pay for child care, which costs about $1,000 a month. That's a bit less than the $1,293.36, or $107.78 a month, the couple expects to pay for health insurance next year under the district's cost-savings plan.
After taxes and deductions, the couple's annual income is about $79,000. His gross annual salary is about $49,000. Hers is about $51,000. The 5 percent pay cut the district wants employee unions to accept would carve about $5,000 out of the family's gross annual income.
The two find irony in their situation — they're paying off $60,000 in student loans invested in establishing the education careers both love.
"We live in a middle-class neighborhood," says Michele Hernandez, 32, a counselor at Sawyer Middle School. "We're paying off student loans. We already drive to work together to save money."
"Think about it," Paul Hernandez, 36, continues. "The district employs more than 37,000 people. They're taking away all our discretionary income and then some. Politicians talk about giving breaks to businesses, but they're hurting businesses. We have nothing to spend."
Johnson agrees: "It's having a ripple effect on the whole community."
REFORM OR SELF-DESTRUCTION?
Bad economic times can be opportunities for transformational change, says Michelle Rhee, the former Washington, D.C., schools chancellor who stood with Sandoval in January when he rolled out his plans for education reform.
Rhee acknowledges that coupling reform with budget cuts is not ideal, but says tough times can open a window of opportunity that's closed when funds are flowing freely.
"In fat economic times, no one is going to talk about layoff policies," says Rhee, who headed Washington's struggling public schools from 2007-10 and pushed for the kinds of reform Sandoval now wants.
"No one is going to talk about the detrimental impact that seniority-based layoffs have because it's not an issue. The way or time to address those issues is when reality is staring you in the face."
As Washington schools chancellor, Rhee made teacher quality a centerpiece issue. In the year before she took charge, not one teacher had been dismissed for poor performance in what was the lowest-performing district in the nation, she says.
"We, through the collective bargaining process, signed a contract that got rid of seniority, tenure and lockstep pay," Rhee says. "It took me almost three years to do it."
Quality-based layoffs also can save about 30 percent of jobs on the chopping block, she maintains. "Last in, first out" policies mean the newest and lowest-paid teachers go first, even if they're outperforming senior staff who earn more.
Seniority-based layoffs also penalize low-performing urban schools, which tend to have the largest populations of new teachers, Rhee notes.
"Are we really going to allow our kids to suffer?" she asks.
While speaking with a group of Nevada public school teachers, Rhee says she met one individual who was notified his job had been eliminated after he was named his building's teacher of the year.
"Some of the best teachers in the state are being let go," she says.
In briefings with the Clark County School Board, Haldeman, who lobbies for the district during the session, has said that lawmakers express frustration that the process for terminating bad teachers is so drawn out.
It is very difficult to dismiss nonprobationary employees, agrees Jon Okazaki, senior assistant general counsel for the district. It's not even something the district will attempt unless there's a clear chance of prevailing.
That means that all the steps spelled out in Nevada law and the terms of progressive discipline in employee contracts have been followed. In the case of teachers and licensed employees, oral and written warnings were issued. An admonition was issued. Short-term and/or long-term suspension happened, along with another admonition. Dismissal is the last option exercised.
"We take seriously our obligation to assist employees when it comes to improving skills and performance," Okazaki says.
In 2009-10, 127 nonprobationary licensed employees were recommended for dismissal. Twenty-four were reinstated through settlements with the district, five prevailed in arbitration and 20 cases remain open, he says.
What's important to remember, he emphasizes, is that those numbers only reflect employees in the last stage of the disciplinary process. A higher number of employees go through one or more of the earlier steps, he says, and improve along the way or quit before the process is complete.
Firing a bad teacher can take up to three years, Murillo concedes, but he argues that those individuals deserve the chance to correct their deficiencies and are entitled to due process. The push to eliminate collective bargaining, cut wages and eliminate seniority will only serve to drive good teachers out of the classroom, he says. That's not reform, he contends. That's self-destruction.
"These are things that we bargained for over the years that the district agreed to," Murillo says. "We didn't take anything. And once you give up salary, once you give up benefits, you never get it back."
Contact Assistant City Editor Lisa Kim Bach at lbach@reviewjournal.com or 702-383-0287.
2010-2011 annual teacher salary schedule