History buff's persistence lands Grammy nomination
February 4, 2013 - 1:59 am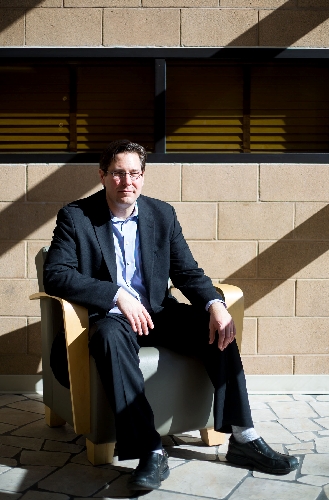 Peter La Chapelle is a history buff. He's 42 years old. He wears nerd glasses and chairs the history department at Nevada State College.
He has virtually no musical ability.
Yet, he is sort-of a Grammy nominee in the same category as a former Beatle and a Beach Boy.
"Going up against Paul McCartney and Brian Wilson is pretty tough competition," he said.
How did this happen?
It almost didn't. It was a phone call. A tip. A search. A discovery.
La Chapelle might accidentally win a Grammy.
He started out as a kid from a small Arizona town halfway between Phoenix and the nothingness at the New Mexico state line.
He liked movies. Especially "All the President's Men," about The Washington Post's investigation into Watergate, and the Indiana Jones movies. The history, and the adventure it implied, fascinated him.
When he went to college, he thought he'd study anthropology, but switched to history and journalism. He got a job as a newspaper reporter in Bakersfield, Calif.
Bakersfield, a farming town, turned out to be a gold mine for a history buff.
The city was in the heart of where the mass migration of Dust Bowl refugees ended up during the Great Depression.
La Chapelle wrote newspaper stories about the people. He became enthralled. He went back to school, studied for his doctorate at the University of Southern California.
He loved looking at the cultural aspect of the migration. What the new people brought with them, and how it changed California's culture.
Music was one of those things. And Woody Guthrie was a prime example.
Guthrie is best known now as the man behind "This Land is Your Land." He wrote and sang about the Okies, as they were called. He wrote about the downtrodden. He became a folk music legend in the 1940s.
But it was in the 1930s, in Los Angeles, when much of his early writing was happening.
La Chapelle was interested in that period. He scoured the country for artifacts of Guthrie's time in Los Angeles. He talked to people who knew him.
He knew Guthrie hosted a radio show at the time.
He talked to a guy who said he knew Guthrie recorded a few songs one day in the radio station. Maybe there are still copies left, he said. Maybe he'd donated them with a pile of other records to an obscure local library in South Central Los Angeles. It was only a mile or so from the university.
La Chapelle was dubious. The people at the library didn't think they had the records. But when he looked for them, there they were. Two records, one song on each side, most likely recorded in 1939, before he moved to New York and became famous.
He had found four previously unknown Woody Guthrie songs. He didn't release his first album until 1940.
"They had no idea they had them," he said of the library staff.
He wrote about the songs in his dissertation. That was in 1999.
He soon got a fellowship at the Smithsonian Institution, the largest museum in the world. He got to know Jeff Place, who produces historical albums for the museum.
One thing led to another. To commemorate the 100th anniversary of Guthrie's birth, July 14, 1912, the Smithsonian was going to release a compilation of his work.
The four songs La Chapelle found would be on the collection.
He was commissioned to write an essay for the materials accompanying it.
If the project wins, he won't get a trophy. Those will go to the collection's producers.
"I'm just glad to be included," La Chapelle said.
But what's more important, he said, is that he's made a contribution to history. It's probably where he developed some of his left-wing politics, too. The songs La Chapelle found demonstrate that clearly. They're about being poor, living on skid row, crooked politicians.
It's clear now, La Chapelle said, that Guthrie's years in Los Angeles were important. That wasn't really known before.
"People in Los Angeles are finally finding out that Woody was part of the history there," he said.
Contact reporter Richard Lake at rlake@reviewjournal.com or 702-383-0307.
55th Annual Grammy Awards
The show will air Sunday on CBS, KLAS-TV, Channel 8.