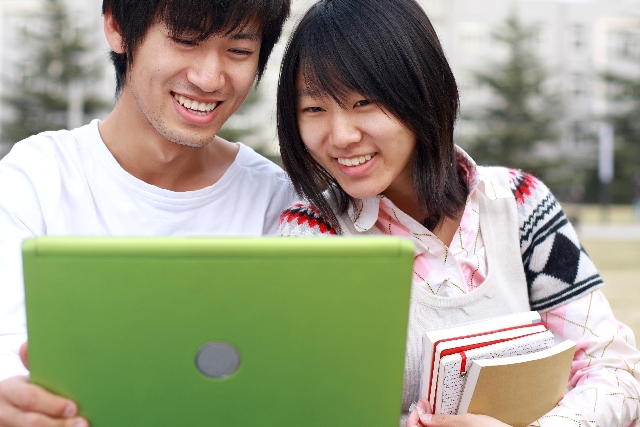 Danny Crinson describes himself as "bizarrely motivated" and has the resume to prove it. At 24, the Scotland native already has nearly a decade of work experience under his belt split between the banking and hospitality fields.
When he was 14, he found work at a hotel and quickly made his way into management. Later he did the same in banking while earning a psychology degree from the University of Glasgow in Scotland along the way.
Now, as he completes a master's degree in hospitality administration at the University of Nevada, Las Vegas, Crinson is hoping to combine his real world experience, education and many connections he's gathered through his UNLV studies in hopes of a deeper career run in the hospitality industry.
"UNLV has gone above and beyond in terms of support and mentorship," he said. "I would never have had these opportunities if I were back home."
Crinson, like some of the more than 720,000 other international students studying in the U.S. these days, was curious about the opportunities in America. He jumped at the chance to attend UNLV after visiting Las Vegas on his 21st birthday.
"In the U.K., hospitality is not viewed as a real career. It's just something you do while you're looking for a job," he said. "I liked psychology because I felt like I could apply it to everything in the world, but hospitality is the only thing I've ever been passionate about."
At UNLV, Crinson is one of about 1,300 international students studying at the school, about 5 percent of its overall population. Rob Sheinkopf, UNLV director of enrollment management , would love to see more international students on campus but acknowledges that outreach isn't always easy.
"For the most part, I think what's hindered us is the high cost of international recruitment. You have to send people overseas, find someone to put them up," he said.
The school's international student numbers have remained somewhat flat for some time, despite enjoying a top 10 diversity ranking from the U.S. News & World Report in 2012. Much of that diversity is driven by minority populations, which school officials see as a good thing, he said. But the admissions expert is also fighting for attention among top-tier East Coast and Midwest schools that seem to be winning out among international students.
In a report released last year by the Institute of International Education, which has been tracking international student data for more than six decades, about half of the 25 schools with the highest number of international students increased their figures by 40 percent or more in the past five years. The report also noted that international student enrollment in the U.S. has climbed 32 percent since 2007 after seeing declines and flat activity since 2002, largely the result of post 9/11 immigration policy and security concerns.
So Sheinkopf's focus the past couple of years has been more grass roots. Reaching out to enthusiastic alumni has been a focus for all recruiting areas, he said. But he believes alumni also can make great strides with prospective international students as well, many of which go back home after completing their studies.
Not unlike national figures, about two-thirds of UNLV's international population comes from Asia, or a little more than 800. More than half of that figure is from South Korea and about 244 are from China. Nationally, Chinese international students make up more than 150,000, about one-fifth of the entire international student mix. Sheinkopf says that UNLV's hotel college is extremely popular among the Asian population, and the hope is that outreach to South Korean and Chinese graduates can yield even more students.
Engineering is the second most popular major (to hospitality) among UNLV's international students. Sheinkopf said a Chinese engineering professor visits his homeland every summer, partly to visit family, but also to scout out students. It's this type of activity that the university also banks on with its international staff.
"He's always able to bring back three or five of our best engineering students," he added.
American allure
America's allure reaches all around the globe. And it's no secret that American universities love that international students pay out-of-state tuition, which can often time be three times the amount of in-state tuition. With shrinking state funding sources, experts say it's one small way American colleges are able to make up some lost funding ground.
Sheinkopf has found that undergraduates, particularly from Asia , tend to have sponsors, either government, church or other sources paying the bill. Graduate students are more likely to be coming out of their own pockets for their education.
Regardless, Sheinkopf says the Las Vegas Strip is something that, particularly for hotel college majors, he loves to use in marketing presentations.
"There aren't a whole lot of cities that generate that kind of reaction," he said. "We make the most of the Strip. Some people are afraid of it, but we clearly use it."
In addition to Las Vegas' iconic side, what may also work in the future for Sheinkopf is the reality check many international students must face before applying to American universities.
Mimi Doe is a co-founder of Application Boot Camp, an arm of Hernandez College Consulting, which prepares students and families for higher education options. About one-fourth of the program's 200 annual clients are international students, most from very wealthy families. Doe says the greatest misconception wealthy international students bring is thinking they can buy their way into a top-tier university such as Harvard.
Obsessed with American brands, too many international students believe that the only American colleges worth applying to are Ivy League schools, she said. But top-tier colleges such as Harvard, Princeton or Yale typically keep their international population in the 8 to 10 percent range, Doe said. For that small number of available slots, 80 to 100 countries may be represented. She also said about 40 percent of those slots are reserved for kids who have what she calls "a hook."
"Their mom's Hillary Clinton. They gave to the library. Then 60 percent is left for us mere mortals," she said.
Doe helps competitive international students look for their own hook.
"This is where you get that discus thrower from Russia, the runner from Kenya," she added.
Doe and her team are doing a lot of explaining to international families that there are plenty of great schools beyond the top 30 in the nation. Thus, as the Institute of International Education report also indicated, there is a greater influx of international students going to schools in the Midwest and beyond. For example Indiana University had fewer than 100 undergraduate Chinese students five years ago, the IIE study reported. Today, there are more than 2,200.
Buddy issues
Although international student figures are showing an up-tick, there is a social quandary rearing its head rather consistently. One common complaint among international students is a lack of deeper and longer-held relationships between international students and their U.S. friends, according to Elisabeth Gareis, an associate professor in communication studies at Baruch College in New York .
Gareis' research focus is on intercultural communication and her most recent study on the subject was published in The Journal of International and Intercultural Communication last year. She speculates that a higher level of "individualism in the U.S." is one reason international students may find it difficult to connect with U.S. students.
Crinson likes how business-driven the city and American culture can be, but he also sees the drawbacks. In Glasgow, he said, people tend to be more affectionate, in general, something his American friends found strange at first. He finds himself being more cautious about how he interacts with people socially and even online after learning about America.
But Gareis also says that, particularly with Asian cultures, there may be a certain amount of reservation when it comes to breaking from established Asian networks in the U.S.
"The literature always warns that friendship patterns are not as tight and not as long-lasting. … And I hear that from students. … But then at the same time Americans often perceive these international students as banding together and they are not interested enough to step outside of their networks," Gareis added.
Doe finds validity in Gareis' comment.
"We encourage them to get out of their box to develop contacts and network," she said. "We tell them: 'You will use these for the rest of your life.'u2009u2009"
Gareis also defines many Asian cultures at being more "collectivist," and breaking away from a group is difficult. For Crinson, weighing cultural differences, although challenging, wasn't a deal breaker for him. And he suspects language barriers may have more of a factor in relationship complaints than is being revealed in current studies.
"I do have to say, I'm so glad I didn't have to learn a new language," he said.
Gareis, who is originally from Germany and did her graduate work in America, said she feels she had a superior education in America than if she were to stay in Europe. And she said an American university education would still be in high demand around the world. But she also thinks Americans should take note of the friendship issue.
"Let's be frank. There's a pretty big measure of anti-Americanism all over the place, including in Europe," she said. "Friendship is the best way to approach international goodwill."
After graduation
For Crinson, the allure of Las Vegas, the Strip and American culture is enough for him to want to stay. But after he graduates, he'll have a year and a half to gain some experience before his visa expires. If he finds work in the resort industry and does well, his hope is that a company will sponsor him for an H-1b visa, which allows him to stay in the U.S. for an additional three years.
Sheinkopf has heard of casino employers sponsoring good employees in past years. But these days he hears more about it happening in the technology fields.
There is an annual fiscal-year cap of 65,000 H-1b visas and with more and more students looking to not only go to school but gain work experience in America, Crinson is concerned he may be forced to leave. With a weak economy, he also understands the thinking that a position of his could be taken by a U.S. citizen.
"I do understand the thinking behind that, but it is the sort of harder story behind all this," Crinson added.