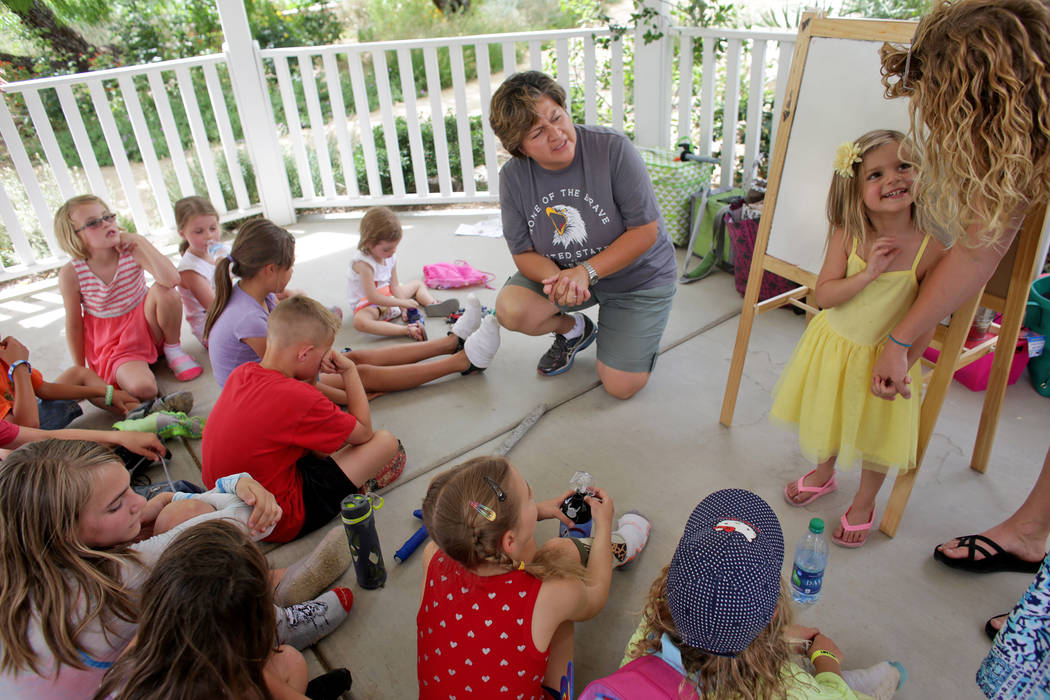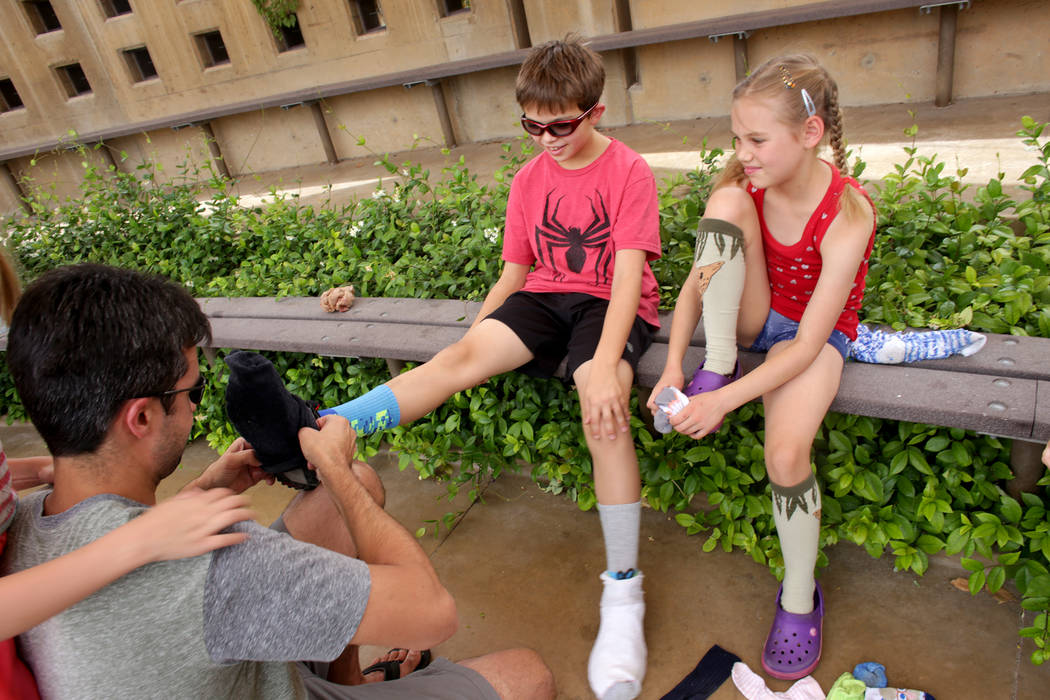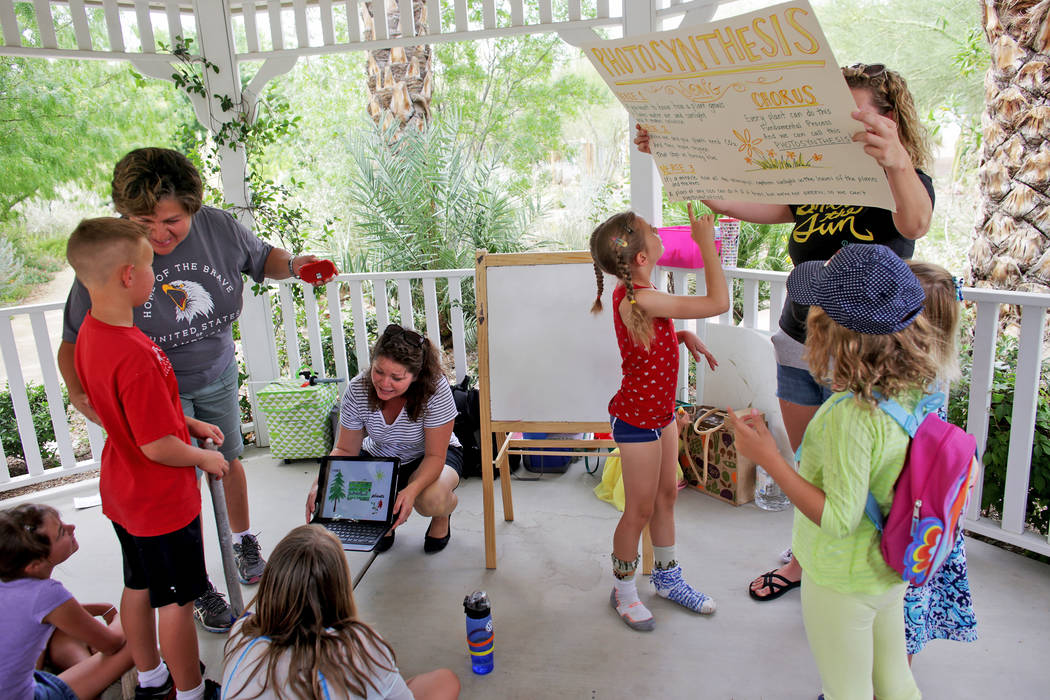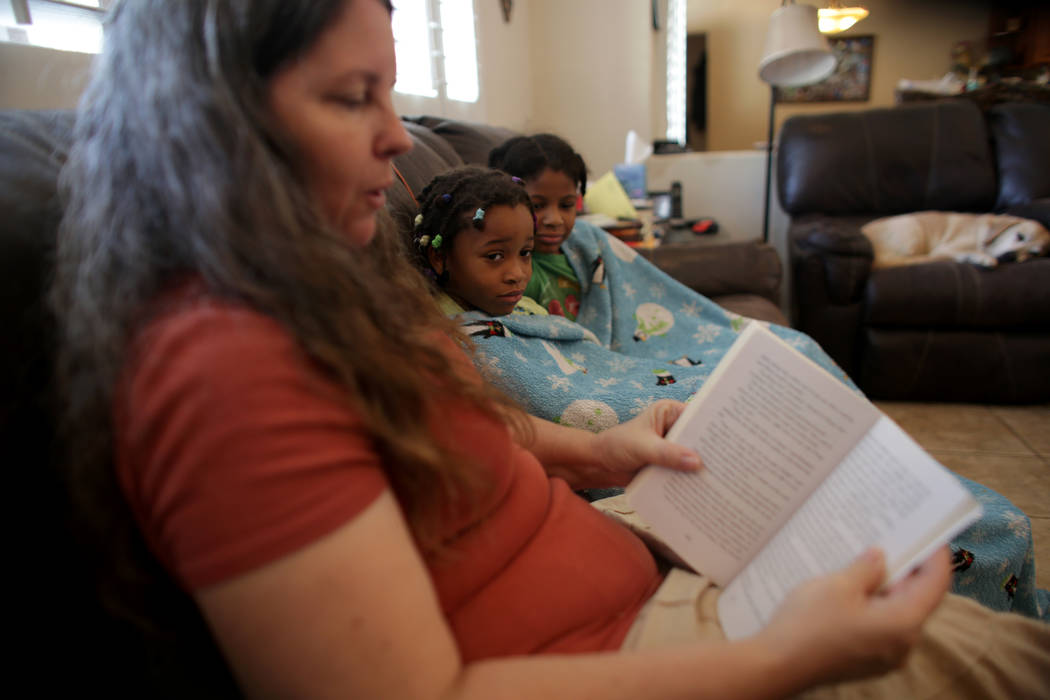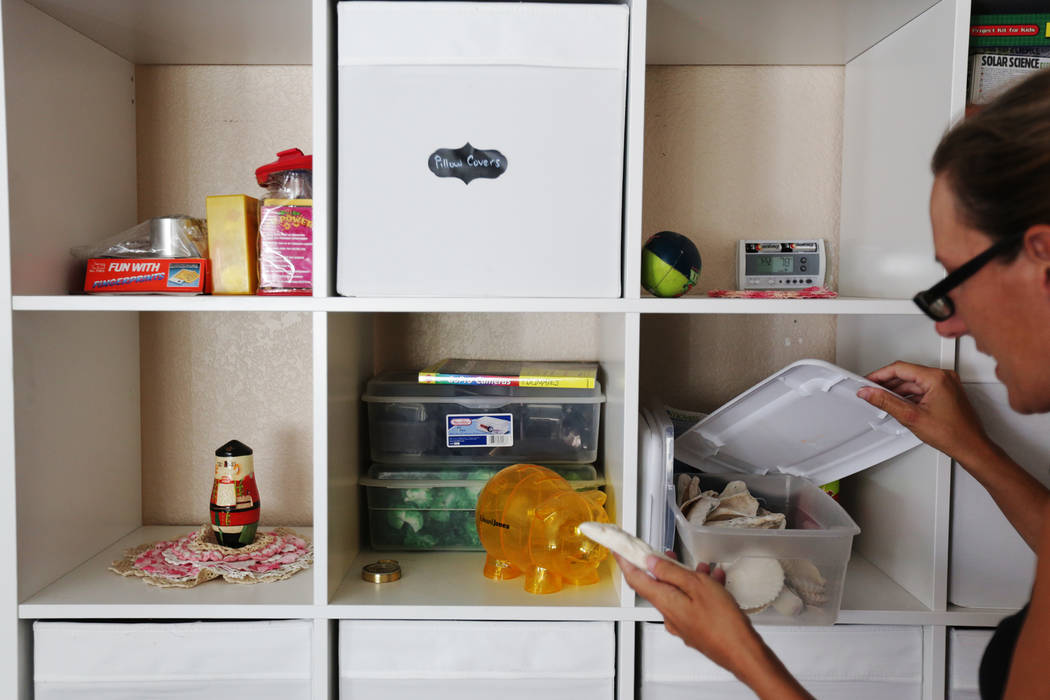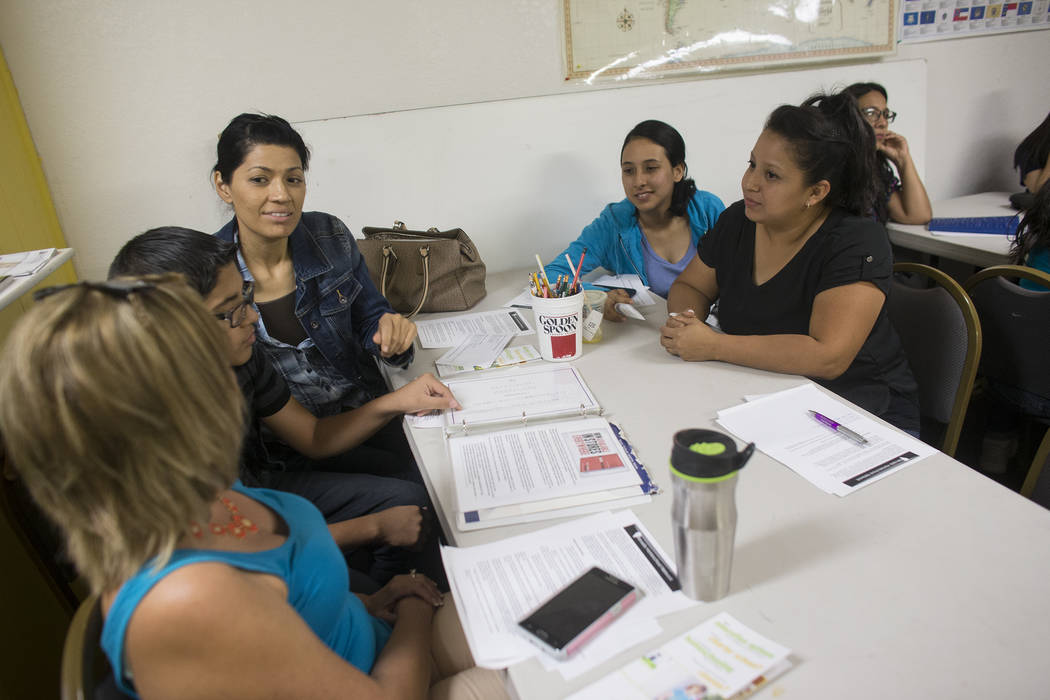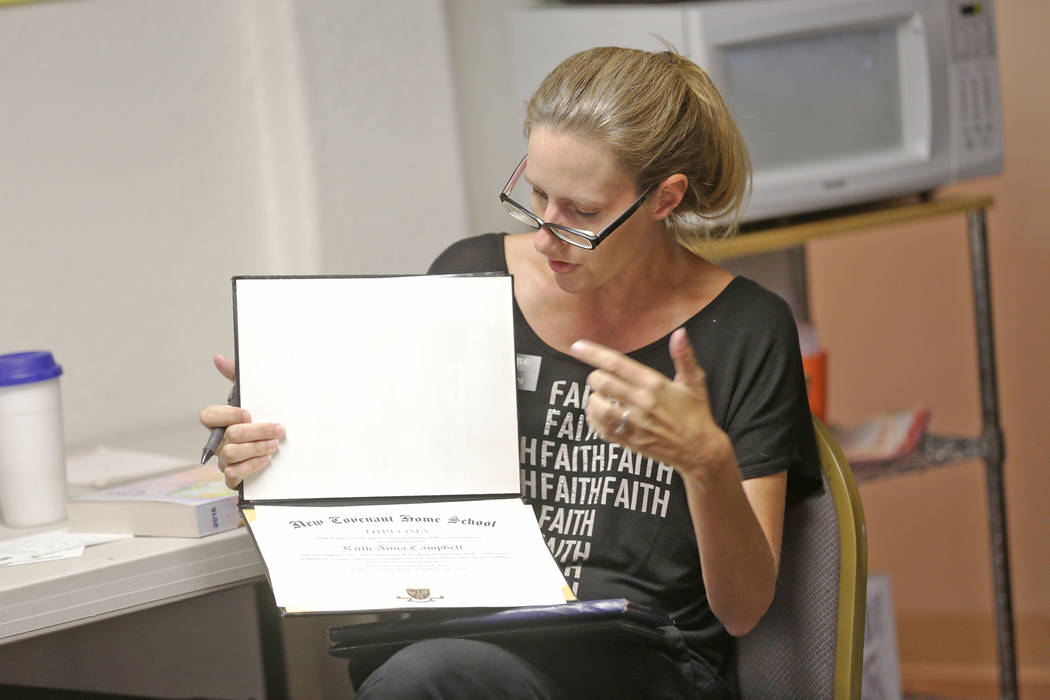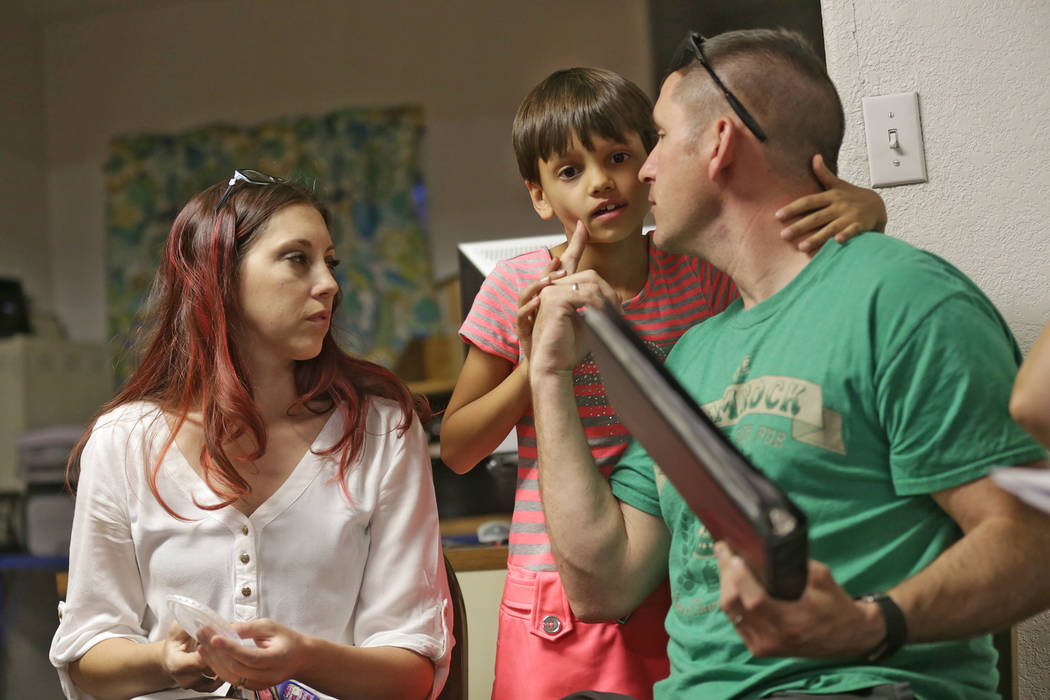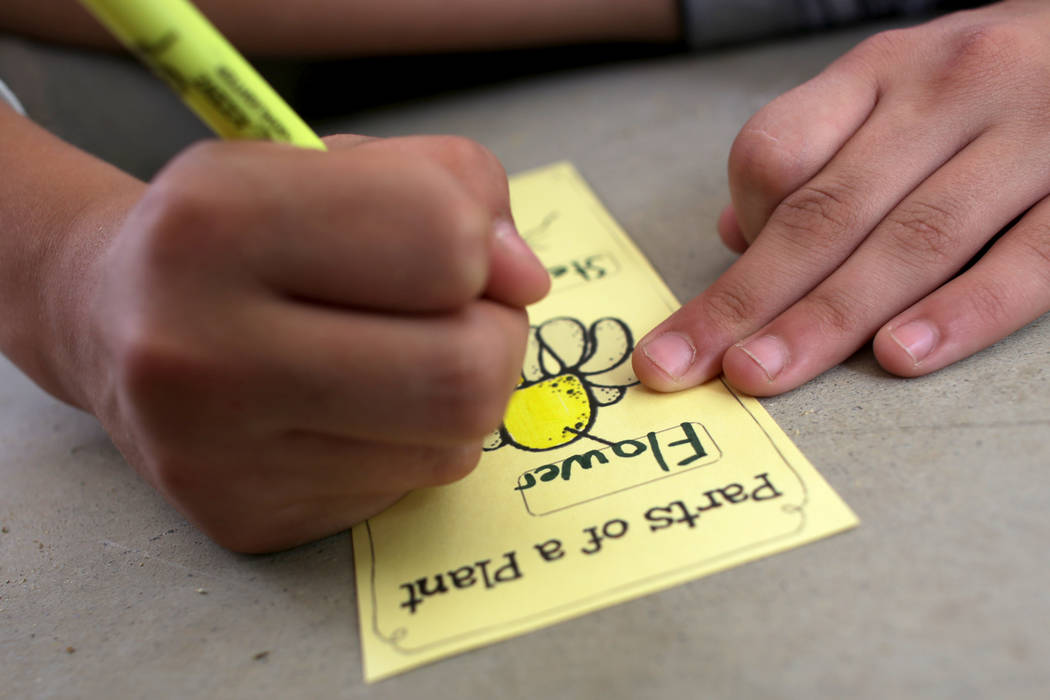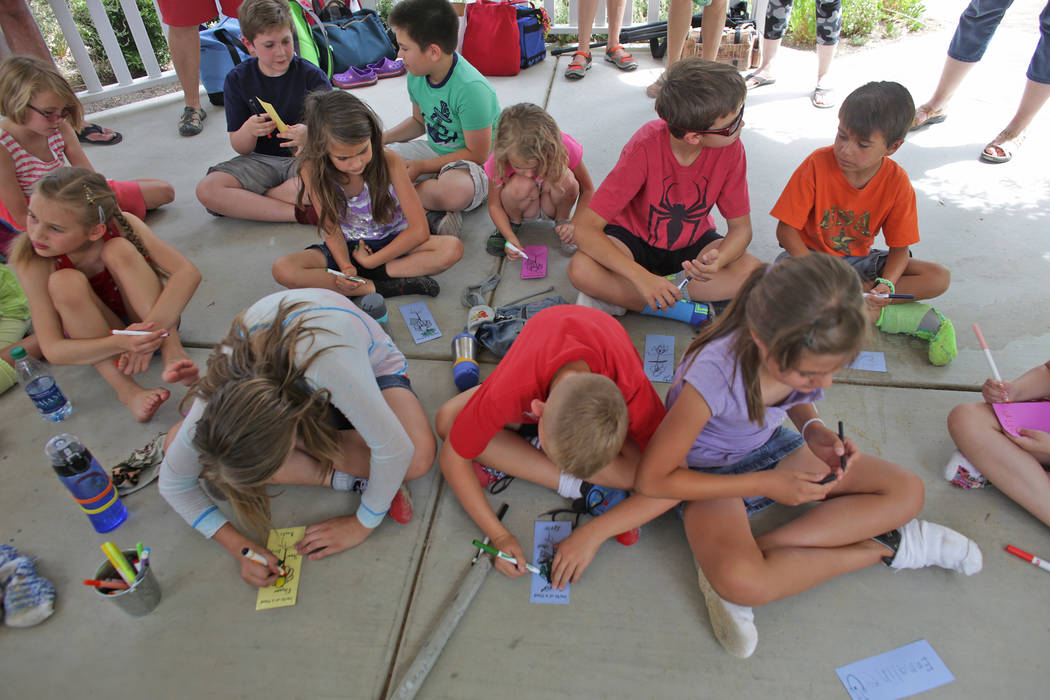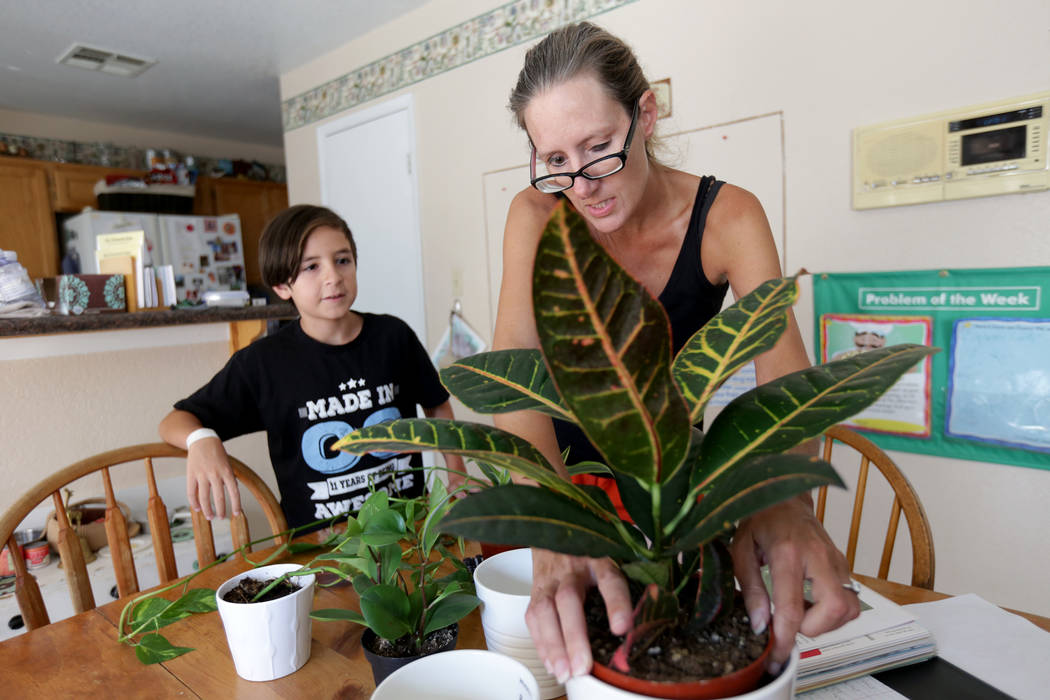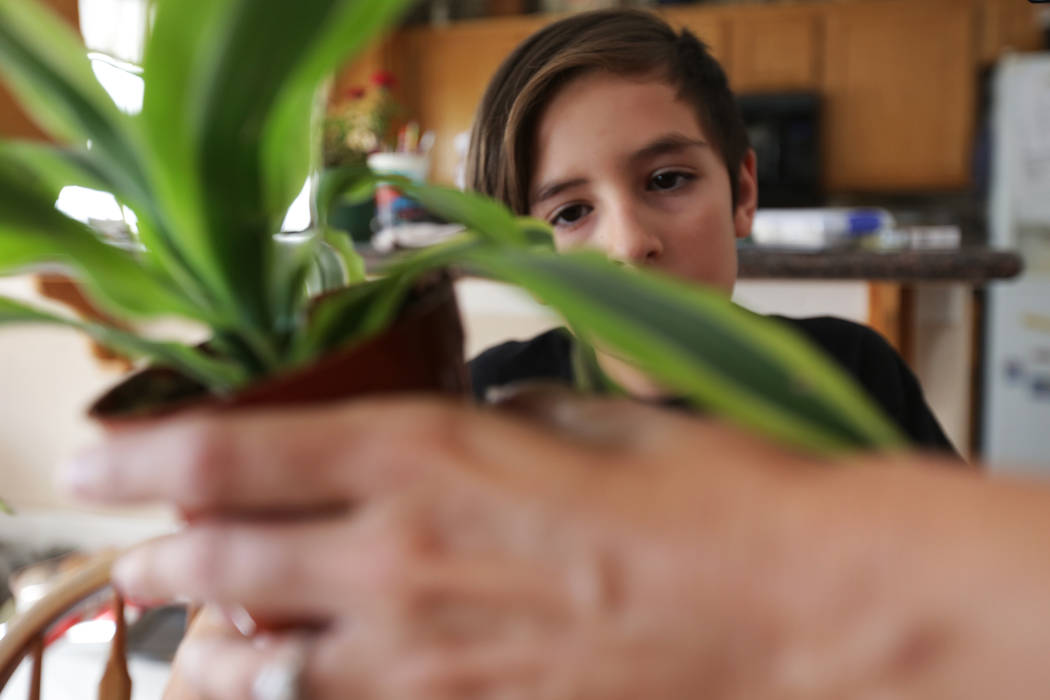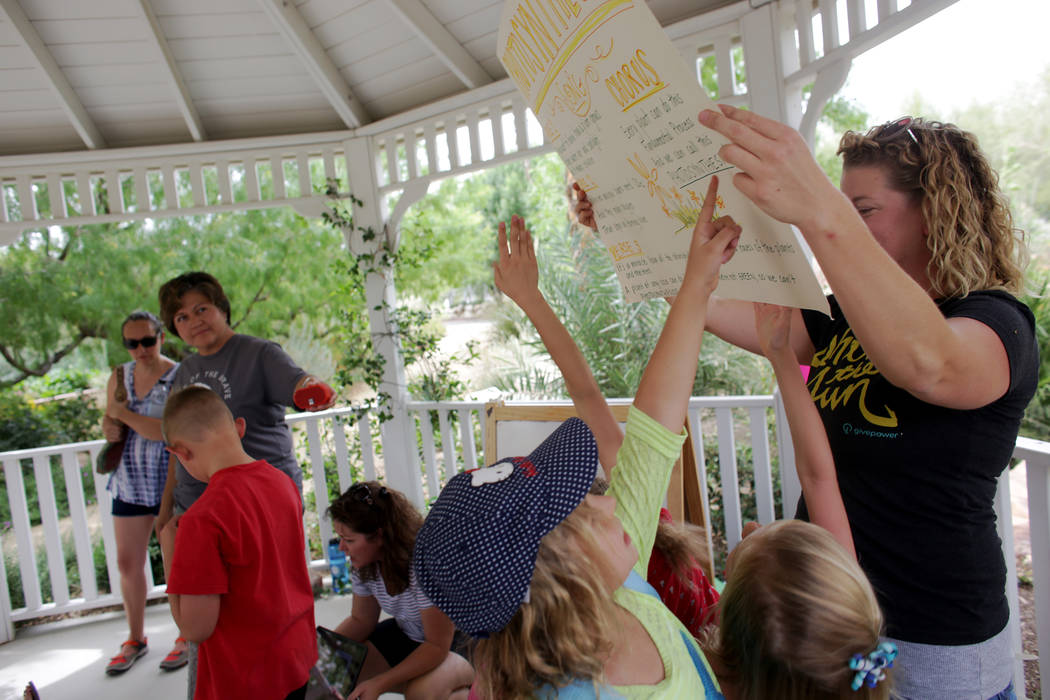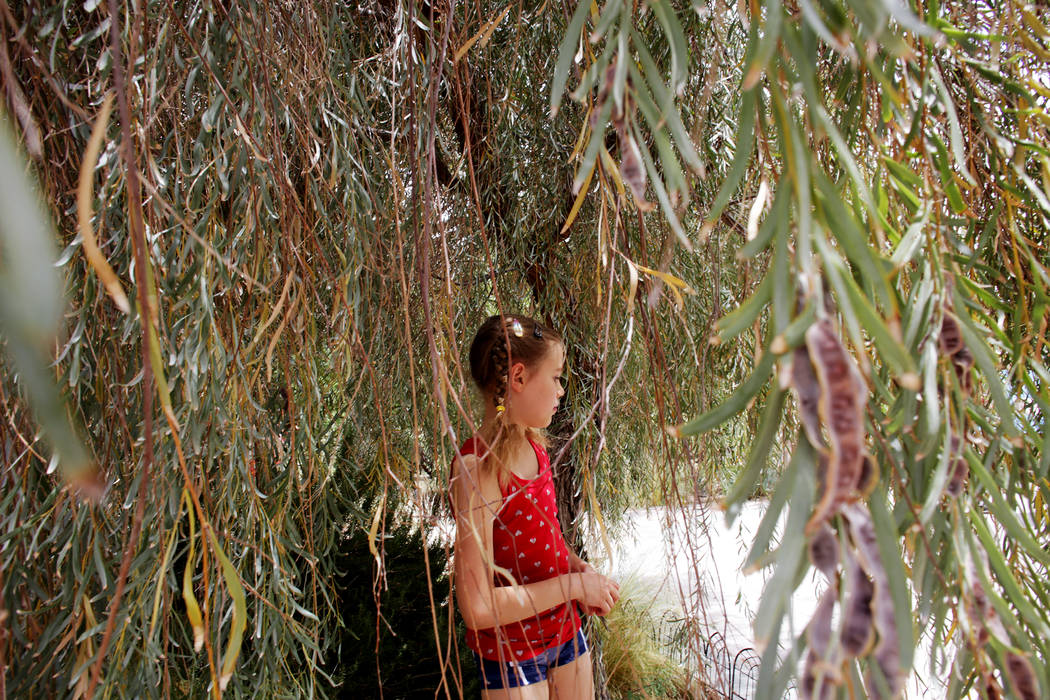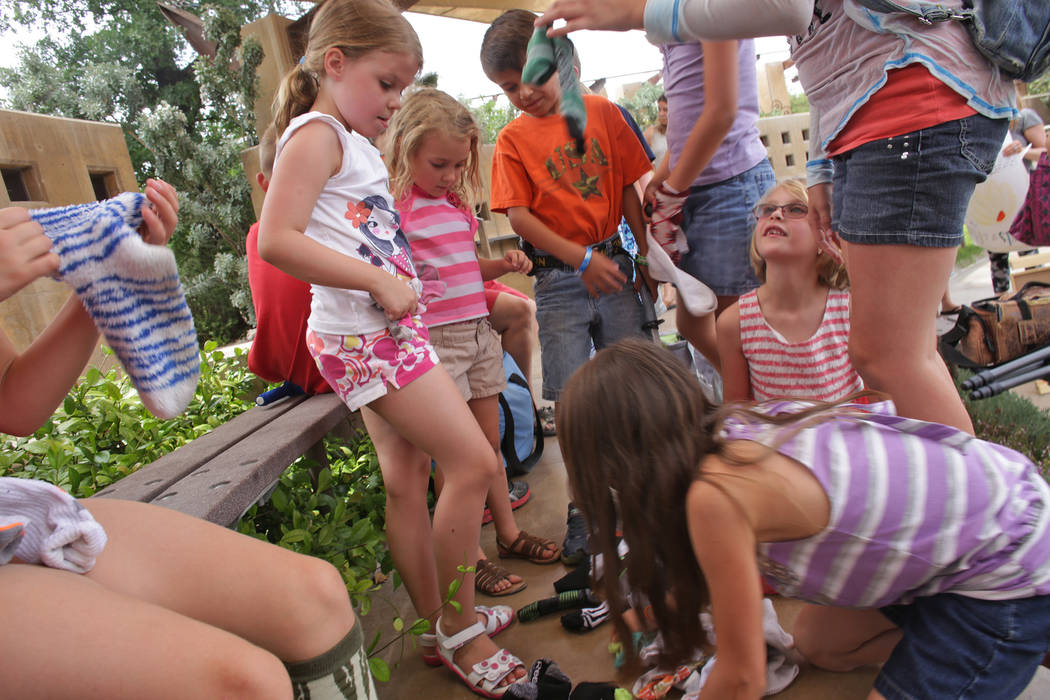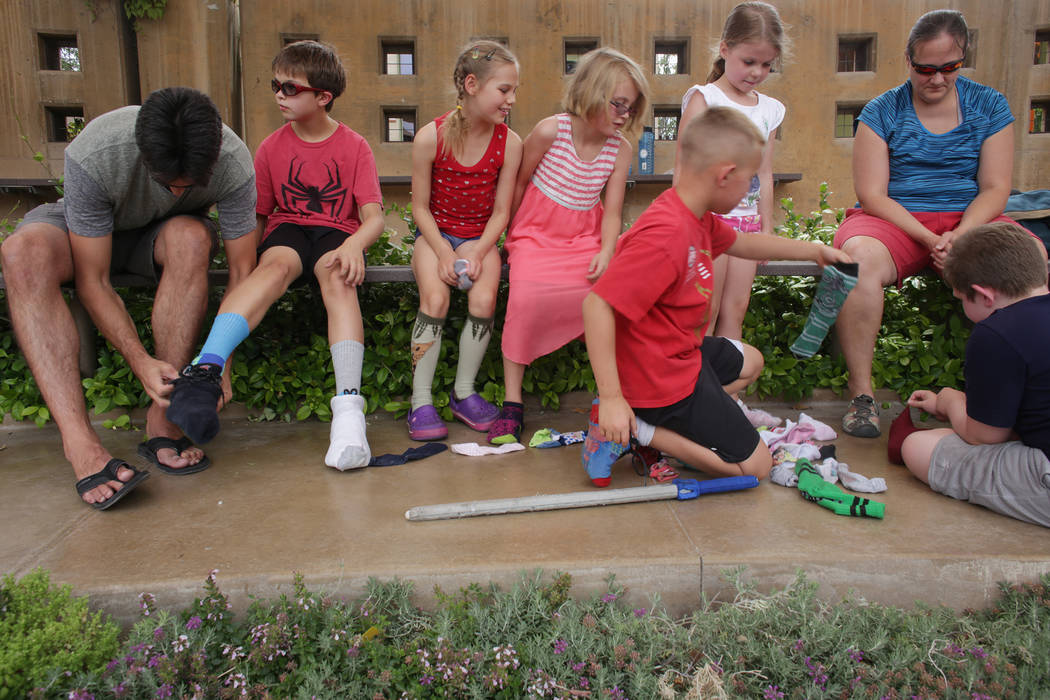 Stragglers are still arriving at the activity center in Springs Preserve more than 30 minutes after the planned 1:30 p.m. start of a weekday biology lesson, clutching sandwich bags of seeds.
"We run on home-school time," one parent quips as the last student joins the gathering outside the meeting room in the Las Vegas attraction at 2:16.
The scene captures an alluring aspect of home schooling — its more relaxed and flexible pace of learning. But it also challenges a commonly held view that home-schooled kids mostly learn in isolation — one on one with a parent at the kitchen table.
As 320,000 students head back to public schools in Clark County on Monday at the end of their summer vacation, a smaller contingent of home-schooled students will march to a different educational rhythm. Some parents say they ease up on studies during the summer, but others maintain that "learning happens all the time."
Painting a complete picture of home-schooling in Nevada is impossible — the result of state laws that remove government from the students' education once the decision is made to pull them out of public schools. But experts say the movement continues to grow in the U.S., with about 2.3 million kids learning outside classrooms.
With that growth comes a maturity that could only have been dreamed of by early adopters.
Interviews with more than a dozen home-schooled students and their parents this summer indicate that most are active participants in a "school system" of their own devising. Connected by technology to an array of support groups and fellow parents, they share and exchange knowledge and responsibility and conquer challenges with seeming aplomb.
"Somebody somewhere has already faced your problem and somebody's going to be able to help you," Elissa Wahl, perhaps the state's leading home schooling advocate, says of the grass-roots support network.
"Somebody somewhere has already faced your problem and somebody's going to be able to help you," Elissa Wahl, perhaps the state's leading home-schooling advocate, says of the grass-roots support network.
Full responsibility
Back at Springs Preserve, the lesson finally starts with a dozen of the approximately 20 children in the Wise Owls co-op in attendance. The children, ranging in age from 4 to 12, are there to review parts of plants.
Before that, though, the students pull socks over their shoes and shuffle around the grounds of the preserve. They're urged on in this strange-looking activity by Susan Myers, whose 6-year-old daughter, Frankie Feher, is part of the group.
Once the shuffling ends, Myers asks the kids to inspect their socks, looking for seeds. "No seeds on your socks? Are you sure?" she asks. "How do seeds get around?"
She waits as students pick at fluff on their socks. Eventually, one of the students finds a seed.
"People, people and animals help move seeds around," Myers says, answering her own question.
Parents in the co-op take turns leading lessons. The families also frequently go on field trips to museums or parks together.
Their reasons for joining the home-school movement are varied. For some, it was the ever-increasing stress of performance testing in traditional public schools. Others cite religious beliefs or say their children with special needs couldn't receive the one-on-one attention they required. For still others, hectic travel schedules or constant moves factored into the decision.
After they decided to take the plunge, the state of Nevada made it easy for them. Once they filed a one-time mandatory notice of intent with the local school district, they were free to study and learn as they please.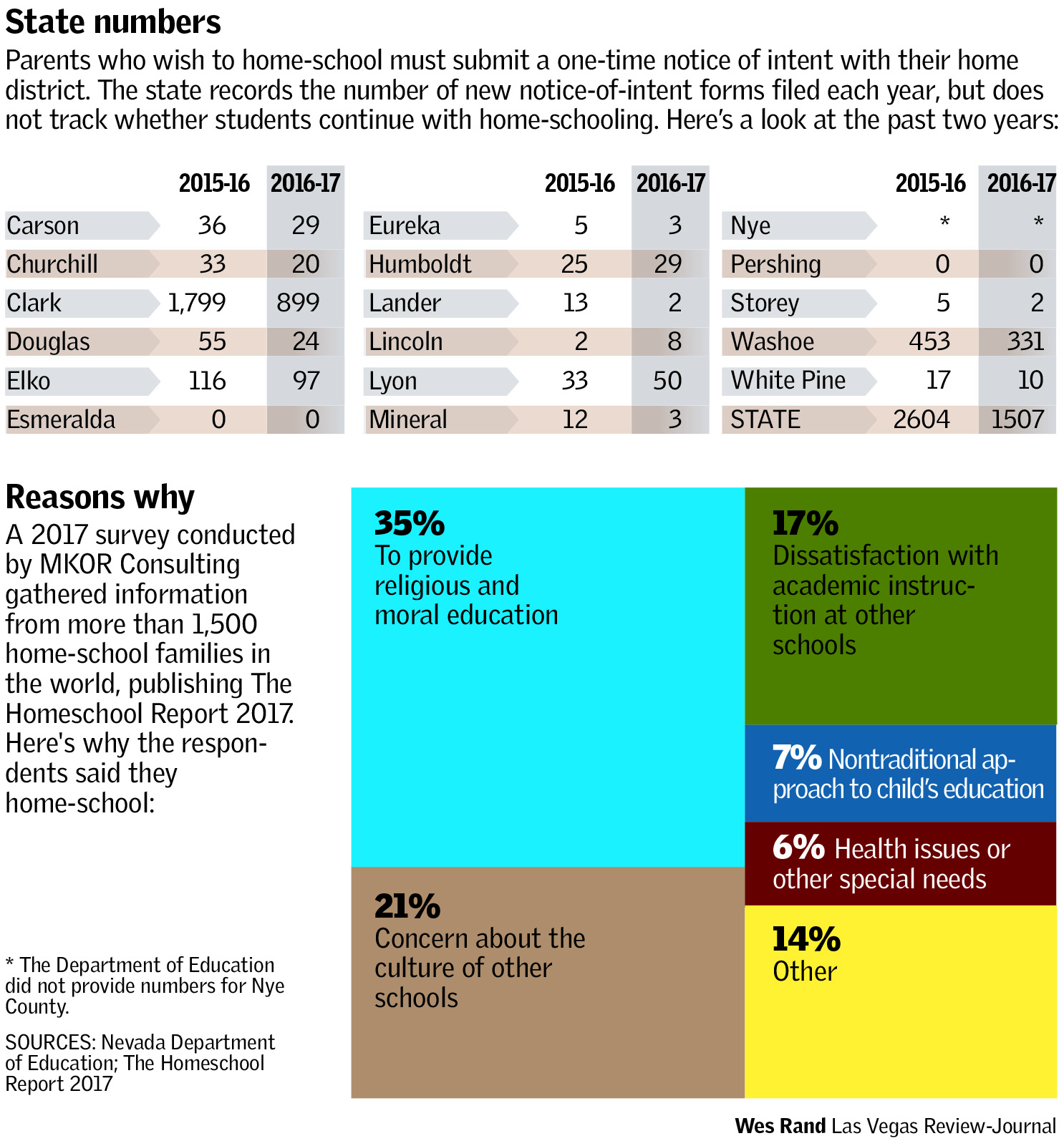 Students who home-school are not required to take state-mandated tests, although many take the SAT or ACT if they plan on attending college. Students do not need to comply with state curriculum standards — so parents can teach however or whatever they want.
There's no mandatory record keeping, and parents decide when students have "graduated" high school.
"I think that's Nevada's ethos on home-school," state Superintendent Steve Canavero said of the hands-off approach. "(Parents) take on the full responsibility."
Enjoying the experience
Nor do the state or school districts track whether students return to the formal education system after giving home schooling a try, recording only the number of new notices of intent to withdraw they receive each school year. That means there's no way to tell how many state students are being home-schooled at any given time.
Within that void has formed a universe of support groups such as the RISE Education Resource Center, a Las Vegas nonprofit founded by Wahl and three other home-schooling moms to advocate for school choice and support those who decide to blaze their own education trail.
While the RISE center offers traditional fare, such as "introduction to home-school" classes, choices abound for parents, no matter what their motivation, said Brian Ray, president of the National Home Education Research Institute.
"If you do a search, you can find pagan home-school group, Muslim, Mormon, Wiccan, atheist group(s)," Ray said.
In the same vein, the RISE website lists local support groups to help families who home-school.
"If you post a question on Facebook, you can get 20 answers in under a minute," Wahl said.
Parents who spoke to the Las Vegas Review-Journal said collaboration with other families helps them enjoy the teaching experience and helped them get over the stereotype that home-schooled children aren't socialized.
"There's actually a group of home-schooling moms. We're not an organized group but we get together, we got to the planetarium at CSN, Anderson Dairy, the Gilcrease Nature Sanctuary," 38-year-old Heather Brown said. "I'd say about once a month we'd gather and do an event together."
She and her husband, Timothy, just finished their first year home-schooling their three children — 8-year-old Adrina, 6-year-old Mila and 4-year-old Zara. Adrina went to public school for kindergarten and first grade before Heather and Tim decided they wanted a little more control.
So far, so good, Heather reports.
"Having the support of the other moms too is big, it's huge. Knowing I'm not going alone on this is great," she said.
"Having the support of the other moms too is big, it's huge. Knowing I'm not going alone on this is great," she said.
Accountability measures
For those who grew up in traditional public schools, the idea of home-school can come off as jarring — leading to questions like the ones Heather gets. "How do you do it?" is a big one, but "Aren't you worried that you won't be able to provide your child with a quality education" is close behind.
Researchers have repeatedly debunked that myth and others, showing that learn-at-home students perform just as well academically as their peers in situations where both groups have been tested. And no evidence has surfaced to support the notion that home-schooled students are socially isolated.
Ray says that while religion was once a common motivator for home schooling, that's less true today.
"Whereas 10 to 15 years ago, about 70 to 75 percent would say they are Christians … that's gone down a little bit," said Ray, the home-school researcher. Research shows people do not home-school for just one reason, he said. "People have multiple reasons for home-school and research shows the reasons for home-school change over time."
Another common belief, Ray said, is that families start home schooling because they are unhappy with traditional public schools. Families who spoke to the Review-Journal didn't necessarily share that belief, but most felt they could better educate their children at home.
That's OK with the Clark County School District, where enrollment is growing at a blistering pace even with the occasional defection.
School Board President Deanna Wright said the topic of home schooling doesn't come up too often. That's likely because the district offers a number of options for families if the traditional model doesn't work for their child, such as magnet or charter schools, she said.
Wright did say that she would like the state to collect more information on the families, particularly on how the children perform.
"I personally think the measurement should be the same across the board, whether you go to a private school, you're doing home-school, you're doing a charter school or you're going to a public school," she said.
"I personally think the measurement should be the same across the board, whether you go to a private school, you're doing home school, you're doing a charter school or you're going to a public school," she said.
In some states, home-schooled kids do take state tests. But with 50 different states, you get 50 different models of home schooling, Ray said. States such as Nevada, Alaska, Texas and Illinois have almost zero government involvement once parents decide to home-school. On the other end of the spectrum, he said, are states that act like the government "owns" the children and parents have to ask permission.
Always the plan
For some families, the shift to home schooling was accidental, necessitated by a special needs child or continual relocations. For others, it was the plan all along.
Wahl, the product of public schools in New Jersey, said she decided early on to try a different path, after watching her teacher father struggle with a classroom of children with different needs and varying skill levels.
Brian, 23, Elias, 16, and Sebastian, 11, were all home-schooled by Wahl and have never attended a public school. Wahl says half the time, they don't even realize they're learning.
"He doesn't even know it's school," she said as Sebastian describes how he made "elephant toothpaste" during a class at RISE. "It just happens."
At least two families interviewed by the Review-Journal said having special needs kids was a deciding factor for them.
The Prince family, with three biological children, adopted a set of six siblings out of the foster care system in December 2014.
Tami, 48, and Kevin, 51, said they considered sending the six siblings to public schools, partially because Tami was worried about working with nine students. But once they realized how stressed the public schools made the kids, they decided to take the risk.
"That was a big question, can we even do that?" Kevin said. "But the public school didn't do them any favors."
A large room off the entryway serves as Tami's home classroom. Bookshelves line the walls, two laptops with headphones sit in the corner under a window. A table in the middle holds two microscopes, numbered building blocks and binders full of worksheets and activities. A large TV hangs on the wall for viewing educational videos.
But learning happens all over the house. A nook in the kitchen serves as a reading space for the children.
Tami said she's been able to make great gains with the adopted children, who were testing way behind grade level.
"They came with some disadvantages," she said. "We just have to take a step back. Sometimes we have to take three steps back, just to figure out where they are, and give them the foundation they need before we can move on. And home schooling, I love that we can do that."
Contact Meghin Delaney at 702-382-0281 or mdelaney@reviewjournal.com. Follow @MeghinDelaney on Twitter.