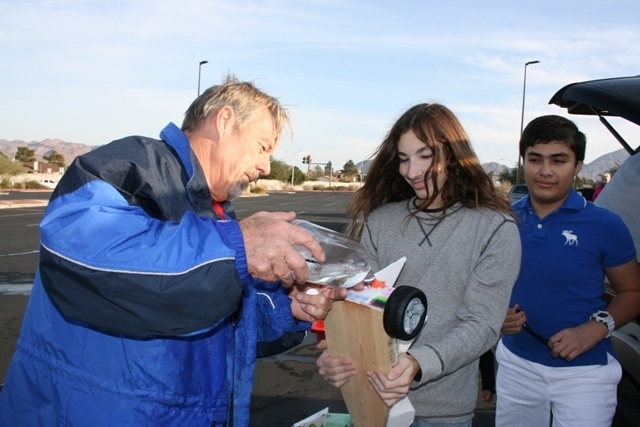 Rather than sleep in or play games on the first day of winter break, eight children were excited to learned about rocket science with College of Southern Nevada instructor Gene Kelly.
Water rockets, that is.
Using common household products, the students worked in teams to design and build water-fueled rocket cars. During the testing phase, Kelly taught them how to measure speed, velocity and thrust vectors.
"Through this class, these kids are finding support in their basic interest of engineering," Kelly said. "We're also giving them something exciting to do as an alternative to mischief and drugs, but the biggest thing is the support and understanding that they can do anything."
Kelly is set to teach the Creative Engineering class from 4 to 5:30 p.m. Wednesdays Jan. 21 through March 11 at the CSN Henderson campus, 700 College Drive.
The course is designed for students ages 8 to 17 and can accommodate up to 20.
"We haven't had many classes for children in the past, so we're trying to fill that need in the community," said CSN senior specialist Le Quanda Cole. "We're trying to expand our services while putting the community back in college."
Kelly helps children design, build and test projects using a curriculum offered by the Institute of Electrical and Electronics Engineers.
"I had them construct a parachute for the Mars rover that had to guide an egg safely to a target without breaking it," Kelly said. "We went over all the different styles of parachutes, the design parameters, how much the egg weighed and how big the parachute needed to be."
This semester, the students are set to create a solar house, hydroponic growing system and radio-controlled blimp.
"The materials are everyday products, like wood, Styrofoam, tape, paper clips, construction paper, tin foil," Kelly said. "Each project comes with a materials list, and I go out and get all the stuff."
During the course, the students are set to learn basic engineering and life skills, such as leadership, teamwork, communication and more.
"Every single thing in our modern world is engineered, from the paint on the walls to the pen you hold," Kelly said. "Every single thing took an engineer to put it together, and when you bring that to a kid's attention, they start saying, 'Wow.' "
Although Kelly has never worked as an engineer, he studied the subject at Texas Tech University. From cars to houses, Kelly finds joy in designing and building things.
"I taught homeschool in Washington, and we had a lot of gifted kids who were really into engineering, so I started teaching the class," Kelly said. "Once you start building a few little projects, it gives you self-respect and self-confidence, and that's huge."
Kelly is a retired firefighter who moved to Boulder City in July 2013.
"I've spent 20 years going to school and working for the community," Kelly said. "The community paid my salary, so I think it's very important to give back to them now."
The cost of the course is $79, and a $40 materials fee is due at the first class. Registration is required.
For more information or to register, visit tinyurl.com/csncpecourse or call 702-651-4747.
Contact Henderson View reporter Caitlyn Belcher at cbelcher@viewnews.com or 702-383-0403.