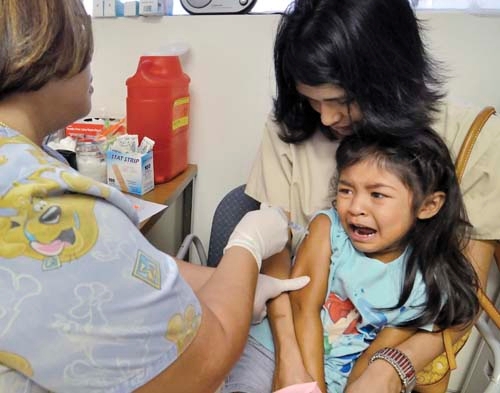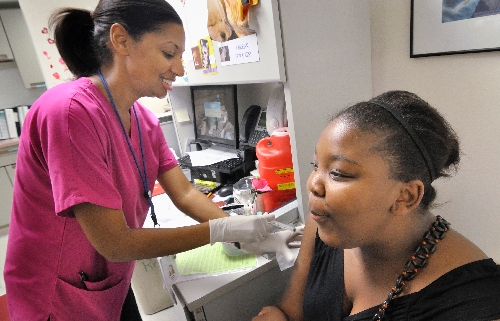 Hazel Bolo endured the first two of her school vaccinations with just a quivering upper lip, closed eyes and a cute gritting-of-the-teeth grimace.
Only when her mother, Cherry Bolo, who held her, and Judith Flores, the Southern Nevada Health District nurse who gave the shots, told her how brave she was, did 5-year-old Hazel shed a tear.
First, just the one fell out of her left eye.
But when Flores continued to do what she had to do, a stunned Hazel gave her a penetrating look that seemed to ask, "Why would you stick me with something so sharp on purpose?"
And then she was crying, sobbing so hard she was gasping for breath. She covered both eyes with tissue as her mother kissed her cheek and promised her everything would be OK.
"You did great," Cherry Bolo told her trembling daughter after Flores finished. "Now you can have whatever kind of ice cream you want."
So it went Tuesday at the health district's main campus on Shadow Lane as hundreds of parents brought their children for the shots-in-the-arm U.S. rite of passage that precedes entry into school, one that is being strictly enforced this year.
Lines snaked through hallways of the facility and made waits of more than an hour common.
"The (Clark County) School District isn't even allowing parents to enroll their kids this year unless they have their shots," said Veronica Morata-Nichols, a community health nurse manager. "As usually happens, people are waiting until the last minute."
As of Friday, 23,000 children, including those entering middle school, still needed to be immunized, health district officials said. School starts next week for most students.
Private practitioners will do about half of the vaccinations, and public health nurses the other half, health district officials said.
Like other children entering kindergarten, Hazel, who will attend Tarr Elementary School in the northwest valley, needed:
■ Polio and chicken pox vaccinations.
■ A DTaP shot, which protects against diphtheria, tetanus and pertussis or whooping cough.
■ An MMR immunization, which fights measles, mumps and rubella.
Because she didn't receive vaccinations for hepatitis B and hepatitis A earlier in her childhood, she needed to catch up on those shots as well.
Nurse Flores took Hazel's tears in stride.
"That's the way it is all day long, but it doesn't bother me because I know we're helping these children stay healthy," she said.
Holly Bolo, Hazel's 9-year-old sister, calmed her little sister with reassuring words.
"I had the shots, too, and they don't hurt long," she said as she hugged her sister. "They make you safe from being sick."
Twelve-year-old Audrey Lewis, who is entering middle school this fall, was smiling, not crying, as she received her shots from nurse Simone Krieger.
"It doesn't hurt, and it helps me stay safer," she said as her mother, Kenya Johnson, looked on.
Audrey received shots to protect against meningitis, the human papillomavirus that can cause cervical cancer and a booster that guards against tetanus, diphtheria and the worrisome resurgence of whooping cough. Pertussis produces a cough so strong that it can break a rib.
Last year was especially bad for whooping cough, with more than 21,000 U.S. cases and at least 26 deaths. California was hard hit with more than 9,200 cases — the most since 1947 — and 10 babies died.
"We have to remember that California is just a short car ride away," said Morata-Nichols, the nurse manager.
As Hazel walked out of the office where she received her shots, her mother asked her whether she was ready for ice cream.
She dried her eyes, took a deep breath and nodded yes.
Contact reporter Paul Harasim at pharasim@review journal.com or 702-387-2908.
BEFORE SCHOOL SHOTS
To serve more than 20,000 students who still need their shots before school opens next week, many county health district locations will be open extended hours. Special clinics will be set around town at facilities that include malls, stories and schools. One shot costs $16 and two or more $25. Insurance is accepted. If a child's family does not have money or insurance for shots, the shots will still be given.
For the complete list, go to www.SNHD.info or call the health district's information line at 759-0850.