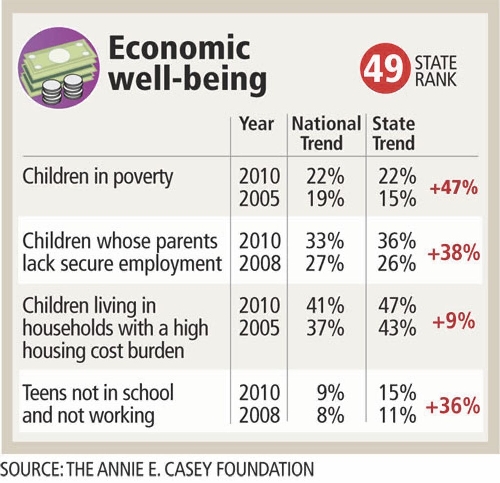 Nevada's ranking for public education has hit rock bottom, according to a new national study on children's well-being.
The Silver State was ranked 50th in the nation despite improvements in key areas, such as the percentage of fourth-graders reading at grade level and eighth-graders who are proficient in math.
Education was one of four indicators used to determine children's overall well-being in the Kids Count national report to be released today . Nevada ranked 49th among the states for children's economic well-being and 46th in health. It ranked 41st in family and community issues such as teen births and children living in poverty.
Nevada's overall standing fell eight spots to 48th in the nation, according to the evaluation system, which was revamped this year to make it more "well-rounded, truer," said Stephen Brown, executive director of Nevada Kids Count.
"Basically, it's a more accurate reflection of what it's like to be a child in Nevada," he said.
The only states with overall standings that fell below Nevada are New Mexico and Mississippi, according to the findings, which showed that about one in four Nevada children live in poverty.
Overall, children are best off in the New England area. New Hampshire topped the list for overall well-being. Massachusetts ranked second and Vermont third.
For 23 years, the Annie E. Casey Foundation has released annual Kids Count reports. In the past, the reports measured children's overall well-being by looking at 10 measurements mostly related to health, such as infant mortality rates, and little else.
That worked in Nevada's favor, but it was not a realistic depiction, Brown said.
This year, Kids Count has categorized well-being four ways and added six measurements to the evaluation.
"Our (old) methodology failed to capture many aspects of child well-being," said Laura Speer, associate director for policy reform and data at the Casey Foundation.
Overall well-being isn't just dependent on health factors, such as the teen death rate, but other living conditions, she said.
Brown couldn't agree more. He points to Nevada's economic conditions as playing a key role in the state's latest rock-bottom education standings and drastically lower overall ranking.
"In general, children in poverty have a tough time in education," said Brown, who is an economics professor at the University of Nevada, Las Vegas, and director of the Center for Business and Economic Research.
About 64 percent of Nevada children had parents with secure employment in 2010, a significant decrease from just two years prior when 74 percent of families had reliable income.
Unstable lives make school a struggle and create an "obstacle to learning," said Clark County School Board member Erin Cranor, who helps govern the state's largest school system.
Clark County School District Superintendent Dwight Jones emphasizes that the poor economy can't be an excuse for low student achievement, Cranor added.
The new Kids Count report does show Nevada students making strides. The percentage of fourth-graders not at grade level in reading decreased from 79 percent in 2005 to 75 percent in 2011. The percentage of eighth-graders not at grade level in math also declined, from 79 percent in 2005 to 71 percent in 2011
Yet the reality remains that the home life "is a part of the experience for a child's education," Cranor said. Knowing children's struggles "helps us strategize," she said.
Although Nevada ranks poorly when compared with other states, the trends here seem to be reflective of the country as a whole.
"The amount of children living in economic well-being has plummeted nationwide," said Patrick McCarthy, president and CEO of the foundation for Kids Count.
Contact reporter Trevon Milliard at tmilliard@ reviewjournal.com or 702-383-0279.