Kids get French revelation
November 17, 2010 - 12:00 am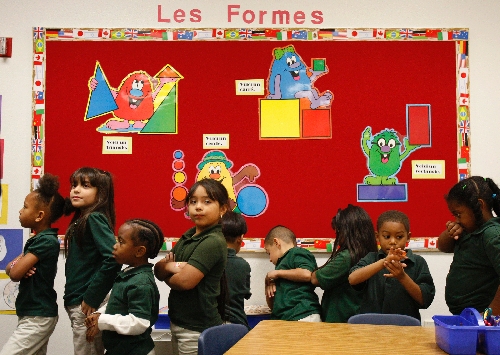 Flags of French-speaking nations hang in the hallways at West Prep Academy.
Classroom walls are decorated with art of literary characters Babar the elephant and Parisian schoolgirl Madeline.
Noisy kindergartners are told, "Fermez la bouche," which means, "Close the mouth."
West Prep is undergoing its own version of a French revolution. This year, it started teaching the language to students in kindergarten through second grade.
"As far as I know we're the first (district) school to offer French at the elementary level," Principal Mike Barton said.
Clark County School District officials believe Barton is correct, although other elementary schools may have integrated some aspects of French into their curriculums.
West Prep's plan is to eventually extend the French program from kindergarten through the 12th grade, with classes becoming more advanced at each grade level. High school students might one day read Victor Hugo's classic "Les Misérables" in the original French and graduate as fluent speakers.
West Prep, a K-12 campus, wants to establish continuity in instruction. Kindergartners already have sweatshirts that say, "Class of 2023."
Staff at West Prep, located just west of the intersection of Lake Mead and Martin Luther King boulevards, also believe "the younger the better" when it comes to learning a foreign language.
Stephanie Ulrika Zurita, a French teacher at West Prep and a native of Sweden, is fluent in Swedish, French, English and Spanish, languages she learned at an early age. Because of her father's career as a pharmaceutical businessman, the family moved often. She lived in Paris for a year when she was 10. She moved to the United States when she was 14.
Zurita, who also has taught Spanish and kindergarten in district schools, said European countries teach foreign languages in the elementary grades.
"The United States is the only country I know where you have four years of Spanish in high school and then you can't speak it," Zurita said. "I hear that very often."
Barton said he is "walking proof" of this failed approach.
"I had Spanish in eighth grade. I had four years in high school, one year in college, I can't do it," Barton said.
Some district elementary students do have opportunities to learn Spanish. Sandy Miller Elementary School offers Spanish classes, and Walker International, Hollingsworth, Dearing, McDoniel, Ferron, Harmon and Wengert have dual language programs in English and Spanish.
Educators at West Prep chose French because about 60 percent of its students already have some familiarity with Spanish. The school wanted to offer a language that would be new to all students.
West Prep would like to offer other languages, such as Mandarin, but the "other reality is finding teachers. We were able to find the French teachers," Barton said.
Instruction is not immersion-style, where half the instruction is provided in a foreign language, but students do get four hours of French instruction a week. Kindergartners are taught to sing the alphabet and count in French. Second-graders are beginning to speak in simple sentences, Zurita said.
Edward Goldman, the district's associate superintendent for educational services, believes a foreign language boosts children's intellectual development, helping them become better students.
He said, "It really opens a lot of doors academically."
Contact reporter James Haug at jhaug@reviewjournal.com or 702-374-7917