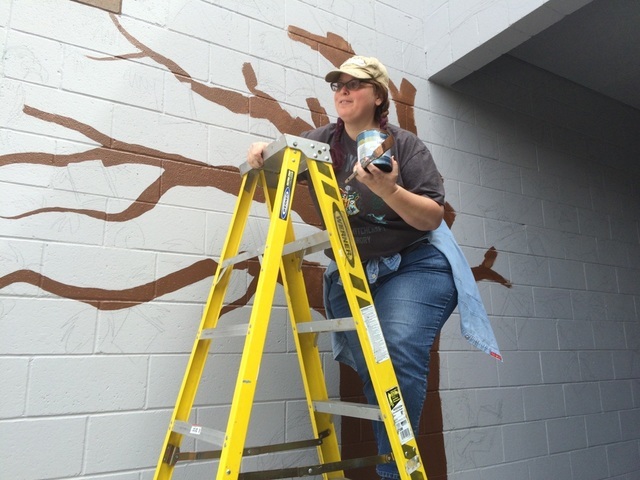 Where there were once rainbows, there are now murals depicting activities at the school. Leavitt Middle School, 4701 Quadrel St., recently held a contest, asking students what artwork they'd like to see on the walls. The murals are now nearing completion.
The murals are on various interior walls and the courtyard and include a patriot (the school's mascot), complete with tricorn hat, reading under a tree; the American flag; an eagle; and curriculum offerings.
The walls were scheduled to be painted for the 2015-16 school year. Principal Keith Wipperman chose a neutral color, knowing the murals would be going in for pops of color. The school held a contest and roughly 60 students submitted sketches.
"I think it's really valuable for the kids to be involved," Wipperman said. "I'm a big believer that the school has to be theirs. … I told them anything on anti-bullying or our patriot theme. Anything that you believe Leavitt to be. We had a varied response — Paul Revere on a horse and flags with school events pictured around it."
The 60-plus responses were narrowed to 20. Eight were needed. The students voted for the final choices.
Then local artist Celestia Ward spent months transforming the school's blank walls into ones decorated with art. She was given the student's sketches.
"I told her to 'professional them up' — I think those were the words I used," Wipperman said.
Ward has been a professional artist off and on her whole life and works mostly as a caricature artist. Her art can be seen at professorsciencecomic.com. When it comes to art, it's usually her concept she renders, so this project was something new.
"It was an interesting twist, having the kids come up with the drawings," Ward said. "I took things from that as a launching point."
Two of the designs were commissioned murals, using her designs. Those two were for the aerospace and robotics programs. She said the latter was a personal passion of hers, getting young people interested in science, especially girls.
"I've seen a lot of girls looking at that mural, and it gives me warm fuzzies," she said. "There was one girl, here after hours for some function, who brought her mom over and pointed at every single robot and, like, narrated the whole history of robots to her. And I was like, 'That's cool.' "
The money for the murals, $8,200, came out of the school's student-generated funds and from food drives and daily sales of bottled water and Gatorade.
Ward worked on the murals for several months, sometimes late into the evening. Because the murals are exposed to the elements, she used Behr paint and primer mix, an exterior house paint.
"If I used craft paint, it would chip right off," she said as she dabbed on paint. She also used an airbrush for the project.
A student, Jesse, 12, said the murals were "cool because it shows how our school has football, art, music and sciences."
Ward said she stayed true to the youngsters' concepts as they are artists, too.
"Right now, there's a controversy in the art world," she said. "There are tons of companies who just throw out a contest and say, 'Hey, all you fans of Pepsi-Cola, or whatever company, turn in a project and you can be featured and get exposure. And you get a ton of people submitting their work for free and often there's a clause in there saying, 'We can do anything we want with your idea, even if you don't win.' "
She said artists are in an "uproar over the practice" and feel their profession is being singled out.
"They wouldn't say, 'Hey, lawn care professionals, you want to come mow our lawns for free?' " she said.
So, she's "signing" the students' names to their mural, giving them recognition for the project.
Ward is also taking some of her payment from Leavitt and giving it back, giving the top three students $50 in cash or saving bonds to pay it forward.
To reach Summerlin Area View reporter Jan Hogan, email jhogan@viewnews.com or call 702-387-2949.