Las Vegas-based helicopter company hosts tour for Rancho High School aviation students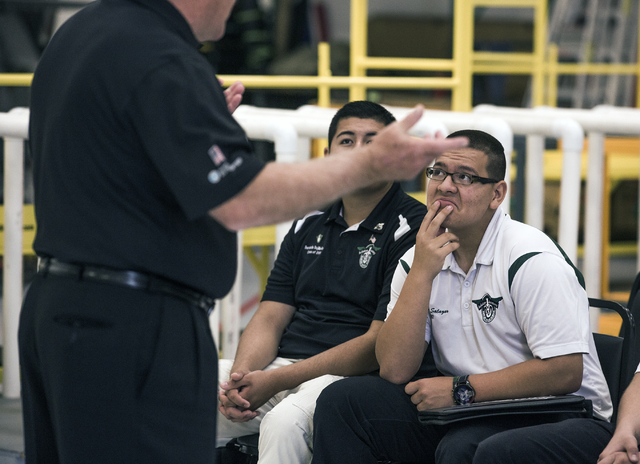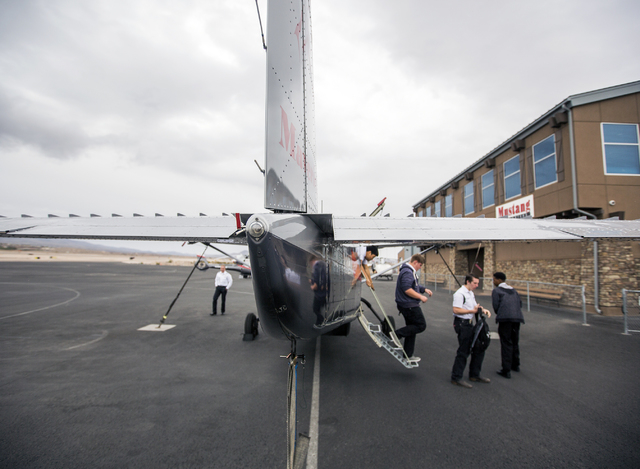 The people behind Maverick Aviation Group, a local helicopter company, believe they have met the future of the industry — students from Rancho High School's aviation maintenance class.
On a cold, wet April morning, the company gave nearly 20 students from the school at 1900 E. Searles Ave. an inside look at what career path they could take.
"Aviation is a growing field,"said Greg Rochna, CEO and founder of Maverick. "And it's a great choice. Every day is something different. This is where the action is."
The company, 1620 Jet Stream Drive, is tucked away near the Henderson Executive Airport, 3500 Executive Terminal Drive, Suite 100. It flies more than 250,000 guests annually out of five locations, two in Las Vegas.
The Henderson spot also is where the company does it maintenance, as well as painting all of its helicopters.
Bryan Kroten, vice president of marketing for Maverick, said the company has been working with the Clark County School District to get students out to tour the site.
"This is designed to expose students to the aviation world," Kroten said, adding that part of the goal is to inspire the next generation of aviation workers.
"People can look at the Bellagio and think, 'I want to work there,' " Kroten said.
The next step is to get students from other grade levels to the facility.
Kroten said there are plenty of opportunities in the industry, ranging from flying and maintenance to the information technology and booking aspect.
Students who took the tour got to hear from a variety of perspectives in the company, such as from quality assurance manager Tim Hoffman and chief pilot Jim Ogletree.
Rochna spoke on everything from the relationship between pilots and maintenance crews to encouraging students interested in becoming pilots to avoid tattoos — he doesn't hire pilots who have them.
He also stressed the type of responsibility it takes to be a pilot.
"They pay you the big bucks because you're accountable for everything," he said.
After the students heard from different people within the company, they were broken into two groups: one toured the maintenance side while the other talked with the pilots — then they switched.
On the tarmac, helicopters buzzed over the students as they huddled around Ogletree, who explained about being a pilot and then gave an up-close look at an Airbus helicopter. Students got a glimpse on the inner workings of cleaning, inspecting and maintaining different helicopters.
Holding a binder with an "I heart jet noise" sticker, student Zachary Salazar Jr. was eager to tour the facility.
"It's exciting to be here and get to see this stuff firsthand," he said. "I think this is a great opportunity."
Salazar said he hopes to go into airplane maintenance after high school.
Throughout the time and at the end of the tour, students got to ask questions, such as if there is an internship program.
Kroten said he could see them coming to work for the company one day.
"You're already learning (about airplane maintenance)," Rochna said. "Now you just have to go out and do it."
Rochna added that there is one catch to pursuing this career.
"Once you start a career in aviation, you're not going to want to do anything else," he said.
Visit maverickaviationgroup.com. For more on Rancho's program, visit ranchorams.org.
To reach Henderson View reporter Michael Lyle, email mlyle@viewnews.com or call 702-387-5201. Find him on Twitter: @mjlyle.