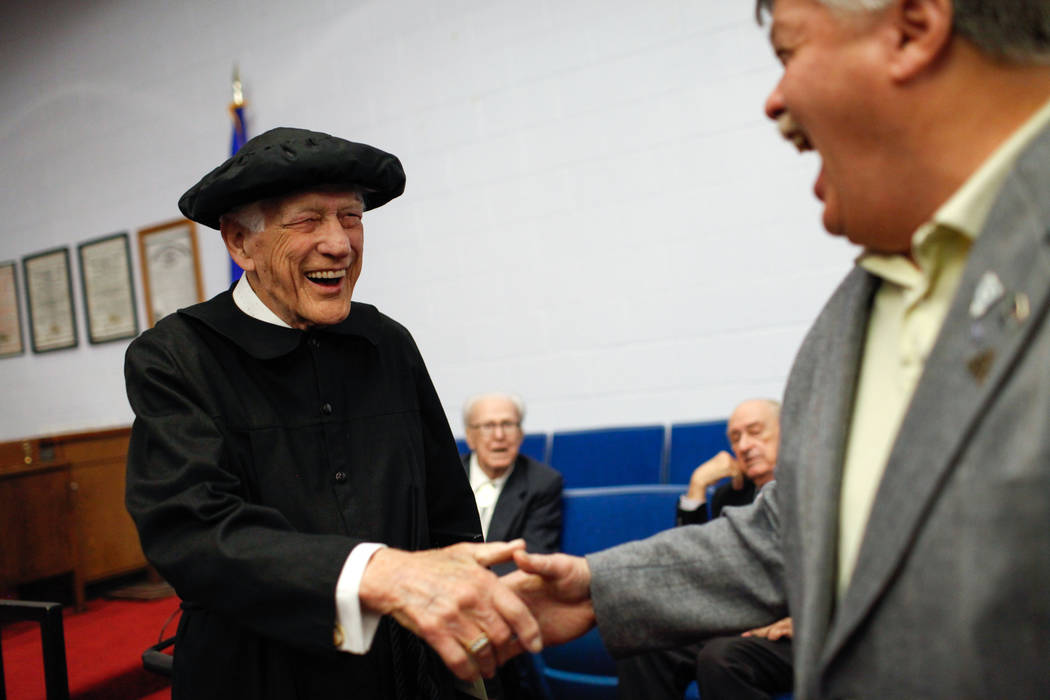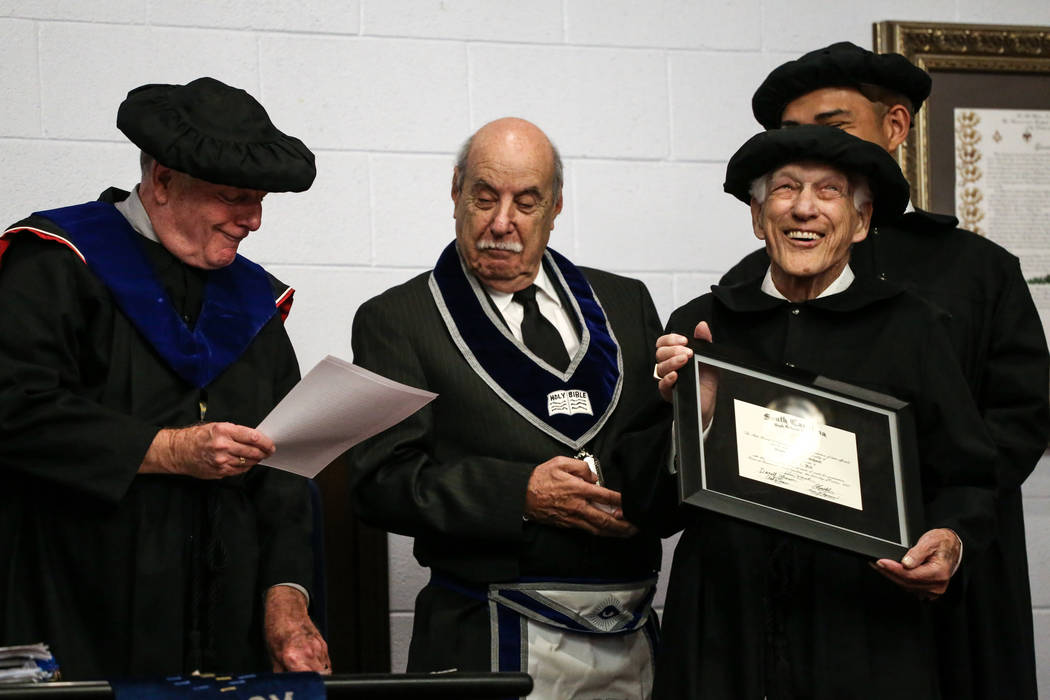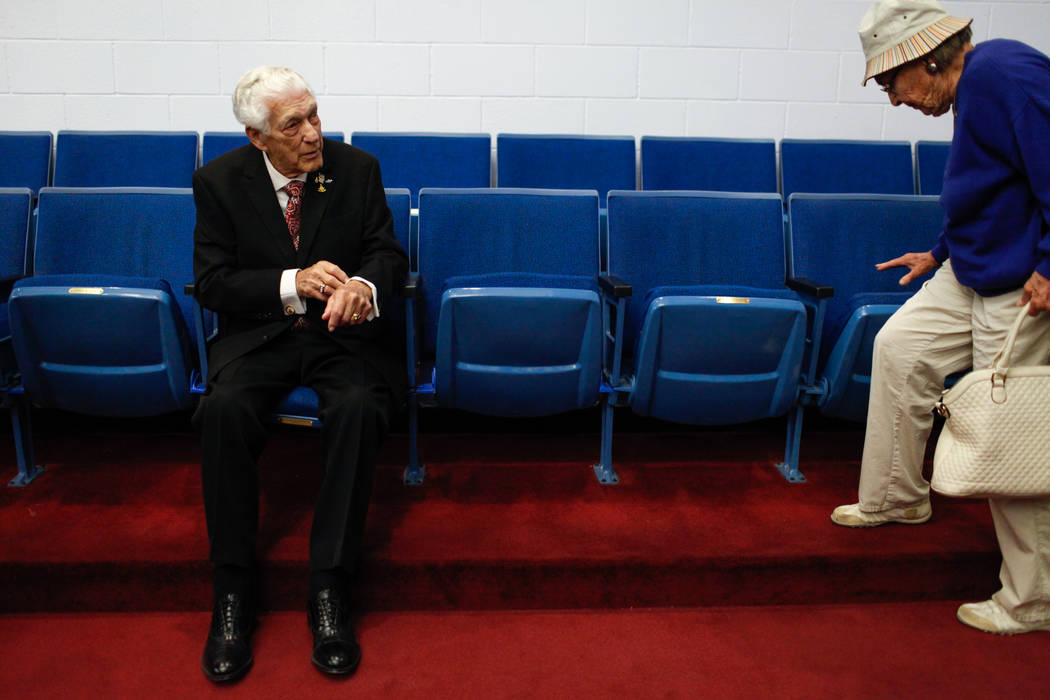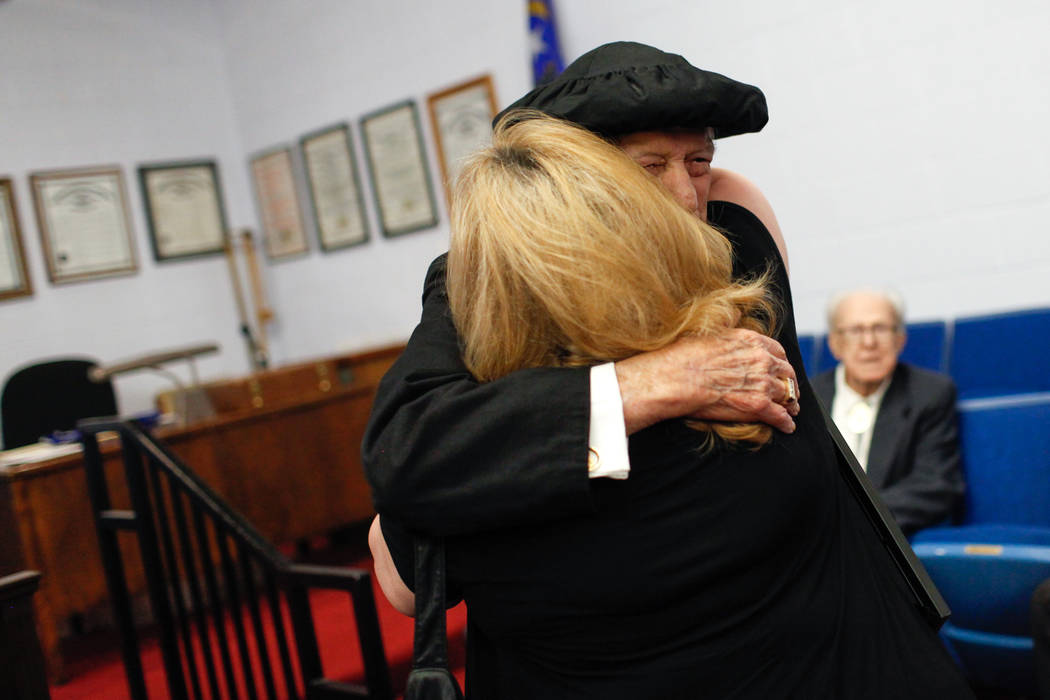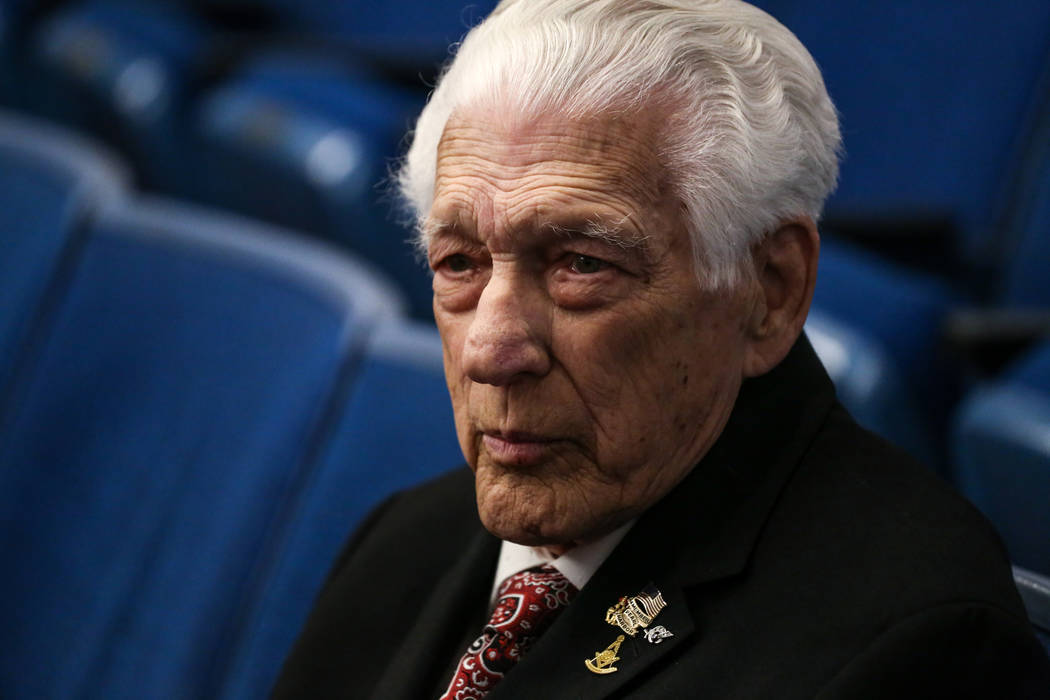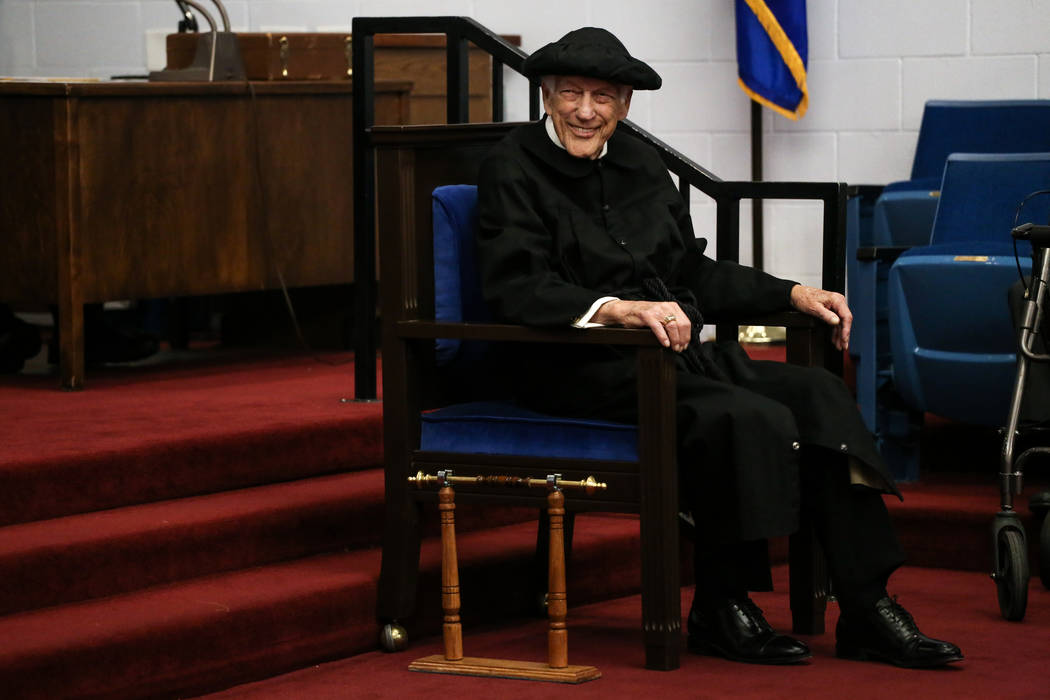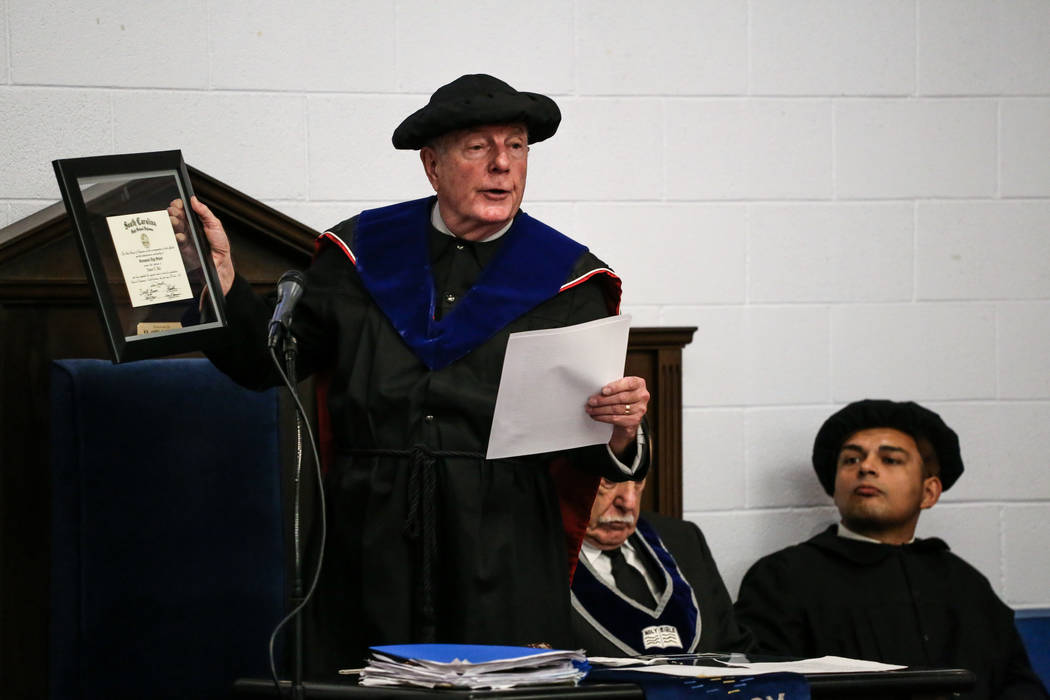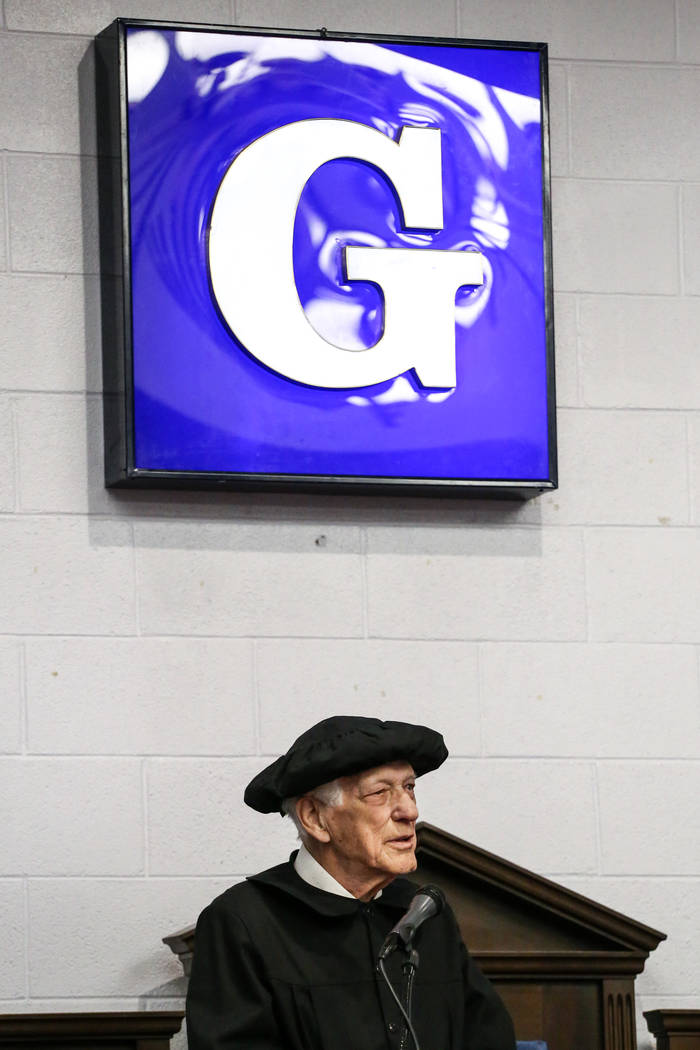 After collecting his high school diploma on Monday, Ed Hall was peppered with the sort of queries that freshly minted grads often get: Are you going to prom? Are you going to buy a car? Is there a bachelor's degree in your future?
Hall didn't answer, but his questioners wouldn't have heard if he did. They were too busy laughing.
That's because Hall is a 94-year-old World War II veteran and survivor of the 1941 attack on Pearl Harbor who figured he was about 75 years overdue for his diploma.
"I am just overwhelmed to know that I am now a high school graduate," he said, gripping a framed diploma.
The diploma arrived recently from Greenwood, South Carolina, bearing Hall's name. It took about nine months of poking and prodding different officials, including a state legislator, by fellow members of Daylite Masonic Lodge No. 44 in Las Vegas.
'Like expectant parents'
"We felt like expectant parents," said Bob Taylor, a principal player in the effort to help Hall graduate.
Hall enlisted in the Army in 1939 at age 16, lying about his age. When he was discharged in 1946 at 23, he tried to go back to school but was turned away.
In those days, there were no adult education or GED certificate programs. Disappointed but seeing no other options, Hall moved on.
Hall, who admits he was never a great student, got married, fathered a child and in 1950 moved to Chicago. There he worked as an elevator installer for 40 years. He retired to Las Vegas in 1994 and for a time served as the president of the now disbanded local chapter of the Pearl Harbor Survivors Association.
Hall, who served in the Army Air Corps, is one of the approximately 20,000 U.S. military personnel who survived the Japanese surprise attack. There are likely just a few hundred left.
Taylor recounted at Monday's ceremony that Hall thought being stationed in Hawaii was like being on an extended vacation.
But on Dec. 7, 1941, Hall was working in the mess hall scrubbing a frying pan when he heard the first explosion. He stepped outside and then ducked for cover from bullets fired by a Japanese Zero plane. He spent the majority of the day in a pickup truck, using it as a makeshift ambulance, helping the wounded get to medical attention and transporting the dead.
"What may have been left of his boyhood innocence and his life of paradise vanished," Taylor said.
Bucket list item
About a year ago, sitting around a table, Taylor asked Hall what was left on his bucket list. At first, Hall said there was nothing, but then he thought a bit and said he would like to graduate from high school. Taylor told Hall to call the school and ask about his records.
When spring came this year, seeing local high schools prepare for graduation reminded Taylor to ask about Hall's plan. But Hall said the school had lost his application.
So Taylor took over. He wrote down basic information about Hall on a napkin, which he held up at the ceremony, and he started calling. Initially, he wanted Hall to travel home for the spring graduation with the class of 2017, but that didn't happen.
The diploma finally came in late September, but Hall was hospitalized with chest pain. So on Monday, Taylor presented Hall, the sole graduate and thus the valedictorian, with a diploma in front of family and friends at the Masonic Memorial Temple in Las Vegas.
"So here we are, and here it is. It is my honor. Here is the diploma," Taylor said.
Hands clasped together and speaking into a microphone, Hall said he now views education as the most valuable thing in the world. He asked people in the room to encourage young children to get their educations, no matter what.
"I thought it was never coming," Hall said of his diploma, adding that he first thought his friends were teasing him. "For quite a while, I wasn't sure it was a real thing."
With high school behind him, Hall now has his eye on the horizon. The final item on the bucket list? Living to 100.
"If I can do that, that'll fill the bucket," he said.
Contact Meghin Delaney at 702-383-0281 or mdelaney@reviewjournal.com. Follow @MeghinDelaney on Twitter.