Las Vegas Science Festival debuts with a bang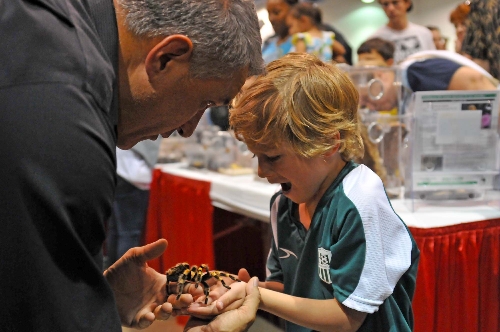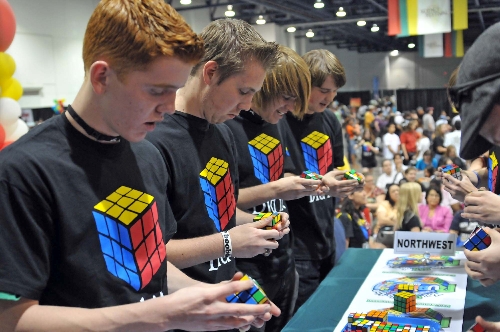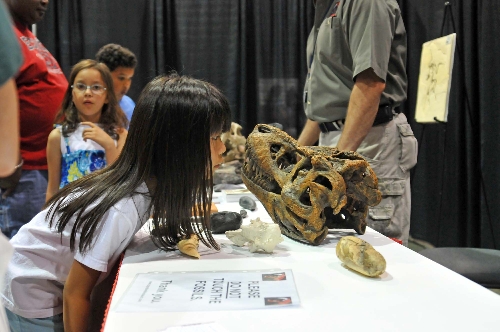 What do you get when you combine live animals, robots and Rubik's Cubes? The inaugural Las Vegas Science Festival, of course.
It was held May 1-7 and culminated with an expo day at the Cashman Center, 850 Las Vegas Blvd. North.
Event chairman John Good hoped to get 5,000 attendees at the expo, which was open from 10 a.m. to 7 p.m. By 1 p.m. the goal was met, and the day ended with more than 8,000 attendees.
"We're just happy to know people care about science," Good said. "Las Vegas is known for a lot of things but not science. This was a great opportunity to make that connection."
Good, president of Exhibit IQ, a producer of educational exhibits and programs, began recruiting local partners about a year and a half ago to help start a science festival. Such festivals, Good said, are popping up in major cities across the country.
The weeklong event was funded through corporate sponsorships and volunteers on a $150,000 budget.
"We were looking for ways to make science cool and fun because we don't want kids to lose interest," he said.
Kids in the valley don't realize how much science is around them, Good said. But the area has a rich history of science with the atomic testing era, Hoover Dam, medical research and casinos.
Exhibit IQ partnered with the Clark County School District and the University of Nevada, Las Vegas to help coordinate the events, which also included panel discussions throughout the week, tours of local museums, lectures and school visits by professionals in the field.
More than 15,000 people attended the festival's numerous events.
At the expo, live birds and spiders were on display. Brave kids waited in line for a turn to have a giant tarantula crawl on their bare arms. Robots, controlled by students, gave and received balloons from young kids. Kids created jewelry from coaxial cables donated by Cox Communications. They got up close and personal with dinosaur fossils. They participated in hands-on activities to learn about the creation of dry ice and (safe) chemical reactions.
The big push for the expo was to be interactive, Good said.
Hugh and Latoya Brown brought their three kids to the expo for a few hours of Saturday fun.
"They were excited about learning," Latoya Brown said.
"It was just an educational learning experience for the kids," Hugh Brown added. "It's good to expose them to new things, new ideas."
CCSD encouraged every student to attend the free events and distributed schedules at school.
It worked, as some of the tours and discussions hit capacity. The response was so positive, Good said, that he has informally gotten the OK from all the sponsors and other partners to begin preparing for next year's festival, which he already has begun to do.
Good said he'd like to expand the festival to be able to send a professional to every school that requests one and could already tell they'll need more space .
In front of a crowd of hundreds at the expo's main stage, Carrot Top emceed the You CAN Do the Rubik's Cube competition, where teams of eight students had to solve 25 cubes.
Hyde Park Middle School, 900 Hinson St., won the middle school division with a time of 3 minutes, 22 seconds. Northwest Career and Technical Academy, 8200 W. Tropical Parkway, won the high school division in 4 minutes, 58 seconds.
Explore Knowledge Academy student Enrico Capone, 9, brought home a flier from school and asked to go to the science expo. His mother, Leeann Capone, was happy to oblige.
"He just loves science," Capone said. "He's just fascinated."
Enrico created a project for his school's science fair this month that explained electrical currents. He said he's most interested in geology.
"Science can do so many different things, and there are so many different fields," Enrico said. "I could learn a lot."
Contact View education reporter Jeff Mosier at jmosier@viewnews.com or 224-5524.