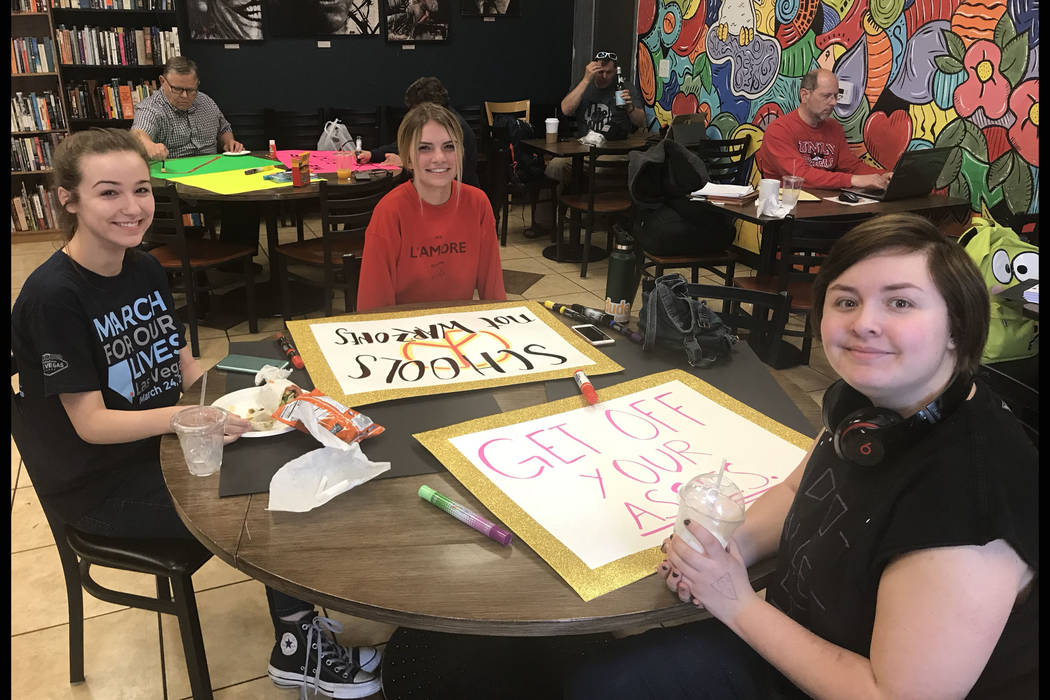 Taylor Lane, a student at Silverado High School, said she wants her future children to think she was on the right side of history.
The 17-year-old is among a group of Las Vegas students hoping to call attention to gun violence and push for stricter gun control locally as part of the national March for Our Lives movement on Saturday.
The Las Vegas march, which will begin at 10 a.m. downtown at The Smith Center for the Performing Arts L parking lot, will wend its way from there to City Hall. There, students plan to speak about all types of gun violence — not just mass shootings, but also other forms, including suicide, domestic violence and violence related to other crimes.
Lane and other students attended gatherings this week to make signs in preparation for the event.
When she saw the students in Parkland getting angry, Lane said, she felt she could get upset about the issue too.
"Back when we had the Las Vegas shooting it was so somber that I felt like I couldn't argue about it, because it was such a mass tragedy," she said Thursday evening. "But having almost the permission and general acceptance of, 'No we can be angry about this and it is an appropriate time to talk about this issue,' was really inspiring."
The Parkland, Florida, school shooting on Feb. 14, which left 17 people dead, sparked the movement and led to the national marches in Washington, D.C., and other cities across the country. A central message of the march in the capital will be to call on Congress to pass comprehensive gun control legislation.
"Nobody is saying that you can't own a gun. Nobody is wanting to trample anybody's Second Amendment rights," said Tisia Stemp of the People's Project, a group that helped students organize the local march. "But we also have First Amendment rights and so as citizens and as students and as the youth of America, we're going out there and saying, 'You know what? Enough is enough.' "
Main Street will be partially closed for the morning march, Stemp said. More than 200 people offered to volunteer, she said, adding she's hoping for a turnout of 5,000.
Everytown for Gun Safety, which also assisted with the local march, bought out the parking garage at the nearby World Market to provide a parking place for attendees, Stemp said. Lyft also is offering free rides of up to $15 to the event, as it is in 49 other cities across the country.
Contact Amelia Pak-Harvey at apak-harvey@reviewjournal.com or 702-383-4630. Follow @AmeliaPakHarvey on Twitter.