Las Vegas students survive 'Shark Tank' contest at CES
January 12, 2018 - 5:59 pm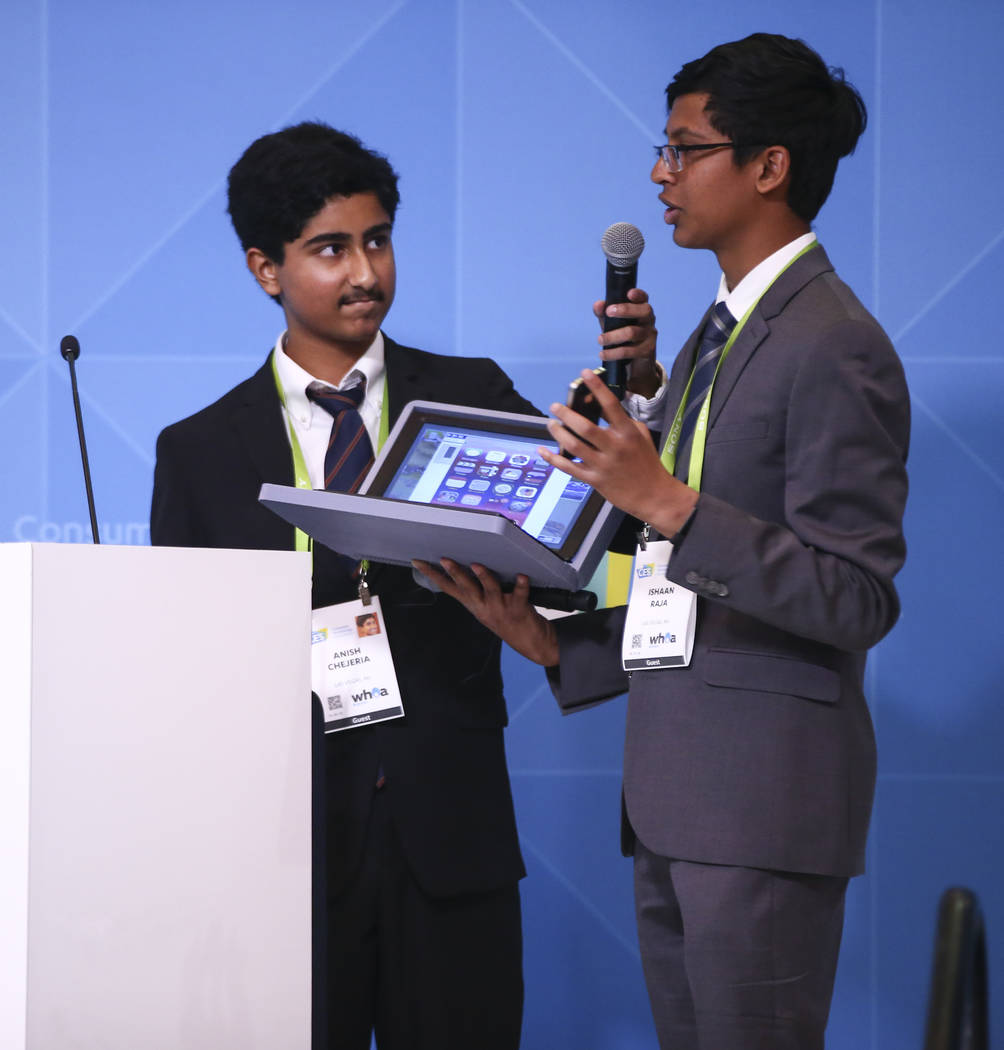 Three Las Vegas high school students solved a Rubik's cube-level challenge with cubes of their own, beating out two other teams Friday in a "Shark Tank"-style business pitch competition at CES.
Computer coding is not yet widely taught to schoolchildren across the country, and unless their parents are engineers, many students get a late start in mastering the high-demand skills.
Enter Conditional Cubes, the brainchild of Aspen Anderson, Morgan Hershey and Ajaya Branch, all seniors at Cimarron-Memorial High School. The colorful cubes can be programmed using a companion website to do certain tasks. Hershey said she'd program hers to act as a motion sensor so she'd know when the family dog used the doggie-door.
But the possibilities are endless and can be personalized, according to the students. The cubes also help fill that "skill gap" and can start students on a path toward a career in coding.
Their idea stole the show at the CES competition patterned after the popular ABC television show. For their efforts, the students won a trophy to display at their school and each received an Amazon Echo.
'We grew a lot'
"This was such a good experience. We grew a lot in public speaking. We grew a lot in research and marketing … and it was great," Anderson said.
Anderson, Hershey and Branch were one of three teams from Clark County schools to advance through a preliminary round and compete in Friday's final at the massive consumer electronics show. The showdown, before a panel of three business leaders, was organized by EVERFI and the Consumer Technology Association.
Anderson said she had the initial spark for the idea, and the girls put in countless hours between their other after-school activities, including the school's robotics team, to develop it.
There are approximately 500,000 open computing jobs nationwide, but only 43,000 people entered the IT workforce last year, according to statistics cited by the students. That gap will likely grow worse because only 40 percent of schools specifically teach computer programming.
The students see the Conditional Cubes as a step toward closing that gap.
"We knew we wanted to be technology-based. We needed something that would teach people. After that, it just fell in place," Anderson said.
Even though the competition wrapped up Friday, the students aren't done with the cubes. They said they plan to keep seeking mentors and potential investors to try to bring the product to life.
"Everybody that we pitched this to … is like 'wait, so this isn't a real thing?' and they get angry at us that we haven't made it like an actual product yet," Hershey said.
John Chapman, president and CEO at EVERFI, an education technology company, said it was inspiring to see the students in action. When EVERFI launched almost 10 years ago, he noted, one of the first districts the Washington, D.C.-based company worked with was Clark County, he said.
"It was surreal," he said. "It's a very full-circle moment and a lot of fun."
Stiff competition
Second place went to Southwest Career and Technical Academy students Anish Chejerla and Ishaan Raja. Their product, Addendum One, is an inexpensive, laptop-like device that is powered by a smartphone so consumers don't have to spend money on both devices. The students were awarded Fitbits.
Jaslin Estavillo and Cherese Lisama from Northwest Career and Technical Academy came in third with their Stress Be Gone. It's a small device that detects heart rates and heightened stress levels and pairs with a smartphone app that provides ideas and strategies to relieve stress immediately. They took home Amazon Kindle Fire 7s.
"They did really good and that's a good thing. That makes us work harder," Branch said of the other teams. "I'm just really proud of them and us and what we accomplished in such a short amount of time."
The students were chosen from a larger group of teams in November. They completed the CTA Future Innovators program, which helped them refine their business pitches. The three final teams were also paired with mentors as they prepared for the main event.
Friday's judges included Deena Ghazarian, a founding board member of Women in Consumer Technology; Kyle Walker, head of new business strategy at Amazon; and Ximena Hartstock, founder and president of Phone2Action.
Jennifer Taylor, vice president of CTA, said the students ideas were amazing and that she would have bought all three of the pitched products.
"It's amazing you guys have this opportunity at the high school level," she said, adding she wasn't in a similar situation until her sophomore year of college. "It's really important students like yourselves are learning and being exposed to the skills that are in high demand."
Contact Meghin Delaney at 702-383-0281 or mdelaney@reviewjournal.com. Follow @MeghinDelaney on Twitter.