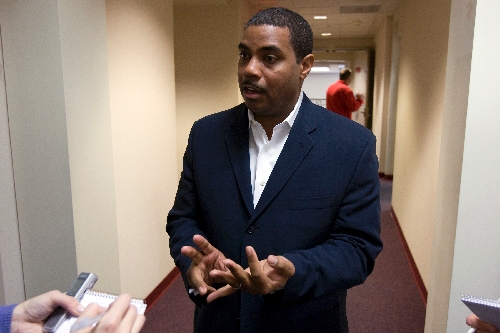 Democratic lawmakers on Saturday thwarted Republican Gov. Brian Sandoval's efforts to divert $120 million in property taxes from Clark and Washoe counties to help fund the state's universities.
The Democrats said the governor's proposal was unfair because it required taxpayers from just two of Nevada's 17 counties to shoulder an additional burden in funding universities that benefit the entire state.
"We do have some counties that are hurting, and we have some counties with reserves that would make your head spin," said state Senate Majority Leader Steven Horsford, D-Las Vegas, in an apparent reference to counties such as Eureka that are benefiting from the mining industry.
"Why are Clark and Washoe counties not seen in the same light as those other counties?" Horsford said.
Members of the Senate Finance and Assembly Ways and Means committees voted along party lines to reject Sandoval's plan to redirect some funding from the two counties to universities in Las Vegas and Reno. The diversion helped to balance the governor's proposed $6.1 billion general fund budget for 2011-13.
Democrats rejected the argument put forth by Sandoval that Clark and Washoe counties should carry more of the burden because they benefit most from Nevada's two major universities.
They said if Sandoval truly considered universities an economic benefit, he wouldn't be supporting an overall cut in state support of about $144 million.
Several Democratic lawmakers made references to an alternative budget concept they proposed. It would restore more higher education funding as well as spending on K-12 and health and human services programs. It comes with a tax increase of at least $571 million as well as extending an additional $626 million in taxes that otherwise would expire July 1.
The current Democratic plan calls for about $7 billion in spending over two years, about 15 percent more than Sandoval proposed.
"This is a stopgap measure, because we haven't solved our fundamental problems" with the tax base, said Assemblyman Marcus Conklin, D-Las Vegas. "We're cheap. We don't want to pay."
Sandoval wants to balance the budget without increasing taxes or fees. He has the support of Republicans in both houses of the Legislature who, if they remain united, can block the Democratic effort to increase taxes.
"I'm not going to lock myself into voting for something to spend money that we don't have," said Sen. Ben Kieckhefer, R-Reno.
Kieckhefer did say he was open to the idea of including more counties in the property tax diversion, which Democrats suggested would be a fairer approach.
Committee members estimated that a decision to expand the diversion to all counties would result in adding $20 million to Sandoval's higher education budget, as opposed to the $120 million hole created by voting to kill the Clark and Washoe diversion.
Sandoval senior policy adviser Dale Erquiaga said the governor included only the two counties in his proposal because they already were subject to the property tax diversion. His budget merely continued the diversion but ensured the money would go to universities.
"Clark and Washoe today under this biennial budget do not receive those dollars," Erquiaga said.
He said it also made sense to exclude the 15 other counties because they don't have universities.
"That was our logic," he said. "The Democrats on the committee did not understand that, and they rejected it."
The committee vote Saturday wasn't the first time during the 120-day session that legislators targeted property tax money.
Senate Bill 192, the Nevada Jobs Initiative, would divert 2 cents of a local property tax rate from the state general fund back to transportation projects in Clark and Washoe counties. It passed the state Senate in March by an 11-10 vote, with all Democrats in favor and Republicans opposed.
The subjects covered Saturday will go back to the full Senate Finance and Assembly Ways and Means committees for further consideration.
Contact reporter Benjamin Spillman at
bspillman@reviewjournal.com or 702-477-3861.