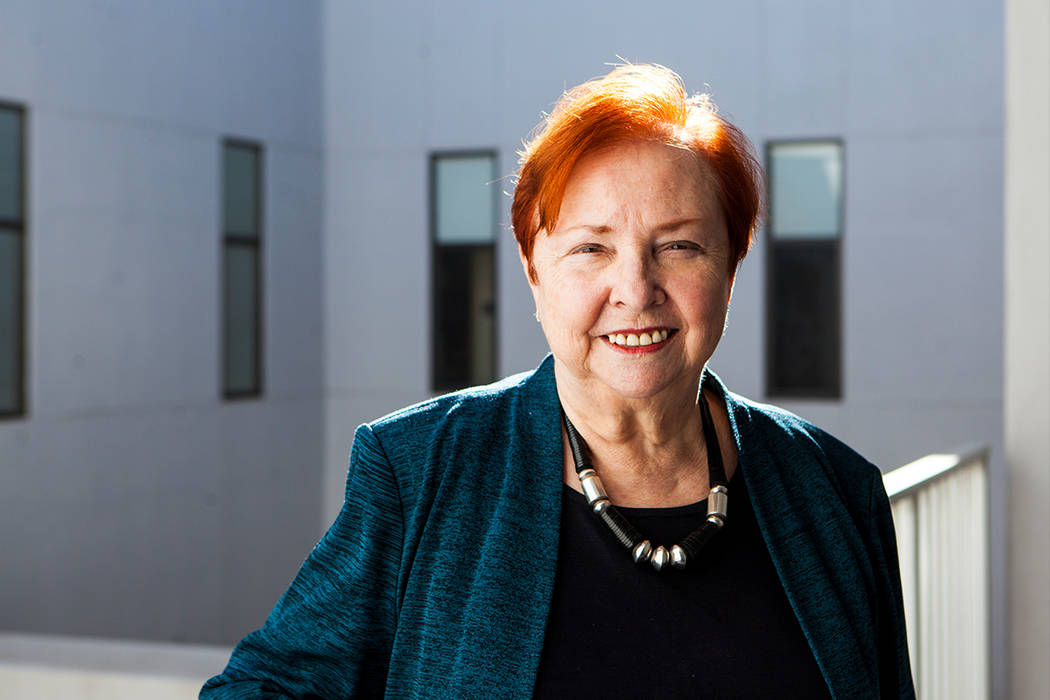 A major health scare will keep the key leader and visionary behind the new UNLV School of Medicine from being on hand for a monumental moment Monday — the first day of class for the first class of students.
Founding Dean Barbara Atkinson, who has ushered the school through countless deadlines and challenges to arrive at this point, recently suffered a ruptured intestine that triggered a serious infection. She remains hospitalized at University Medical Center in Las Vegas as UNLV officials weigh their options for an interim replacement to oversee the school's first weeks or months of operation.
"Schools do face this on occasion, when the leader of the academic institution falls ill, or there's some sort of serious event that has occurred, and they're no longer able to fulfill their duties," said Dr. John Prescott, chief academic officer for the Association of American Medical Colleges, who has reached out to school leadership to offer assistance. "In most cases, there's been a succession plan that has been worked out. But since she's been with it since the founding, I don't know if that's happened."
Silence from UNLV
While university officials said this week that they are discussing the potential of hiring an acting dean to lead the fledgling school in Atkinson's absence, who that may be and when that person might step in are unclear. The university has "communicated nothing" to the Board of Regents, according to Regent Trevor Hayes, and has not responded to requests from the Review-Journal for interviews and information.
According to Prescott, it's common in situations where a leader suddenly departs for university leaders to assess internal leaders to see if someone could temporarily step in.
Other times, he said, a school will tap a recently retired dean who can assist in the time of transition. He said schools typically seek someone with the same skill set as the person they are replacing, in this case someone who understands academic medicine.
Dr. Mark Doubrava, a physician and a member of the Board of Regents, who also chairs the Health Sciences System Committee, agreed that will be a key consideration.
"It should be an individual who is in the field of medicine, and preferably has experience in medical education," Doubrava said.
Regardless of who is chosen, he or she will have big shoes to fill.
Atkinson is an accomplished educational leader, clinician and researcher who, after being appointed as planning dean in 2014, created the vision and education program for the school, while also garnering regional and legislative support. Prior to arriving in Las Vegas, she was elected to the prestigious Institute of Medicine of the National Academy of Sciences in 1997, and also served as dean of the University of Kansas School of Medicine, where she refocused the school to better serve regional needs.
Potential candidates in the ranks
The UNLV Medical School's senior leadership includes several members who could potentially be tabbed to temporarily fill in, including:
■ Senior Associate Dean Dr. Parvesh Kumar, whose background includes experience as a researcher, clinician and academic. He has experience in building academic departments of radiation oncology and clinical research programs.
■ Vice Dean Dr. Ellen Cosgrove, an academic whose expertise lies in shaping and forming medical school programs.
■ Senior Associate Dean Dr. Samuel Parrish, whose background is primarily academic.
A clue on the succession could come as soon as Monday.
Since the dean usually greets medical students on their first day of classes, Prescott said UNLV will likely have someone step into Atkinson's place to provide reassurances to students.
But Regent Jason Geddes indicated that will not happen, saying he believes UNLV President Len Jessup will be on hand to greet the students.
At this time, student Sarah Grimley is feeling only excitement — not nerves or concern about Atkinson's absence — about the first day.
"She set up everything perfectly for us," Grimley, 22, of Las Vegas said of Atkinson. "Dr. Parrish and all of those people who worked right alongside her, they know everything that she wanted to happen."
'They know what they have to do'
Doubrava said that while Atkinson will miss the historic moment, UNLV supporters can take some comfort in the fact that she did not have teaching on her to-do list.
"The curriculum, schedule has been set," he said. "They know what they have to do on Monday, Tuesday, Wednesday."
In addition to providing reassurances, the acting dean will have to help address any issues that come up with the new students coming on board; continue faculty recruitment and fundraising efforts; and handle day-to-day operations and budgeting.
Over and above those duties, however, Prescott said the replacement should understand the school's mission, and commit to following it.
"I have great faith the right leader will be found soon to assist until Dean Atkinson comes back," he said.
Jannah Hodges, president and managing partner of Hodges Partners Executive Search in Dallas said it is "critical" that a school of medicine have a strong, permanent leader at the helm. In the event Atkinson's return is delayed for some reason, UNLV could be forced to quickly mount a search for a permanent successor.
While a search for a new dean often takes up to a year, Hodges holds the Baylor College of Medicine in Texas as a shining example of how the process can be accelerated. By establishing a search committee led by a strong chairman, seeking help from an executive search firm and following a strict timeline, she said the school was able to name a new president after a relatively quick five-month search in 2010.
"It was do or die for Baylor," said Hodges, whose firm assisted the school in its search. "They are where they are today … because of the CEO and excellent departmental leadership. You have to have someone with a vision, who carries it forward into the future."
Contact Natalie Bruzda at nbruzda@reviewjournal.com or 702-477-3897. Follow @NatalieBruzda on Twitter.