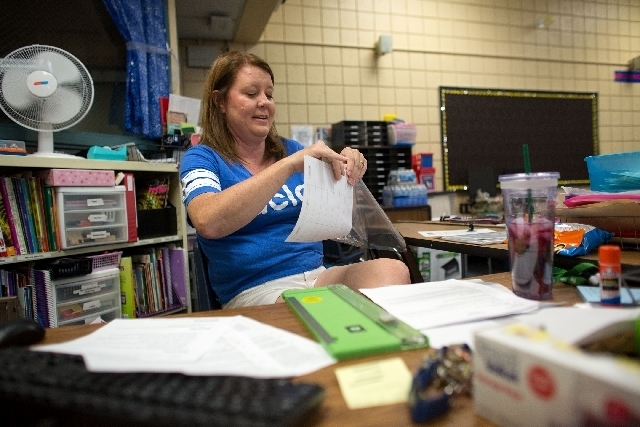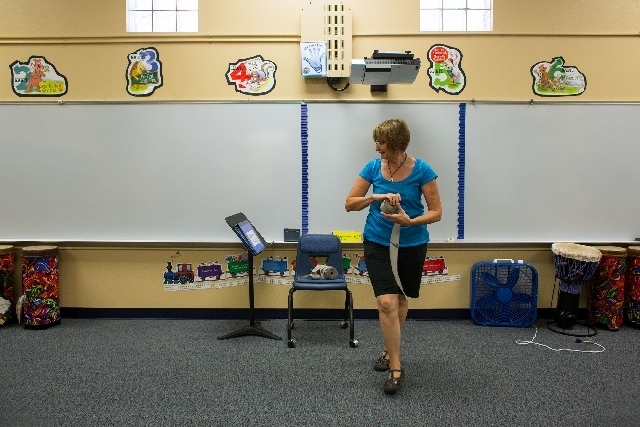 Even though the Clark County School District has faced many changes, Henderson again is ready to usher in another school year Aug. 26 with a few adjustments.
Andre Long, academic manager for performance zone 10, which oversees 25 Henderson schools, said two schools in the area are slated to start full-day kindergarten.
"Looking at 2½ hours of class, it's just not enough to get kids on the right track and cover the material needed," Long said. "This helps set kids up for success."
The Nevada Legislature voted in its last session to expand all-day kindergarten from 128 schools to 201.
Treem Elementary School, 1698 Patrick Lane, and Thorpe Elementary School, 1650 Patrick Lane, were the two Henderson schools that will be part of this expansion.
Long said students could benefit from having access to the program.
"They are probably two of the most at-risk schools in the zone," Long said. "They aren't as at-risk compared to schools in other zones. But looking at them, they need more attention."
Since the decision was approved during the summer, Long said he hasn't had much of a chance to interact with parents about the changes.
The few parents he has spoken to are excited, he said.
Eva White, the academic manager for zone 9, which covers parts of Henderson, Boulder City and Laughlin, said Burkholder Middle School, 55 W. Van Wagenen St., is working with a pilot program this year.
"We are doing a blended learning program for sixth-grade students," she said.
White said the program is designed to help students with math, a subject that has the most failure when it comes to proficiency tests.
During a block of time, students will spend time on a computer, which will help evaluate their math comprehension.
"According to their progress, teachers will pull students aside," she said.
White added that teachers can pull students aside if they are falling behind and need extra instruction or even if students show they are moving at a more accelerated rate.
At the end of the school year, students are to be given a project to evaluate how much they've learned.
"So they can show they know how this applies to real life," White said. "We want kids to know they are learning this for a reason."
She added that after the year ends, teachers will evaluate and determine if the program should be implemented at other schools.
Many other aspects of the school year remain the same in the area, according to Long.
"The primary focus in the classroom is still the common-core standards," Long said.
Considering that many schools in Henderson have high proficiency and graduation rates, Long said the focus now comes to increase engagement in classrooms.
"The question should be what can we do to make students better and how to push them in engagement," he said. "When you walk into a classroom, it shouldn't just be a teacher standing at the front giving all the information. We should be seeing participation happening across the zone."
Pat Skorkowsky, superintendent for the Clark County School District, said the district has hired more than 1,500 teachers this year.
However, Long said that for the most part, Henderson isn't getting many of them.
"We have the lowest teacher turnover in Henderson," he said. "Once teachers come to the Henderson area, they don't want to leave, which means there aren't many vacancies."
Long said there is only one new principal in the area, Michael Piccininni, at Coronado High School, 1001 Coronado Center Drive. Three schools in Clark County — none in Henderson — are transitioning from nine-month to year-round schools.
Skorkowsky said the school district is slated to discuss if more schools will be converted to year-round next year.
"There are some hot zones we are looking at," he said.
Long said it is too early to tell if Henderson will be included.
"It's hard to predict," he said. "We just have to keep an eye on the housing boom right now and see what happens."
Regardless of what changes happen in the district, Skorkowsky wants to continue where his predecessor, Dwight Jones, left off, making sure Southern Nevada is continuing to improve its education system.
"We are really focusing in on looking at what is working on the reform efforts we've put in place, what is the investment on those and are we getting a return on that investment," Skorkowsky said.
Contact Henderson/Anthem View reporter Michael Lyle at mlyle@viewnews.com or 702-387-5201.