More than 500 receive diplomas at Clark County School District summer graduation
August 23, 2016 - 6:48 pm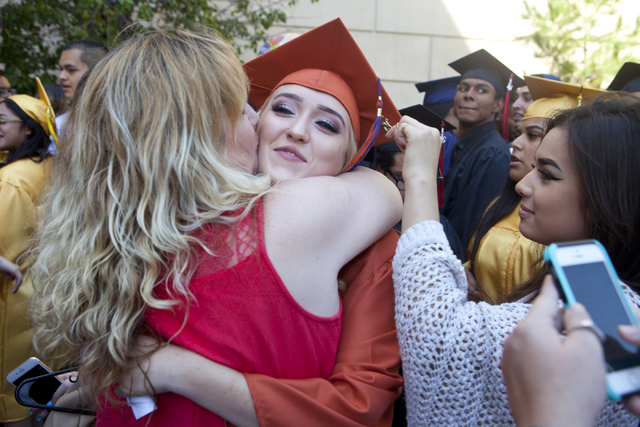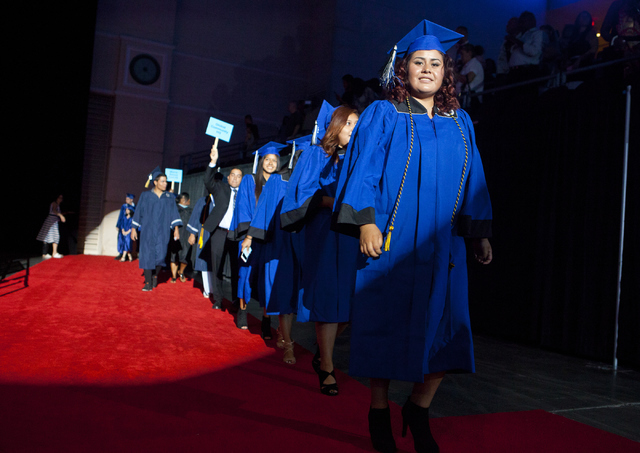 After signing up for a tutor and cramming for a standardized reading test, Laura Elizabeth Vasquez on Tuesday officially retired her hamburger spatula for a high school diploma and a better job.
The 20-year-old needed the diploma to start working next week at Clark County's before- and after-school Safekey program, which pays more than she previously earned at The Burger Joint. And that money will come in handy as Vasquez prepares for the expected delivery of her son in two weeks.
"I just hope he doesn't make the same mistakes I did," she said in the backstage area of the Orleans Arena, where more than 500 other late graduates prepared to walk across the stage as part of the Clark County School District's summer commencement ceremony.
For the past five years, the district has hosted the event to celebrate students who, after missing the traditional graduation season, worked over the summer to pass one or more state-mandated proficiency exams and complete required class credits.
Vasquez acknowledged romance distracted her during high school but, with a child on the way, she decided to listen to her parents and take her education more seriously.
"Now I don't have to make burgers for anybody," she added with a laugh.
Unlike traditional graduation ceremonies, Tuesday's event featured a rainbow of robes as students wore colors to represent their home high school. Vasquez wore a typical black robe as a graduate of the district's adult education program.
More than 20 graduates from Mojave High School donned a mix of silver, green and yellow robes. But Principal Antonio Rael had hoped to send a bigger crowd to the summer ceremony.
"We have 20 to 25 students who still need one proficiency (exam)," Rael said. "And many of those students were within one or two questions of passing."
As the state transitions to new end-of-course exams in high school, the class of 2016 is the last to be required to pass the state proficiency tests in four subjects. As of May, an estimated 3,400 of about 20,500 seniors in the district had failed at least one of those tests.
The district and principals like Rael welcome students who didn't graduate to return for a fifth year, although state accountability rules prevent schools from taking credit for graduates who earn a diploma after the traditional four years.
That might change, however, as the local school administrators union plans to ask lawmakers next year to allow for more nuanced graduation rates that reflect each school's diverse student populations.
At Mojave, Rael estimated the graduation rate for students enrolled there for four consecutive years topped 90 percent. For all students, including those who move to the North Las Vegas school with missing credits or little to no reading and writing skills, the graduation rate plummets to 65 percent.
"The reality is we all don't learn at the same pace," Rael said. "This finite four-year-window of time really disserves children, whatever the reason. Maybe they have an intellectual disability, social disability or other roadblocks in life.
"Giving them that fifth year gives them the opportunity to know that they're not a failure and that they have the time to be successful."
Contact Neal Morton at nmorton@reviewjournal.com or 702-383-0279. Find him on Twitter: @nealtmorton.