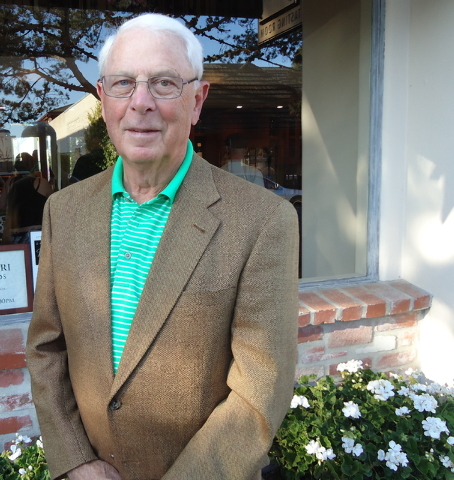 Charles A. Silvestri has a school named for him at 1055 Silverado Ranch Blvd. He also established a grant through the Nevada Community Foundation, based in Summerlin.
That grant helped 10 Silvestri Junior High School students and their chaperones take an educational trip to Washington, D.C., this spring. Silvestri and his wife, Marydean, shouldered the costs of the trip. They live in Summerlin South.
"I want them to get some idea — you know, they see everything on TV, and they hear about it in their history classes — but I want them to get some idea of what Washington looks like," Silvestri said. "They visit the Congress, and they have breakfast with Harry Reid. I like them to visit the Vietnam (Veterans) Memorial to get some idea of what that was all about, where they see 55,000 names on that memorial, men who sacrificed their lives."
He and Marydean, who have been married for nearly 50 years, also provide incentives for the youngsters at the school — gift certificates for the most books read and monetary rewards for top grades. They also send students to summer music camps at Lake Tahoe.
School office manager Becky Cowles said Silvestri was very active with the school and called him a down-to-earth, regular guy. For his 80th birthday, the school prepared a special gift for him.
"We lied to him for months (about) the reason we were having him come in," Cowles said. "We had him come in so we could celebrate. We made him a quilt out of all the (school) shirts that we had. It was a spectacular moment."
His nephew, Rob Silvestri, said one of his favorite memories from childhood was "cooking with Uncle Charlie and all his brothers at the Silvestri family parties. The Silvestri men do all the cooking."
So it's no surprise that Silvestri gave a hands-on demonstration for students on how to make spaghetti and meatballs.
"I made 70 meatballs and 5 pounds of pasta," he said. "Before you know it, here comes the janitor, here comes the principal. When we left, everything was (eaten)."
Silvestri was born in Vandergrift, Pa., approximately 30 miles northeast of Pittsburgh, in 1934. Today, it has a population of about 5,000.
Silvestri left the steel mills and came west to further his education, getting his bachelor's degree in political science and history from the University of Nevada, Reno. He later earned a master's degree in administration and supervision at the newly built UNLV. It was at a time when, he said, "Maryland Parkway stopped at Flamingo Road; it was dirt after that."
He worked his way through college as a dealer at The Mint, a downtown hotel that had just opened, working from 6 p.m. to 2 a.m., then showing up for class at 8 a.m.
Silvestri went on to teach history and government from 1963 to 1968 at Hyde Park Middle School, 900 Hinson St., and Valley High School, 2839 S. Burnham Ave. He said junior high was his favorite age to teach.
"They don't know who they are just yet," he said. "They're fun to watch and see them grow."
He also has taught in the College of Education at UNLV.
Silvestri served the Clark County School District for 26 years, with much of the time in the personnel division, where he was assistant personnel manager and then associate superintendent, personnel services. He authored the school district's first affirmative action plan and became its first affirmative action officer.
Looking back, he called it an "exciting time" in Las Vegas history, as the city was on the verge of growing bigger and everyone knew everyone.
"I was glad we were making a contribution to our community, that the school district had a positive impact," Silvestri said.
As chief negotiator for the school district, he helped negotiate 18 labor contracts over 13 years between the district and three employee unions. As the county grew, Silvestri planned and oversaw a program that recruited applicants for administrative, supervisory and teaching positions.
In 1981 and 1982, Silvestri held the title of acting superintendent of schools. Later in his career, he was deputy superintendent. Beginning in 1979, he served for 10 years as a district lobbyist. Silvestri was been actively involved with the Public Employees' Retirement System of Nevada, serving as a trustee, vice chairman and chairman. He is also a school trustee for the Alexander Dawson School, 10845 W. Desert Inn Road, and a trustee of the Nevada Community Foundation, 1635 Village Center Circle. He said he retired "for real" in 2011.
"I'm very positive about youngsters," Silvestri said. "There are some people who are turned off, not as impressed with young kids. They have their doubts about the younger generation. I don't. I am totally confident that we're in good hands with the youngsters coming throughout the schools and the young people in our nation and our community."
Contact Summerlin Area View reporter Jan Hogan at jhogan@viewnews.com or 702-387-2949.
Naming Las Vegas
The history behind the naming of various streets, parks, schools, public facilities and other landmarks in the Las Vegas Valley will continue to be explored in a series of feature stories appearing in View editions published on the first Thursday of every month. If you're curious about how or why something got its name, post a comment on our Facebook page, facebook.com/viewnewspapers.