National Merit semifinalist: Luke Sanford | Coronado High School
December 27, 2011 - 2:00 am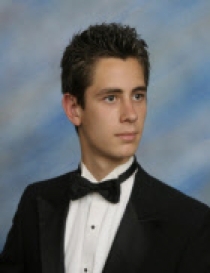 LUKE SANFORD
CORONADO HIGH SCHOOL
■ What college do you plan on attending and for what major?
I cannot honestly say which university I will be attending come fall, but I would hope to attend Stanford, Harvard, Yale, or Princeton universities. I will be studying a combination of applied mathematics and engineering .
■ What extracurricular activities do you participate in?
I participate in student council, mathematics honor society Mu Alpha Theta, National Honor Society, Varsity Quiz, Science Bowl, Interschool Club Council, Political 360, the MathCounts program at my former middle school, high school and club soccer, and church activities.
■ What do you do for fun?
Most of my entertainment derives itself from a culmination of soccer, friends, family, and relaxation. I absolutely love reading a good book and hanging out with friends on weekends. My family is completely phenomenal, and each member provides both support and enjoyment in my hectic schedule.
■ In detail, how did you prepare for the PSAT?
To prepare for the PSAT, I used my preparation for the ACT to fuel my knowledge and took one practice test. I ensured that I slept well that night, and, on the day of the PSAT, I applied the knowledge I already had obtained, hoping to do well.
■ Why are grades so important to you?
Grades are so essential and requisite to me because they are overt portrayals of my current successes in life. My grades facilitate my understanding of my performance as an individual, a student and a leader and aid in my continual development .
■ What's your favorite movie and book?
My favorite movie would have to be one of the "Lord of the Rings" movies, but I cannot possibly exalt one over another. Similarly, my favorite series of novels is the Mistborn trilogy by the impeccable Brandon Sanderson.
■ What's a guilty pleasure of yours — such as a TV show, movie or hobby — and why are you ashamed of liking it?
A guilty pleasure of mine is the TV series "White Collar." Once I begin to watch Neal Caffrey and Peter Burke in action, I cannot help but stare at the screen .