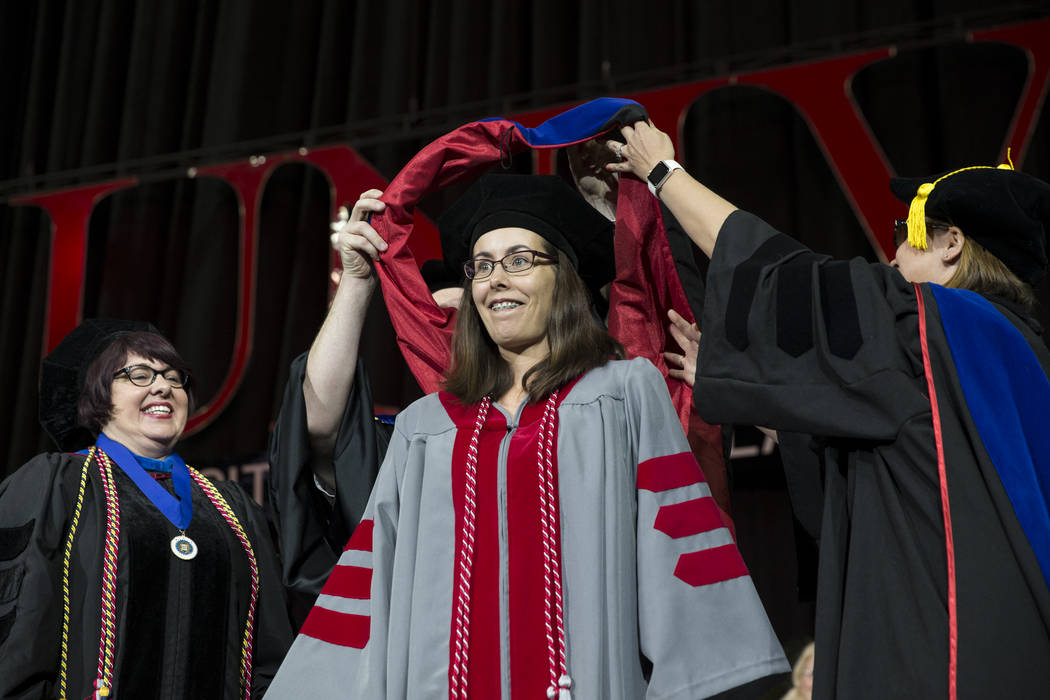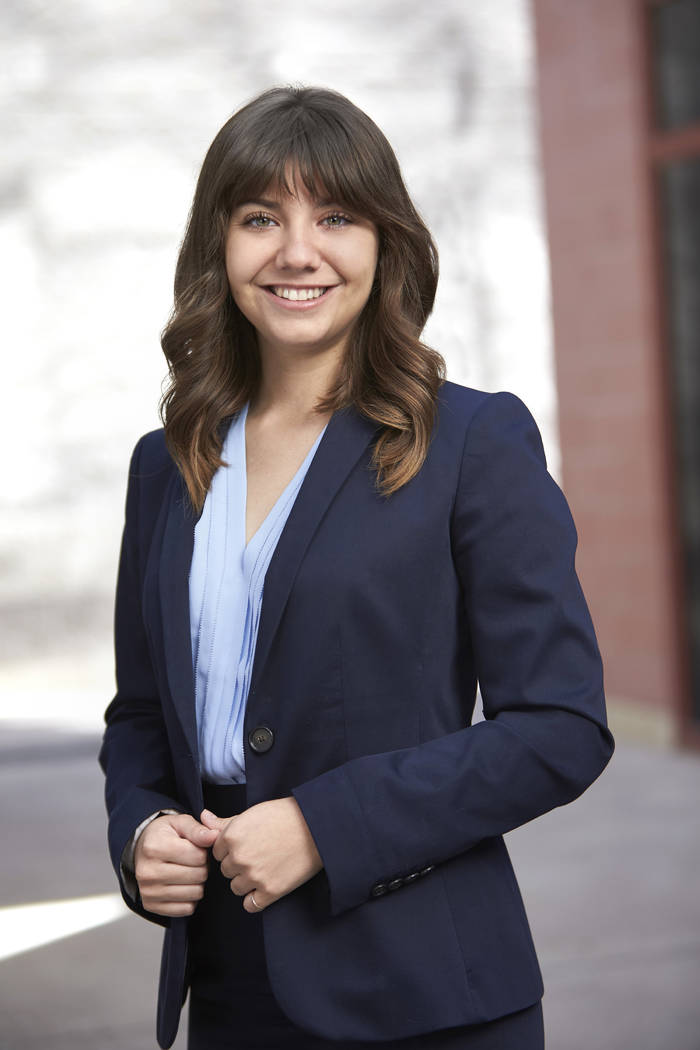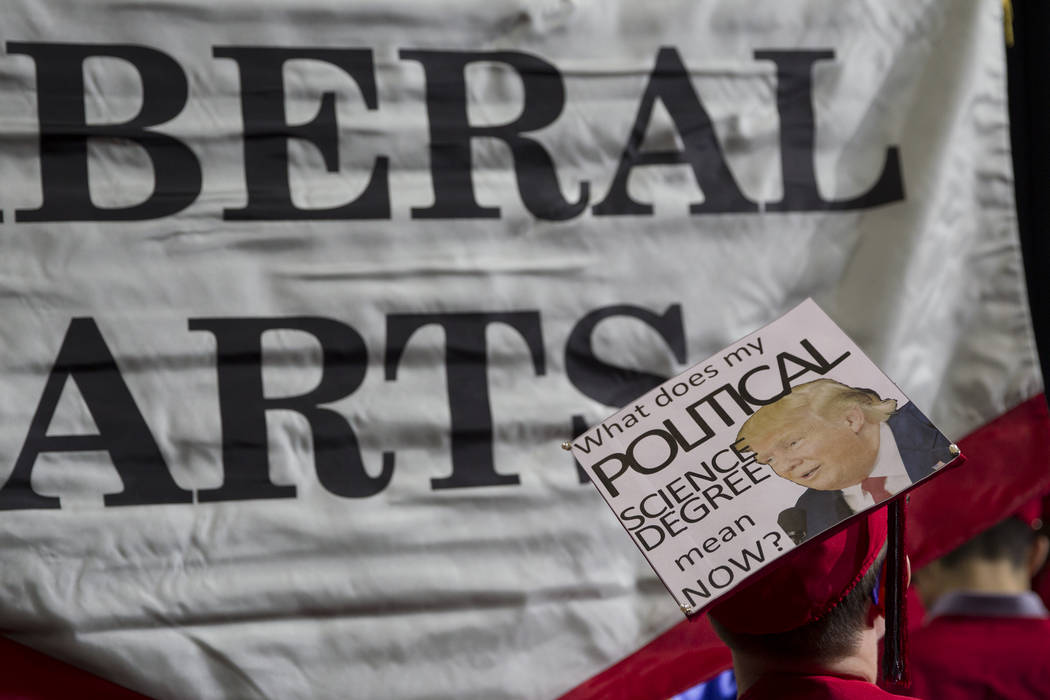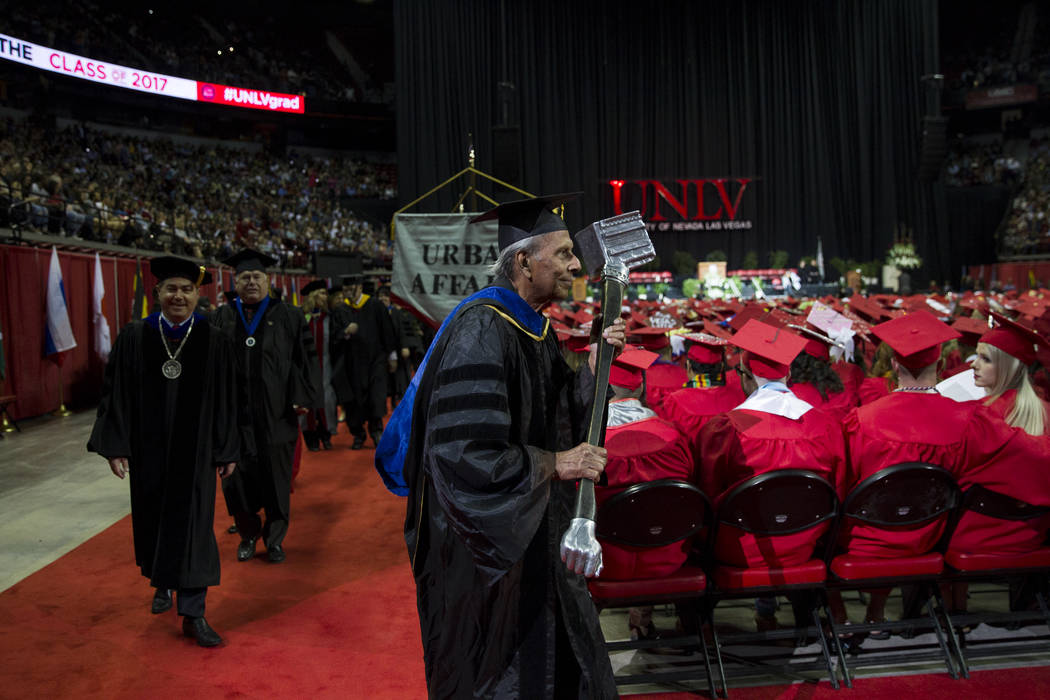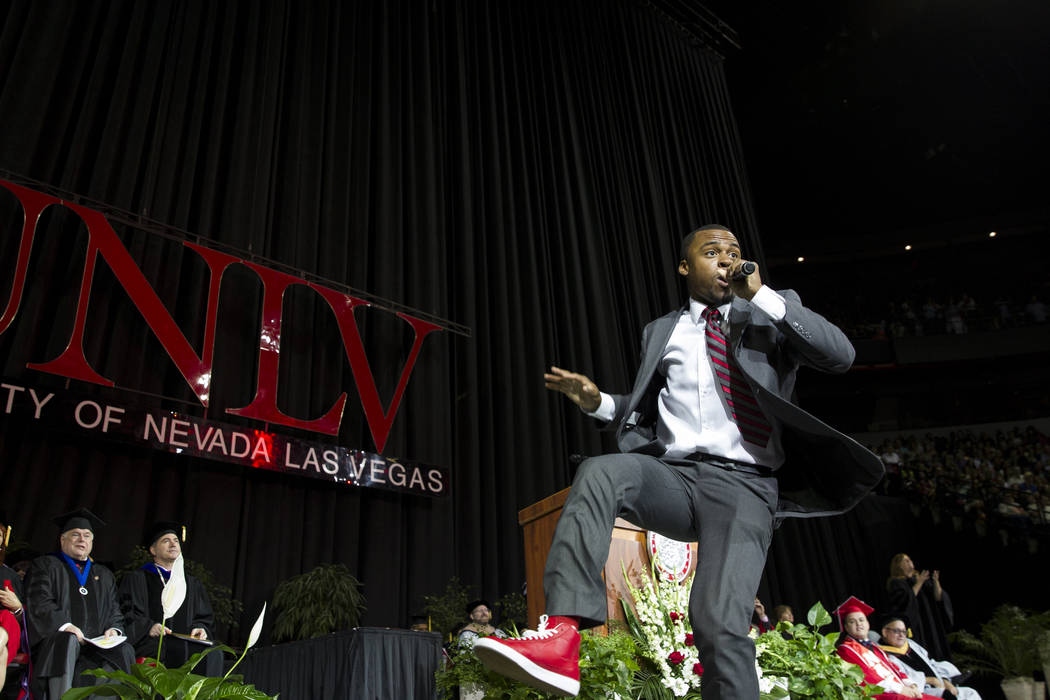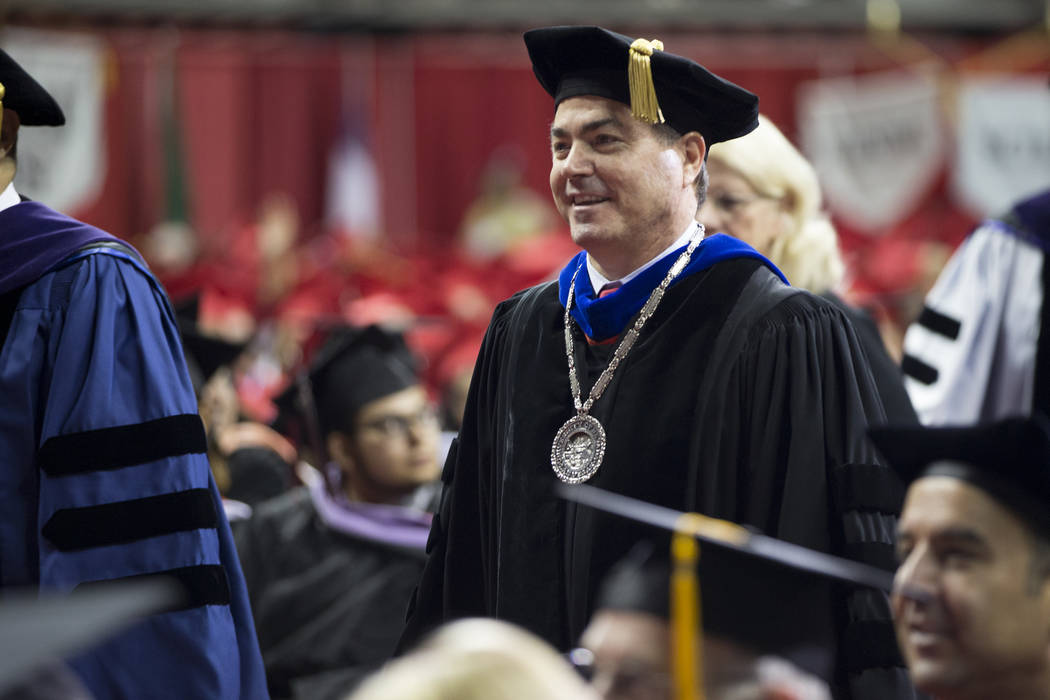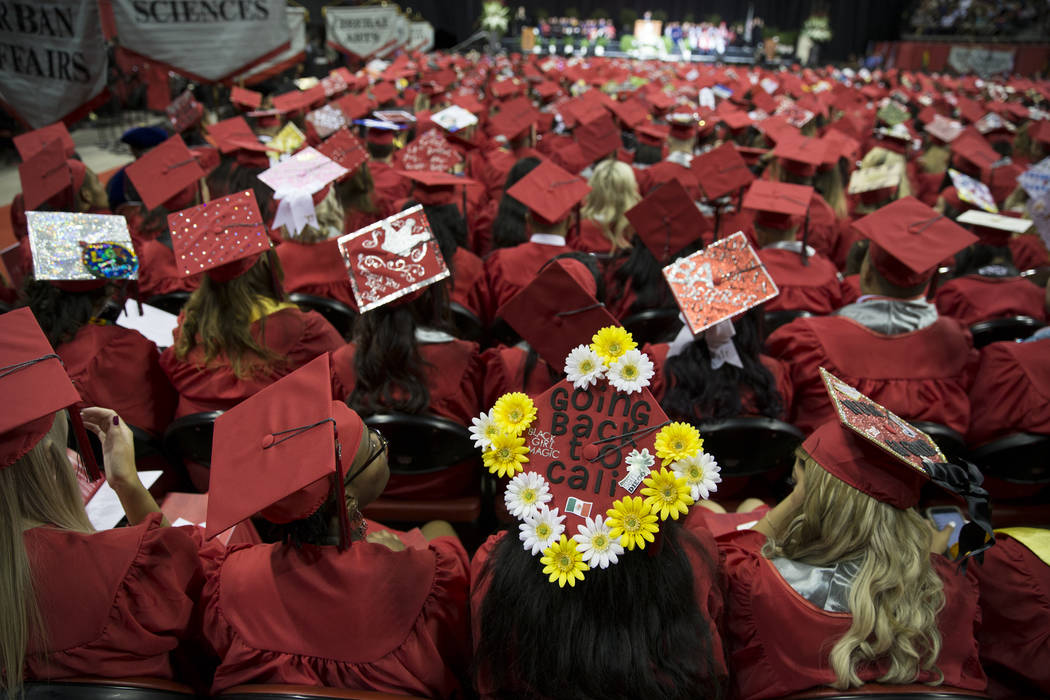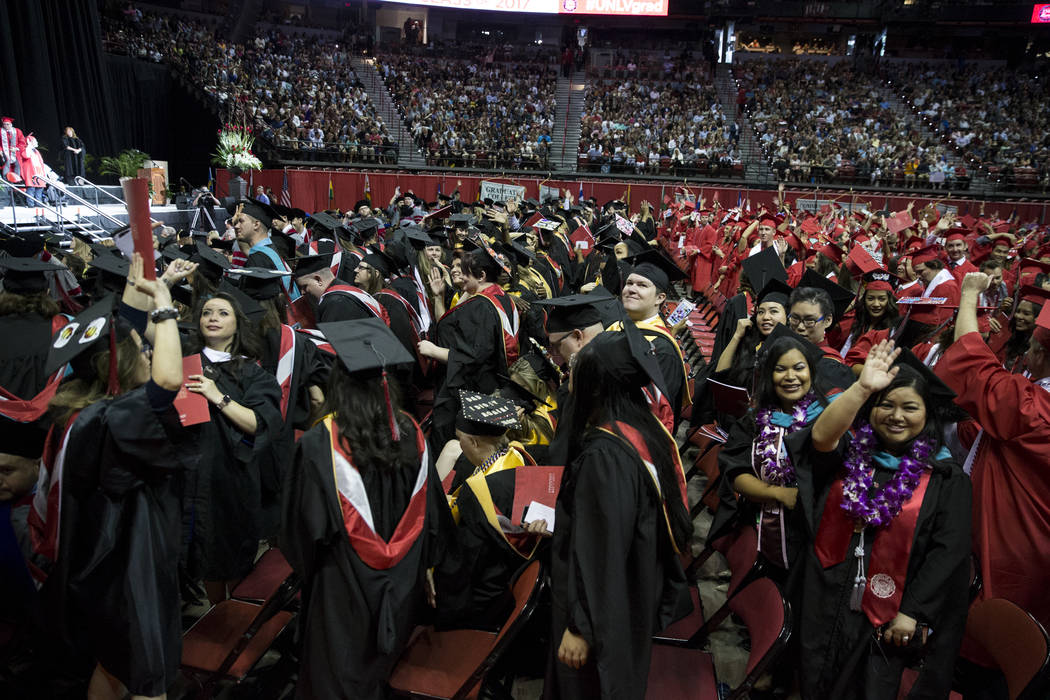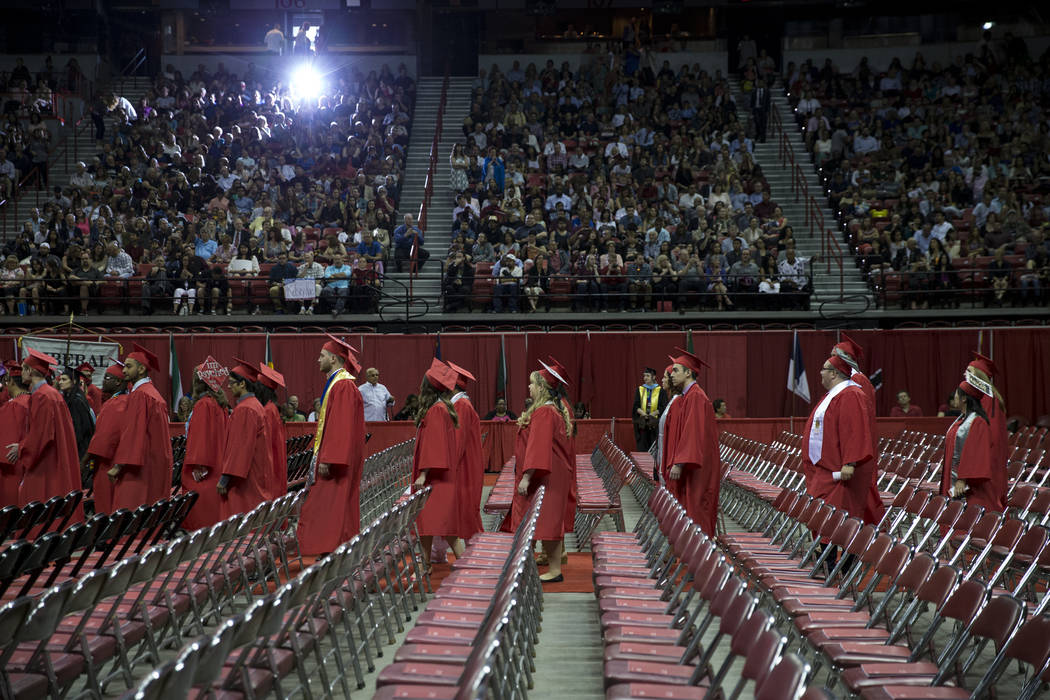 It was a jubilant sea of scarlet inside The Thomas &Mack Center arena on Saturday.
Thousands of UNLV students, dressed in robes and caps of the university's colors, gathered to celebrate the end of one stage in their lives and the start of the next.
As family and friends looked down from bleachers, the students proudly marched toward a faculty-filled stage to receive their hard-earned diplomas.
Confetti rained down as everyone from students to faculty to family cheered. Newly minted graduates rushed to post photos and videos on social media as did the university.
Nearly 2,900 undergraduate, graduate and professional students received their degrees during Saturday's two spring commencement ceremonies, an increase of 11 percent compared with last year.

Among those in the red cap and gown Saturday was Meghan Pierce.
The graduation ceremony was not a new experience for her. She has been there before — several times in fact — during her 14 years at the University of Nevada, Las Vegas.
On Saturday, Pierce crossed the Thomas &Mack stage to pick up her fourth UNLV degree — a doctorate in experimental psychology.
She was among eight outstanding graduates specially recognized at the day's two ceremonies.
The first-generation college graduate will pack her bags and head to Boston soon for a postdoctoral fellowship at Harvard University.
"Leaving UNLV is probably the hardest thing I've had to do," Pierce said in an interview last week. "It's thrilling work. It's fun to do research and take classes. It's fun to be in the community serving others."
She credited UNLV with helping her achieve her goals.
"Being able to work at Harvard is a dream come true — something I never considered," Pierce said. "It's only through the mentorship of faculty members that I even knew about it and applied. Everything I've ever accomplished is here at UNLV, and being hired on at Harvard is in direct relation to UNLV and the training I've received here."
Pierce had to tough it out to get her first degree, working sometimes as much as 60 hours a week managing a department store and working in a lab to pay for school.
Achieving her second degree — a master's in mental health counseling — wasn't much easier. Pierce dedicated nearly 4,000 hours to community service. She earned another master's degree in 2014.
Hannah Kelley, another outstanding graduate, will also be packing her bags. A Truman scholar and a Fulbright grant recipient, Kelley will move to Norway to teach English as part of her Fulbright commitment.
Her goal is to teach in the Clark County School District and eventually work in education policy.
"Going to UNLV has been the greatest blessing of my life," said Kelley, who graduated with a bachelor's in secondary education. "I had so many opportunities that I wouldn't have had at other schools, including the ability to interact with a diverse student body."
"This community has given me everything and I want to give back. My experiences in Norway and in CCSD will help to inform the policy I hope to create to help students and teachers."
The ceremony once again proved that age is not a barrier to higher education.
This year's youngest graduate was 19 years old. The oldest was 85-year-old JJ Brennan, who started college in the 1940s. He graduated Saturday with a bachelor's degree in film, with a minor in theater.
Review-Journal staff writer Todd Prince contributed to this story. Contact Natalie Bruzda at nbruzda@reviewjournal.com or 702-477-3897. Follow @NatalieBruzda on Twitter.
85-YEAR-OLD GRADUATES
Truman was president when he started: JJ Brennan earns his bachelor's degree