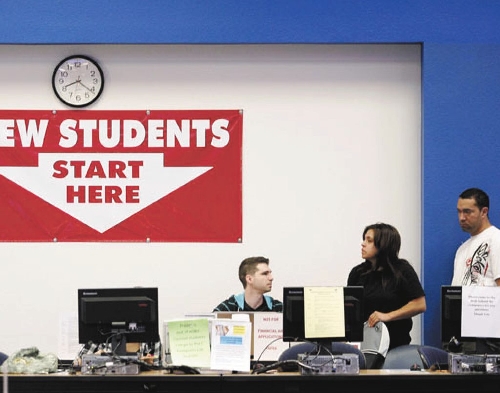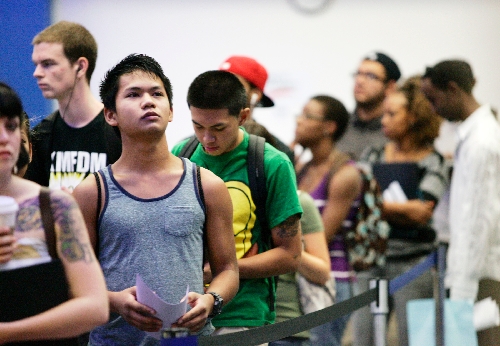 Nevada's community colleges, home to more than half the state's 114,000 college students, are about to abandon their long-held admissions policies that allow almost anybody to sign up for classes.
The state's community college presidents are asking the higher education system's governing board to require a high school diploma or its equivalent to get into a community college.
The proposal, which would go into effect in the fall of 2012, will come before the Board of Regents next week.
"It is establishing, for the first time, a minimum benchmark to participate in and complete an education in a community college," said Dan Klaich, the state's higher education chancellor.
Michael Richards, president of the College of Southern Nevada, said the idea behind the proposed policy change is actually to help those potential students who did not finish high school, not abandon them.
"I think the reason behind this is that the evidence tells us that students are more successful in college if they are ready for college when they start," he said.
CSN, by far the largest higher education institution in the state with 44,000 students, has an abysmal graduation rate. It recently doubled to 9 percent.
The reasons for that are many — some students go to community colleges for enrichment, or transfer, or work training without ever seeking degrees.
But no one believes that a 9 percent graduation rate is good enough.
"Higher graduation rates are going to be a real significant factor in everything we do," Klaich said.
That, alone, is not the reason for the community college admission standards, he said. But it is a factor.
The cost of remedial education is also a factor.
A recent report completed by a task force Klaich appointed named remaking remedial education at the community colleges a top priority.
Richards said thousands of students in Clark County don't graduate high school each year, either because they failed proficiency exams or they did not meet other requirements set out by the School District.
Many of those students could end up at CSN, he said. And, by and large, they are being set up to fail, he said.
"On the one hand, we want to help those students. We really do. And in the past we've had the resources to do it."
With CSN's state-supported budget cut 15 percent this year, on top of other cuts in recent years, resources are scarce, he said.
"The faculty agree that, if (law­makers) are not going to fund the colleges, we need to have restrictions," said Sondra Cosgrove, chairwoman of the CSN chapter of the Nevada Faculty Alliance.
In recent years, as demand has outstripped CSN's capacity, the college has had to turn away thousands of students, mostly on a first-come, first-served basis.
Shutting out those without high school degrees could free up more room in community colleges.
But there could be other consequences.
Patrick Callan, president of the Higher Education Policy Institute, said the proposed change had "major policy implications."
"Community colleges are having a very difficult time in fulfilling their mission," he said.
Funding is down, and demand is up, as often happens when the economy is poor. People go back to school to reeducate themselves.
Callan said that shutting out those without high school diplomas could further hurt what is often the poorest segment of society.
With no opportunity to educate themselves, they may have little chance of improving their financial situation.
"If provisions are not made, we're just condemning a substantial portion of the population of the state to financial oblivion," he said.
The proposal would require the colleges to create provisions that would allow potential students without diplomas to get a college education.
Richards said those alternatives have not yet been created.
"That's going to be our next step," he said.
Contact reporter Richard Lake at rlake@reviewjournal.com or 702-383-0307.