Nevada higher ed official's 'Jeopardy' skills solve transfer tussles
December 9, 2018 - 10:33 am
Updated December 10, 2018 - 8:44 am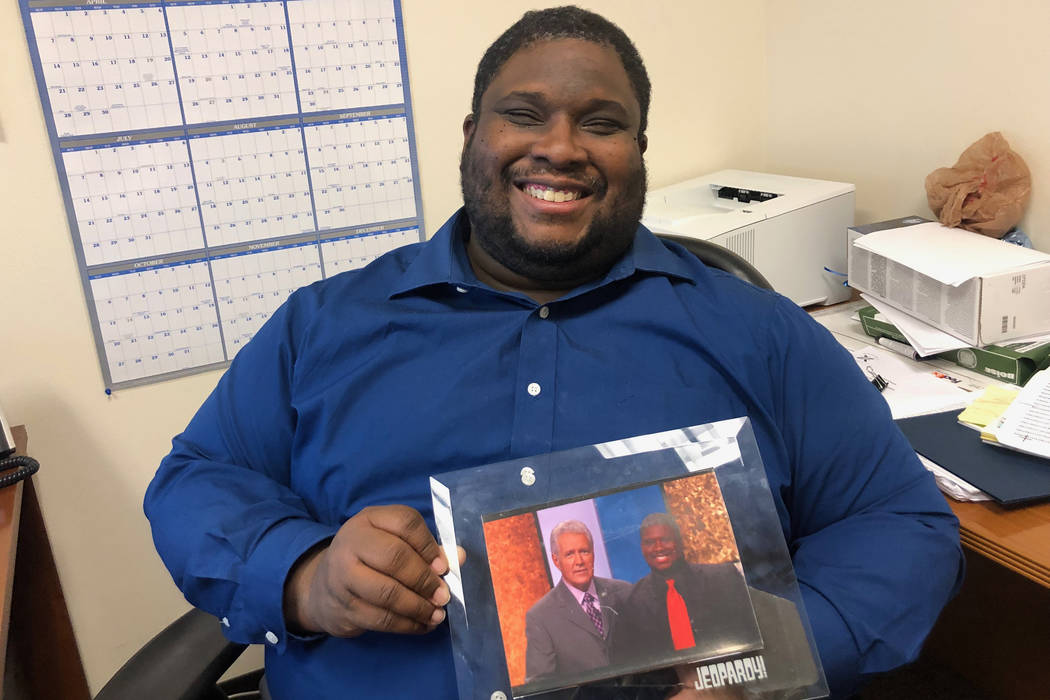 This 2006 "Jeopardy!" champion now works as a self-described "shepherd" for students in the Nevada System of Higher Education.
If your response was "Who is David Singleton?" you'd have earned a nod of approval from host Alex Trebek.
Singleton, 40, isn't ashamed about his appearance on the popular TV game show — a framed photo of him and Trebek sits in his office on Maryland Parkway, across from the UNLV campus. But he doesn't boast about it, either, even though the $10,600 he earned in his two appearances on the show helped pay for his honeymoon.
For the past eight months, Singleton has been toiling in a newly created NSHE role, reviewing and auditing more than 500 transfer and "articulation" agreements among the seven degree-granting institutions in the state. The agreements spell out the specific courses students must take at one institution in order to receive credit at another if they transfer.
Even with the agreements among universities, students can sometimes run into issues when transferring. For example, a student who finished a two-year degree at the College of Southern Nevada might encounter roadblocks when trying to transfer those credits to pursue a four-year degree at UNLV. There's a process on campus for appealing if that happens.
That's where Singleton gets involved. He compares coursework, and once students have exhausted the appeals processes at an individual NSHE campus trying to get credit for their coursework, they can come plead their case to him.
He's not the final arbiter, but he can act as an advocate for the students with admission officials at the schools.
"I'm an additional resource. I can be a little more neutral," Singleton said.
Some degree and credit transfers are easier than others, but some programs — particularly science and engineering — tend to be highly technical, leading to disputes over whether a particular course meets a set of criteria at another school.
Singleton said he tries to take the same cool-headed approach that benefited him when he appeared on "Jeopardy!" in October 2006. He went in with a plan: He'd only buzz in when he was absolutely sure of the answer. Before heading into the Final Jeopardy round his first day, Singleton was about $1,600 behind the reigning three-day champion.
But a calculated small bet on the final clue — which all the contestants got wrong — pushed Singleton to the top.
On his second day, Singleton struggled with a new set of competitors and ended the second round down less than $5,000. Again, no contestant got Final Jeopardy right, but Singleton's conservative bet wasn't enough to take home top honors.
Since then, Singleton has put his trivia days behind him to focus on academic advising, along with raising a son with his wife. He was working at UNLV when he taped the show, but he has also worked at CSN and Nevada State College since moving to Nevada in 2006.
He says there are certain skills that translate to his current job helping NSHE students.
"A lot of it is strategic thinking," he said. "It's using that kind of problem-solving and differentiation."
And in a smaller way, the experience of applying to get on "Jeopardy!" also helped Singleton be a better advocate for students.
"It took a long time, and a lot of it was out of my control," he said. "For a lot of our students, there are forces out there they can't control."
Contact Meghin Delaney at 702-383-0281 or mdelaney@reviewjournal.com. Follow @MeghinDelaney on Twitter.