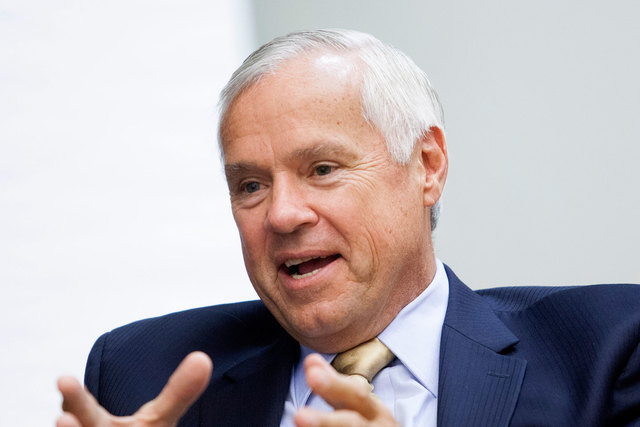 CARSON CITY — Students who do not complete college-level math courses in the first year of their studies are far less likely to graduate than those who do, a new report shows.
At UNLV, where 50.3 percent of students took college-level math in their first year of college, the graduation rate was 49.1 percent. For the 49.7 percent who did not take the course in the first year, the graduation rate was 27.2 percent.
At the College of Southern Nevada, the graduation rate for the 12.1 percent of students who took math in their first year was 19.3 percent. The rate for the 87.9 percent who did not take the course in the first year was only 5.5 percent.
Similar results were reported for other colleges.
The data was included in the 2013-14 Remedial Placement and Enrollment Report presented Tuesday to the Legislative Committee on Education by the Nevada System of Higher Education.
It was based on students who enrolled in college in Nevada in the fall of 2007.
Chancellor Dan Klaich said the data is important as the college and university campuses work to improve the completion rate for their students.
The findings show the importance of helping students reduce the time spent in remedial courses so they can complete college-level requirements within the first year of college, the report said.
The report, which also details how many students need and complete remedial English and math courses, is using a new methodology, however. As a result, there is no long-term data available on remediation within the higher education system, Klaich told lawmakers.
The report does show that systemwide, 55.6 percent of incoming high school students in 2013-14 were placed into remedial courses immediately following graduation.
At the University of Nevada, Las Vegas, the rate was 56.7 percent for English, math or both subject areas. The rate was 80.9 percent at Nevada State College in Henderson and 54.1 percent at the College of Southern Nevada.
The report also shows that 46.2 percent of 2013 Nevada high school Millennium scholars required at least one remedial math or English course, compared to 65 percent of those who did not get the scholarship. Millennium scholars have to achieve a minimum grade point average to be eligible for the scholarship.
This finding prompted Assemblyman Lynn Stewart, R-Henderson, to suggest that it was "ridiculous" that Millennium scholarships should be awarded to students requiring remedial coursework upon entering college.
He asked whether test data should be used to award the scholarships rather than the 3.25 minimum GPA requirement.
Klaich said the Nevada Legislature sets the guidelines for eligibility for the scholarship. It is an issue that requires the ongoing attention of educators, he said.
Contact Capital Bureau reporter Sean Whaley at swhaley@reviewjournal.com or 775-687-3900. Find him on Twitter: @seanw801.