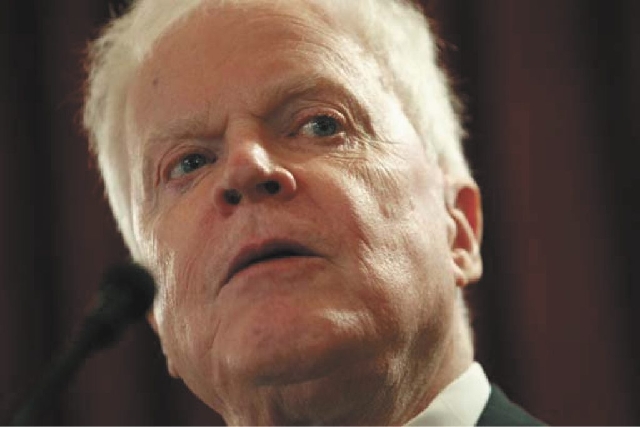 CARSON CITY — James Guthrie has resigned as state superintendent of public instruction, effective immediately, the Sandoval administration announced Friday.
Reached by telephone, Guthrie would not elaborate on why he resigned, saying, "All I can say is that I submitted my resignation, and it was accepted. It was my honor to have the job. … I'm disappointed that I'm not able to continue the job."
Guthrie, however, is not going to give up on education though he no longer works for the state.
"I will look for a position in which I will continue to influence American education," said the 76-year-old Guthrie, who has come under fire in recent state committee meetings for defending Sandoval's public education budget, which Democrats consider at least
$310 million short of the state's needs.
Guthrie was hired by Sandoval in March 2012 after a distinguished career in education in California and Texas.
His departure is going to hurt — immediately, a legislator said.
"Now is when we need all hands on deck, not have a loss of input and guidance," said Senate Finance Chairwoman Debbie Smith, D-Reno. "We are heading into a huge decision on education and policy issues, so the timing of losing our state's top leader is concerning."
Rorie Fitzpatrick, deputy superintendent for instruction, research and evaluative services, has been appointed interim superintendent.
In a March 1 meeting, Democratic legislators ripped Guthrie for suggesting that small class sizes really aren't that important on the education priority list.
"In an ideal world I would ask that you lift class-size restrictions" and let local school districts decide how best to spend their resources, Guthrie told The Associated Press.
"An effective teacher trumps all we know about class size," he said before adding, "In an ideal world … I wouldn't be concerned about class size."
While Sandoval has proposed adding $135 million to current public school funding, Democrats contend his plans are far short of what must be done to help current students. Class-size reduction is one of their key initiatives.
Senate Majority Leader Mo Denis, D-Las Vegas, has insisted the state provide funds to reduce classes this session, but funding sources have not been identified.
Clark County School District spokeswoman Amanda Fulkerson said district officials will continue to work closely with lawmakers to keep education at the forefront of legislative priorities.