New Clark County schools superintendent faces trust-building challenge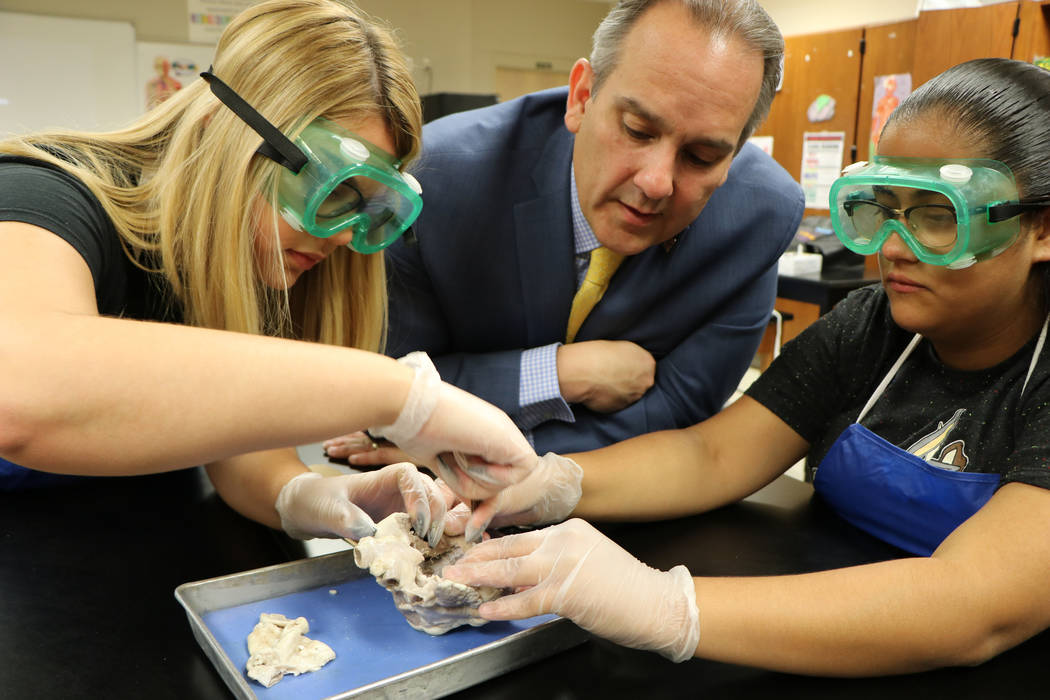 ORLANDO, Fla. — Establishing trust.
That, in two words, is the biggest challenge facing Jesus Jara when he arrives this week to become the Clark County School District superintendent.
There are obvious similarities between Las Vegas and Orlando, but the climates of the two tourist meccas' school systems are not among them.
In Orlando, where Jara, 48, just concluded a six-year run as deputy superintendent, district officials, the school board and parents all seem to pull in the same direction to move the academic needle upward.
That's hardly the case in Clark County, where trust among district officials, legislators, parents and trustees often seems nonexistent and divisions threaten to undermine modest progress in academic achievement.
Jara — who doesn't mind whether you pronounce his last name with a J or an H — is aware of the challenge awaiting him when he clocks in Tuesday.
During a recent visit with the Las Vegas Review-Journal in his last weeks on the job in Florida, he said earning the trust of the entire community is critical to propelling the district forward.
But he also said he views what others see as mistrust a little differently, calling it a "passion" for students and education.
"The passion I can work with," he said. "What we need to do is just channel it together to … work as one and collaborate together so we can then have a real clear focus on being the No. 1 district for kids."
Operating transparently and having open dialogues are two ways Jara thinks Clark County can begin to build a culture around education that resembles Orlando's.
Rebecca Garcia, a 39-year-old with three children attending Clark County schools, said it's going to take a lot of showing up for Jara to restore her trust. But she acknowledges being impressed by his skills, experience and temperament in his interview with trustees.
"I think CCSD is at a juncture where we need a fresh perspective who is willing to leave the status quo, who isn't part of the status quo and who can set a new direction for the district," Garcia said.
Jara says Clark County parents can get a good sense of the approach he will bring by looking at changes that have occurred in Orange County, Florida, in recent years, including voters entrusting the school district with more tax money through ballot initiatives.
Overall, Jara said, Orange County schools have found a good balance between school autonomy and central oversight.
He wants to implement a similar structure in the Clark County district, which is still wrestling with the Legislature-mandated reorganization.
Budget flexibility
To demonstrate the flexibility of the Orange County system and illustrate how it can adjust to different challenges, Jara took a reporter on a tour of five schools.
At Colonial High School, he discussed principal autonomy, using the school's third-year principal, Jose Martinez, as an example.
The school, which serves up to 3,600 students, is similar to many Clark County high schools. It is 87 percent nonwhite. It's a Title I school, and 71 percent of students qualify for free or reduced lunch under federal standards, an indicator of poverty.
It's earns a consistent "C" on Florida's five-tier rating scale.
But unlike most Clark County schools, every student has their own tablet.
Also, the principal has near-complete control over the budget, as long as the school meets the district's criteria for academic achievement. That's similar to what's being done in Clark County, though at this point Orange County principals appear to have more spending flexibility. That required additional budgeting training for principals, Jara said.
At Colonial, for example, Martinez responded to parent and student feedback by cutting a couple coaching positions and using that money to cover fees for band and orchestra programs. There's money available for dry-cleaning uniforms, for example.
A better example came from Colonial's enrollment of roughly 200 Puerto Rican students who fled to Florida after Hurricanes Irma and Maria decimated their homeland.
"We knew right away we needed a system in place," Jara recalled, sipping from a cup of Dunkin Donuts coffee as he described how Martinez and his team jumped into action to prepare for the influx.
The solution included getting the school's Latinos in Action club involved.
A spinoff of student government clubs, Latinos in Action operates in a handful of Orange County schools and focuses heavily on mentorship.
Because the system was already in place, Martinez said, it was easier to absorb the newcomers with only minimal disruption to other students.
School turnaround
While the district lets schools like Colonial make such calls, schools that aren't cutting it academically have less autonomy.
Washington Shores Elementary School was a dilapidated facility nestled into an old, historically impoverished neighborhood.
Four years ago, the school received an "F" rating and a promise of support from the district. That included a spot in the school transformation office that Jara helped create and replacement of the old building.
Nate Stephens, the principal brought in to lead the transformation, grew up in the neighborhood and serves as the ultimate role model for the children.
"This is the exit from the neighborhood. This is personal for me," he said.
Part of the transformation involved training teachers on how to talk to students using higher-level vocabulary to set an example, Stephens said. If you hold high expectations, he said, the students can and will meet them.
In the latest state ratings, the school climbed to a "C."
During the tour of the school, students impressed Jara with their vocabularies. He sat with a kindergarten student who used the word "bacteria" in an essay on ice cream. A third-grade student talked about how physical activity teaches "collaboration."
"It's the same kids, the same community, learning at a higher level," Jara said.
The transformation office is similar to Clark County's turnaround initiatives but more advanced in some ways. For instance, it has a system to ease schools back to the mainstream once they reach an achievement standard. Over two to three years, the school is weaned off transformation office support, and budgetary control is returned to the principal.
That prevents what some Clark County schools with high-needs students are seeing now when certain state funding measures, like the Zoom and Victory programs, provide extra support only to vanish once student achievement improves.
That's one reason Jara likes systems that focus on and reprioritize existing funds rather than relying on new money.
'Master' principals
Next on Jara's list is Millennia Elementary School, which shares Principal Anne Lynaugh with nearby Millennia Gardens Elementary School, similar to Clark County's "franchise principal" program.
The idea of both programs is to leverage experience and talent, but Jara said he worries about burnout. Both districts also have training programs aimed at nurturing up-and-coming administrative talent.
In Lynaugh's schools, Jara shows a knack for connecting with students, easily slipping into and out of his native Spanish. Jara moved to Miami from Venezuela when he was 10.
"My parents had a vision of the American Dream, and I'm living it," Jara said over a chicken sandwich and Diet Coke, one of three cans consumed during the daylong visit.
Like their Clark County counterparts, Orange County students speak a multitude of languages, which can sometimes pose a problem, said Lynaugh. But with technology in every classroom and the rise of programs like Google Translate, students who aren't yet fluent in English are able to work independently.
Hands-on learning
Next up is Orange Technical College.
Don't let the name deceive you. Students do not earn bachelor's or associate degrees but can pursue a wide range of career certifications.
Funded by the state and run by districts, Florida's technical colleges are similar to vocational schools. They are open to adults and high school students. Adults pay tuition and any required fees, while students generally pay only for supplies or instructional materials.
Five campuses in Orange County offer more than 40 programs, including cosmetology, mechanics, animation and welding. Students spend half their days at their zoned high school and half in their career or technical program.
Jara's son, Alex — second-oldest of his three kids — is an alumnus, collecting a welding certificate two days before his high school graduation.
"This is hands-on learning," the elder Jara said.
The schools defy the notion that vocational schools are somehow lesser. Through partnerships with high-profile companies and up-to-date programs, including modeling simulation design and production, it's remarkable what they can accomplish, Jara said.
For example, combining a standard program like brick masonry with virtual reality technology keeps costs down by letting students practice in a simulation before actually laying bricks.
Closing achievement gaps
The last stop is Hunter's Creek Middle School, which is consistently rated at the highest level by the state. Principal Amy McHale is about to get even more autonomy and flexibility as she tries to narrow the achievement gap between the school's highest- and lowest-performing students.
But again, the district has a system for her to work within. She's allowed to try innovative approaches, mostly involving technology, but must narrow the gap — a goal the Clark County schools also have been pursuing under outgoing Superintendent Pat Skorkowsky — within three years.
Her plans include moving students to two days of block scheduling next year to devote more time to math and "really focus on the gaps," she said.
On to Clark County
Although Jara will be across the country by then, he promised to keep a close eye on Orlando and maintain a close relationship with Orange County Superintendent Barbara Jenkins, whom he called the greatest school superintendent in the country.
That comment came at his last School Board meeting in late May, where he was showered with praise from trustees. He also had the chance to lay out some of his hopes for Clark County.
"I hope to become sister school districts to replicate the work of the talented administrators and phenomenal teachers in Orange County," he said.
Time will tell if culture change can also be exported.
Contact Meghin Delaney at 702-383-0281 or mdelaney@reviewjournal.com. Follow @MeghinDelaney on Twitter.
Related
A Q&A with the new superintendent of Clark County schools