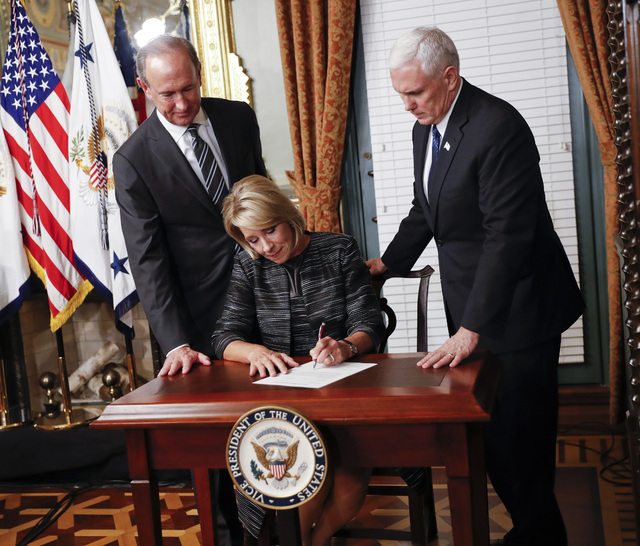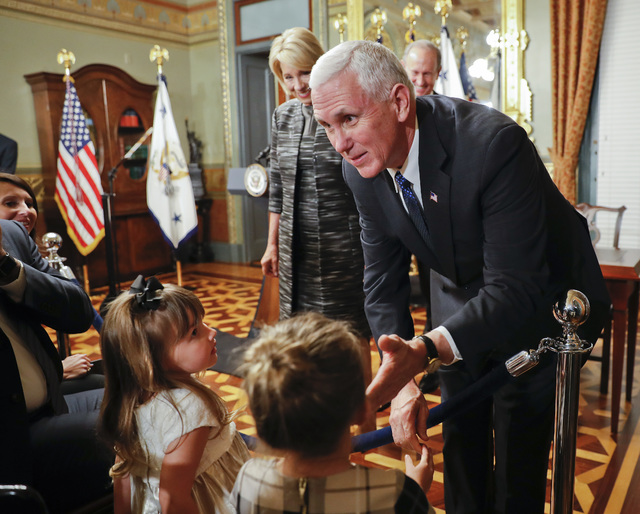 School choice advocate Betsy DeVos' narrow confirmation on Tuesday as U.S. Department of Education secretary drew mixed reactions from Nevada education leaders.
State Sen. Scott Hammond, R-Las Vegas, said it was difficult to speculate about what DeVos might do regarding school choice. Hammond sponsored Nevada's Education Savings Account bill in 2015.
"If I had to guess, I think it could mean federal dollars pouring into states to either encourage ESA programs or to beef up existing programs," he said.
Hammond and other Nevada Republicans expect a heated debate over establishing a new funding source for the program, which is similar to school vouchers. The Legislature will also consider a bill to repeal the Achievement School District, which converts underperforming schools into charters.
As the former chairwoman of the American Federation for Children, DeVos supported programs similar to those being debated in Nevada.
"It is obvious she wants Gov. (Brian) Sandoval and our local state legislators to do what's best for Nevada," said Coco Llenas, the former Nevada School Choice partnership director and the national director of Latino outreach for the American Federation for Children. "Sometimes it takes new eyes to see a problem from a new angle."
Vikki Courtney, president of the Clark County Education Association, said DeVos' confirmation was a political move that opens the door to privatizing education.
"She's not about what's good for most kids, and I think that's really the issue: how do we ensure that all kids get a great public education," Courtney said.
The president of the Nevada State Education Association said U.S. Sen. Dean Heller, R-Nevada, was sent thousands of messages to reject DeVos. Heller voted in favor of DeVos' confirmation, a 50-50 tie broken by Vice President Mike Pence's vote.
"Today's Senate confirmation marks the continuation of the resistance to fight efforts to dismantle public education," said Ruben Murillo Jr., whose association represents teachers statewide.
State Superintendent Steve Canavero declined to comment on DeVos' confirmation. Clark County School District Superintendent Pat Skorkowsky did not respond to a request for comment.
During confirmation hearings, DeVos was sharply criticized for her lack of knowledge of federal education programs. She also cited an incorrect graduation rate for Nevada Virtual Academy. In written answers to Senate Education Committee members, DeVos put it at 100 percent.
The graduation rate is 67 percent, according to the state Department of Education's latest information.
Contact Meghin Delaney at 702-383-0281 or mdelaney@reviewjournal.com. Follow @MeghinDelaney on Twitter.