North Las Vegas Neighborhood News
April 30, 2012 - 11:17 pm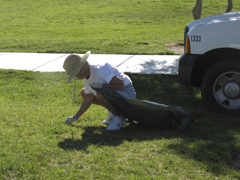 TRANSPORTATION COMMISSION NEEDS INPUT FROM RESIDENTS
The Regional Transportation Commission of Southern Nevada is continuing to hold community outreach events and public hearings until May 17 to discuss the transit fare adjustments proposed by the Fare Working Group to address fiscal challenges. A 60-day public comment period is in effect to obtain community input about the fare recommendations before any decisions are made.
The recommendations include modifications to transit fares for the residential market, resort corridor and ADA Paratransit service.
The public is encouraged to attend upcoming public outreach sessions to learn more about the fare proposals: 4 to 6 p.m. today at Albertsons, 4850 W. Craig Road; 5 to 7 p.m. Friday at Albertsons, 2575 S. Maryland Parkway; and 4:30 to 6:30 p.m. May 9 at the Centennial Hills Transit Center, 7313 Grand Montecito Parkway.
In addition, the transportation commission plans to host two public hearings on the proposals: 5 a.m. to 7 p.m. Wednesday at the Bonneville Transit Center, 101 E. Bonneville Ave.; and 3 to 5 p.m. May 12 at the Bonneville Transit Center.
The public may review the proposed fare adjustments at rtcsnv.com.
HOME BUYING HELP TO BE EXPLAINED AT RIVIERA EVENT
Residents are invited to attend the NeighborhoodLIFT program from 10 a.m. to 7 p.m. Friday and Saturday at the Riviera Royale Pavilion, 2901 Las Vegas Blvd. South, where they can apply for Wells Fargo-funded down payment assistance grants and home buyer support programs.
The city of Las Vegas has been selected by Wells Fargo to be the fourth city to host the NeighborhoodLIFT program. In Las Vegas, this will include a five-year goal of $1 billion in mortgage purchase loans by Wells Fargo and a $9 million investment the bank is making this year for down payment assistance grants and home buyer support programs that help consumers achieve successful, sustainable home ownership.
At the event, prospective home buyers can participate in affordable home tours of residential properties for sale in the city of Las Vegas and apply for down payment assistance grants of up to $15,000 administered by NeighborWorks America affiliate Neighborhood Housing Services of Southern Nevada through grants from the Wells Fargo Foundation.
Representatives from Neighborhood Housing Services of Southern Nevada and the city of Las Vegas will be on site to help with the processing of applications for grants and other services.
Admission and parking are free. For more information, visit neighborhoodlink.com.
To request an application and volunteer, call 796-3167, visit the Center for Compassionate Care, 4131 Swenson St., or visit nah.org.
COUNCILWOMAN SET TO HOLD COMMUNITY RESOURCE FAIR
North Las Vegas City Councilwoman Anita Wood is set to hold a community resource fair from 5 to 7 p.m. Thursday at the Silver Mesa Recreation Center, 4025 Allen Lane.
The free event is open to all ages. With a focus on Ward 3, the event will include an opportunity for residents to meet the councilwoman and learn about resources available to them throughout the community. The event will feature information booths on health, city services, public safety and Shots 4 Tots. Parents must bring their children's shot records to the event to take advantage of the free immunizations.
For more information, call Kathi Thomas-Gibson at 633-5632.
RED ROCK CANYON PHOTO CONTEST DEADLINE IS THIS WEEKEND
Entries for the 2012 Red Rock Canyon photo contest will be accepted from 9 a.m. to 3 p.m. Saturday and Sunday at the Red Rock Canyon National Conservation Area Visitor Center, 1000 Scenic Loop Drive. All entries need to be 8 inches by 10 inches or 8 inches by 12 inches and must be framed and matted, with mat size 11 inches by 14 inches. The entry fee is $10 per piece for adults and $5 per piece for teens 13 to 18. Payment will be accepted by cash, credit card or money order. Cash prizes include $100 for the first-place winner. For more information, visit friendsofredrockcanyon.org/photo.php.
REGULAR CITY COUNCIL MEETING PLANNED
The North Las Vegas City Council is set to meet at 6 p.m. Wednesday at City Hall, 2250 Las Vegas Blvd. North. For more information or for a copy of the agenda, visit cityofnorthlasvegas.com or call the city clerk at 633-1030.
CANNERY PARTNERS WITH OPERATION SHOWERS OF APPRECIATION
Members of the community are encouraged to drop off their new, unwrapped baby items to the valets of the Cannery, 2121 E. Craig Road, or the Eastside Cannery, 5255 Boulder Highway, through May 11 for Operation Showers of Appreciation, which is set to help military expecting mothers and their families receive the items needed when caring for their newborns.
Individuals or companies wishing to donate items or volunteer may contact Jody Shervanick, PR coordinator and Las Vegas shower organizer of Operation Showers of Appreciation Inc., at 862-6064 or email jodyshervanick@ hotmail.com.
STAMP OUT HUNGER FOOD DRIVE SET FOR MAY 12
The Help Stamp Out Hunger food drive is planned for May 12. To participate, leave a bag of nonperishable food items at your mailbox that day for your letter carrier.
Another option is to visit an Albertsons Sav-on Pharmacy between Wednesday and May 12 to purchase a pre-packaged bag of nonperishable food.
Shoppers can also donate $1, $5 or $10 at the register. A "stamp" will be hung in honor of each donation. Donation "stamps" supporting the food drive can also be found at any Goodwill of Southern Nevada retail store Wednesday through May 12.
Last year's effort raised nearly 200 tons of food that was distributed to more than 20 local food pantries to help those in our community who struggle with hunger.
For more information, visit sngoodwill.org or contact Glenn Norton at glenn@nalc2502.com.
FREE MORTGAGE SYMPOSIUMS PLANNED
The third of nine free symposiums planned to help homeowners with short sales, foreclosure or mortgage insecurity is planned for 6:30 p.m. May 22 at the Aliante Library, 2400 W. Deer Springs Way.
Real estate experts, loan adjusters, attorneys and credit professionals are slated to attend.
Participants need not have attended previous symposiums.
For more information, email smittygds@gmail.com or call 824-4514.
MOMS GROUP BENEFITS STAY-AT-HOME PARENTS IN NORTH LAS VEGAS
Stay-at-home moms looking for events with their peers and children are encouraged to learn more about the North Las Vegas chapter of MOMS Offering Moms Support, or MOMS Club.
The club is part of an international nonprofit organization founded to support, engage and enrich the lives of stay-at-home moms. Regular events include play groups, field trips, moms' nights out and community service projects.
For more information, visit northlasvegasmomsclub.com or email momsclubnlv@yahoo.com.
SHOES BEING COLLECTED FOR TORNADO VICTIMS
Desert Birkenstock and Soles4Souls are working to provide victims of tornado-ravaged areas with something many lost: shoes. Bring gently worn shoes to Birkenstock stores, and they will be delivered to the local Soles4Souls warehouse near McCarran International Airport.
There are two Desert Birkenstock/Soles4Souls drop-off locations: in northwest Las Vegas at 2192 N. Rainbow Blvd., and in Henderson at 594 N. Stephanie St.
For more information about donating, call Desert Birkenstock at 454-0114.
KIWANIS CLUB WELCOMES NEW MEMBERS
The Kiwanis Club of North Las Vegas, a chapter of the international service organization, is scheduled to meet at 6:15 p.m. each Tuesday at T.G.I. Friday's in Aliante Station, 7300 Aliante Parkway.
Club community projects have included canned food drives, car shows, kites in the park events and charity fundraisers.
The fourth meeting of the month is limited to members only.
For more information, visit nlvkiwanis.com or call 399-0332.
TEXT CAMPAIGN TO BENEFIT THE SHADE TREE
Text and support the victims of domestic violence assisted by the Shade Tree, 1 W. Owens Ave.
The "Text to Give" campaign launched Feb. 14. Donors can text "TST" to 501501 and donate $10. Donors who wish to gift a larger amount can text "TST" to 91011.
All of the donation goes directly to the Shade Tree, a nonprofit assisting victims of domestic violence.
Donors can make unlimited donations.
For more information, visit theshadetree.org or call 385-0072.
LOCAL ROTARY CLUB TO MEET
The North Las Vegas Rotary Club of Las Vegas meets at 7:15 a.m. Fridays at the Painted Desert Golf Club, 5555 Painted Mirage Road.
The weekly breakfast meetings include guest speakers, networking, education workshops and service projects.
For more information, visit nlvrc.org/newsite or call Bob Lillis at 340-9735.
INFORMATIONAL TEA MEETINGS OFFERED
Novice to seasoned tea drinkers are invited to book tea tastings with a local expert, Louise Carruth, of Tea-rrific, 570 W. Cheyenne Ave., Suite 180.
Carruth also hosts "tea talks" for groups of 10 or more. Fees vary.
For more information, visit tea-rrific.com/ or call 228-8327.
GRIEF CAMP COMING JULY 20-22 TO LOVELL CANYON
Camp Mariposa, a grief camp, is scheduled for July 20-22 at Camp Potosi in Lovell Canyon southwest of Red Rock Canyon.
The camp is accepting applications from children 7 to 12 who have lost a loved one.
It is partially funded through grants from Cox Communications and Speedway Children's Charities. There is no cost to families of accepted campers. A $25 refundable deposit is requested with the application in order to reserve a space. Reservations should be received by June 22.
CAMP REGISTRATION OPENED
Open registration for Clark County Parks and Recreation's summer overnight camps in July commenced March 1.
The price is $400 per child.
This fee includes all meals, snacks, activities, supplies and an official camp T-shirt. Omni Discovery Camp, for ages 8 to 12, is set to take place from July 22-27, and the On the Edge Camp, for ages 13 to 15, is set for July 15-20.
Both camps will take place at Camp Lee Canyon, about 30 minutes from North Las Vegas.
For more information, call 455-1905 or visit clarkcountynv.gov/parks.
4-H CAMP PLANNED AT LAKE TAHOE
The University of Nevada Cooperative Extension Southern Area's 4-H camp is planned for July 29-Aug. 4 at the Nevada State 4-H Camp at Lake Tahoe. Registration is open to campers 9 to 15 until the camp is full.
The cost is $350 and includes transportation, meals and activities. To sign up, contact Mary Regan at 257-5524 or reganm@unce.unr.edu.