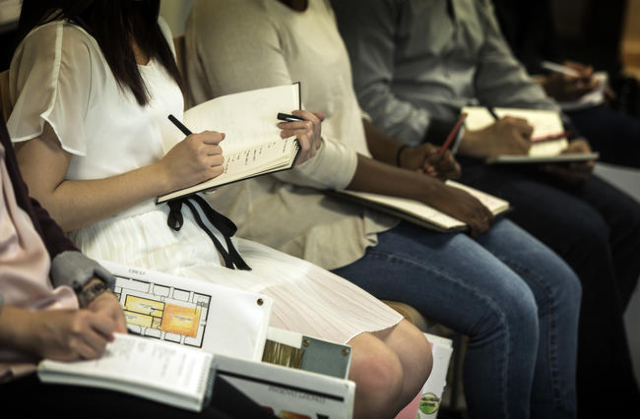 The state's higher education board on Friday pushed a series of proposals to merge services at Nevada's colleges and universities, putting the agency at odds with lawmakers who want to split the system instead.
The suggested changes — which were introduced Friday and remain under consideration by the Board of Regents of the Nevada System of Higher Education — include creating a registration platform and admission application shared by all eight institutions governed by the Nevada system, and waiving fees for students who wish to share transcripts with other institutions. The board will get more details about the proposals during its next regular meeting in March.
"I think there should be a single admissions NSHE process," Regent Allison Stephens said. "Let's really look at these students holistically all around. Just because you meet this metric or that metric doesn't mean you get to go to UNLV. Maybe you would be better at a community college."
The plan to align the schools contradicts the efforts of a group of Republican lawmakers who want to break up NSHE to better serve the state's 100,000 college students. With a session last year that yielded sweeping changes to Nevada's ailing public school system, higher education reform has emerged as a key priority among state leaders as they begin drafting policy proposals for the 2017 legislative session. Among the dizzying array of new legislation affecting Nevada's K-12 system is an ongoing plan to restructure the Clark County School District.
Regents faced resistance from NSHE Vice Chancellor Crystal Abba, who warned that the proposed changes could raise questions affecting state and federal policy, including student privacy laws.
"All of those types of policy issues would require a conversation," Abba said. "As beneficial as I think that a common registration platform would be for students, this is not something that can be built overnight."
Ten-year board member Jason Geddes said the board has previously carried out at least five similar discussions to consolidate the system, the most recent in January 2013.
Board members also had a free-flowing, self-evaluation discussion during Friday's eight-hour special meeting, ultimately deciding to begin a process to create a more formalized assessment.
During the self-evaluation, regents raised wide-ranging concerns that included media scrutiny and a perceived hesitance from the public to approach board members.
"I think this board has been very willing to accept criticism," Geddes said. "We have thick skins up here."
Contact Ana Ley at aley@reviewjournal.com or 702-224-5512. Find her on Twitter: @la__ley