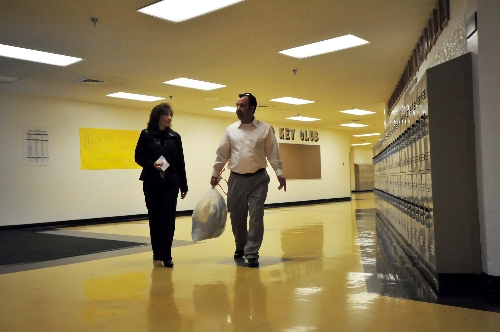 Patrick Spargur and Don Purdue are learning to run a nonprofit organization on the fly. Less than three months after starting Project 150 LV, they have helped feed and clothe hundreds of kids at nearly 20 high schools throughout the Las Vegas Valley.
They started Project 150 LV after reading a Las Vegas Review-Journal story about Rancho High School's registrar, Angela Urquiago, who advocates for the school's 150 homeless students.
Spargur linked to the story on his Facebook page for his friends to see. Purdue read it and went to the school at 1900 Searles Ave. to meet with Urquiago.
"I was just completely blown away," Purdue said. "I thought I was going to sit in her office and cry."
Purdue told Spargur about his visit and they agreed to do something about it.
"After Don met her, he went back to me and said, 'You don't have any idea how big this really is,' Spargur said. "I said, 'I'm in. Let's do it.' "
The two solicited help from their friends and co-workers on Facebook, and the project "took off like wildfire," Spargur said.
Days before Rancho students left school for the holiday break, Project 150 LV donated three trucks' worth of clothing and more than $10,000 in supplies and gift cards.
"Project 150 gets its name from the initial 150 students we targeted at Rancho," Spargur said. "When we realized it's bigger than that, we knew we've got to keep this going."
The Clark County School District estimates there are about 5,000 homeless students in high schools in the district. Project 150 LV reached about 500 students in its first three months, and Spargur said the organization wants to be able to help every kid in the valley to get through high school.
They met with the school district's Title I office and asked officials from several high schools to make them a list of what they need.
Spargur and Purdue have 20 volunteers, mostly old friends and co-workers, who help them raise money from local individuals, business owners and alumni associations.
They rely heavily on social media for donations and spend many of their lunch breaks taking items to schools.
"Some family at a school needed a refrigerator," Purdue said. "I put out a message on Facebook. An hour later, they had it."
They have found beds and couches for families that were locked out of their homes and lost everything because they could not afford to pay rent.
A Clark student had his bike stolen. Project 150 LV replaced it.
A Rancho student in the aviation academy could not afford flight lessons. Project 150 LV found a donor to cover them.
Sometimes, it is the simplest things that are needed most.
"One girl was holding her bra together with zip ties," Purdue said. "It was her only bra.
"The things kids really need is underwear, socks, T-shirts, bras."
Spargur and Purdue graduated from Clark in the early 1980s with a different experience than the kids they are trying to help.
"Growing up here, Don and I remember a very happy childhood," Spargur said. "High school was probably some of the best years of our lives. With the economic crisis, it tore this city apart.
"The conditions these kids are dealing with are just awful. We're just trying to help them get across the finish line."
For more information or to donate, visit project150lv.org. Donations also can be dropped off at any of the 12 Harmony Homes sales offices in the valley. For a complete list, visit harmonyhomes.com.
Contact View education reporter Jeff Mosier at jmosier@viewnews.com or 224-5524.
Project 150 LV
For more information about Project 150 LV, a nonprofit group that helps homeless students in the Clark County School District, or to donate, visit project150lv.org.
Donations also can be dropped off at any of the 12 Harmony Homes sales offices in the valley. For a complete list, visit harmonyhomes.com.