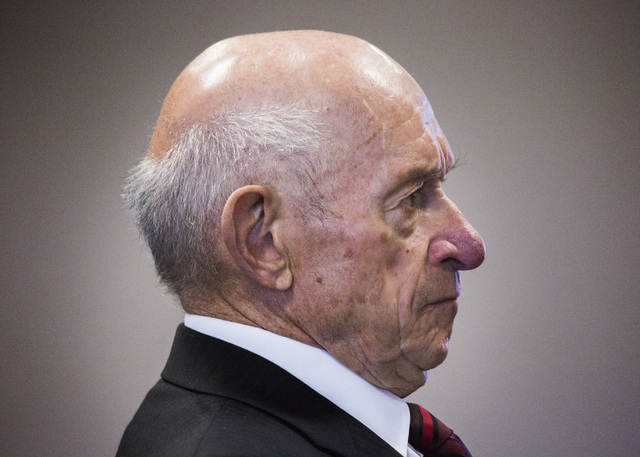 A preliminary plan to reorganize the Clark County School District would place that massive undertaking on an accelerated timeline, creating individual precincts at all 357 schools by August 2017.
Assembly Bill 394, which Republican Gov. Brian Sandoval signed into law last June, originally called for splitting the nation's fifth-largest school system into smaller local precincts in time for the 2018-19 academic year. But a consultant hired to craft the reorganization plan has justified the earlier deadline as a way to prevent opponents from railroading the effort.
"It must happen expeditiously," reads the preliminary plan authored by Michael Strembitsky, a longtime Canadian educator who led a similar effort in a district about a quarter of the size of Clark County.
"If a lengthier timeline were allowed, the reorganization would likely be delayed and resistance to the change would likely grow," the plan adds. "To carry out the changes proposed in this plan, there must be a willingness and urgency to carry out the change."
A draft of the plan appeared on the Nevada Legislature's website Wednesday morning, less than 24 hours before a legislative panel was scheduled to debate its merit Thursday.
Even Clark County school chief Pat Skorkowsky didn't seem familiar with the preliminary plan to overhaul his district from top-to-bottom.
"He hasn't had a chance to digest it yet," a district spokeswoman said in a text message later Wednesday. "He will study it closely tonight."
CANADIAN CONSULTANT
AB 394 sets a Jan. 1 deadline for state lawmakers to approve a final reorganization plan.
Supporters of the bill argue it will increase local control of schools, boost student achievement and cut costs. Critics worry a reorganization may deepen the achievement gaps and lack of resources that already exist for schools in poor and minority neighborhoods.
In April, a legislative committee charged with reorganizing the district, which serves 320,000 students, granted its tentative approval to a so-called "empowerment" model that would strip power from central administration and offer principals more autonomy over their budget, curriculum and staffing decisions.
In exchange, schools would be held to higher levels of accountability.
Empowerment schools are nothing new to Nevada: A decade ago, the district piloted a version of the program at four elementary schools and, with support from the Nevada Legislature, eventually expanded it to 30 campuses. Implementation of the model, however, quietly ended after lawmakers withdrew funding, and private grants dried up.
Strembitsky, the former superintendent of Edmonton Public Schools in Canada, created that model and has a $150,000 contract with the state to develop an empowerment plan for the district.
"The plan envisions turning the present administrative structure upside down or, more accurately, right-side up, with schools becoming front and center and at the heart of the school district's operations," Strembitsky writes.
DISTRICTWIDE TRAINING
His proposal includes a sprawling list of changes to public education in Southern Nevada. For example, the very name of the district would become Clark County Schools, effective August 2017.
Individual schools and central administrators would work together to prepare new budgets before March 1. And in September, Superintendent Skorkowsky, his assistant chiefs and other central staff would receive training for district-wide implementation of the plan.
While principals would be trained next February, the draft plan offers vague details about training for the approximately 40,000 other employees who work for the district.
"Principals are responsible for communicating and arriving at a common understanding of the autonomous school model within their school communities," Strembitsky writes.
He also recommended an "outreach program" to inform parents of the overhaul of their children's schools.
SCHOOL BUDGETS
At the heart of Strembitsky's plan, he describes the "Herculean task" to redirect tax dollars to follow students to each campus. The district currently prepares budgets for each campus based on enrollment and rigid staffing formulas.
An alternative funding formula would offer extra money to schools based on the needs of their student populations.
"The (weighted formula) eliminates the thresholds that are inherent in a system in which the number of pupils determines whether a school becomes entitled to a counselor or another administrator," the plan reads.
With money flowing away from central administration, the district itself would become a "fee-for-service" agency that offers and charges individual schools for payroll management or other services that may be too costly for principals to provide on their own.
That model, Strembitsky argues, will allow each school to respond more rapidly and effectively to the unique challenges at each campus.
"Operating in this manner makes it easier to identify problems and provide direct solutions," he writes. "The current structure instead often requires schools to go through various district offices before problems can be resolved."
PARENTS AND PRINCIPALS
Strembitsky also proposes the creation of at least 15 school associate superintendents. Each would supervise no more than 25 campuses and report on their performance with the superintendent.
Parents would have the ability to appeal school-based decisions to the associate superintendents, and they could register their satisfaction with their school's performance on annual surveys, according to the plan.
Principals also must "reach out and embrace" the contribution from parents and wider community, the plan suggests.
As for principal selection, Strembitsky does not specifically outline who would have that power.
"The person in the district who should make the appointment is the person who is responsible for removing the principal if the principal has unsatisfactory performance," he writes.
A legislative committee charged with approving the final reorganization plan meets 9 a.m. on Thursday at 555 E. Washington Avenue. A separate committee that advises the main panel meets 2 p.m. on Friday at the same location.
Contact Neal Morton at nmorton@reviewjournal.com or 702-383-0279. Find him on Twitter: @nealtmorton
RELATED
Clark County leaders draft wish list for school district breakup
State lawmakers to revisit empowerment model for CCSD school reform
Tension, politics and personality mark planning for CCSD breakup