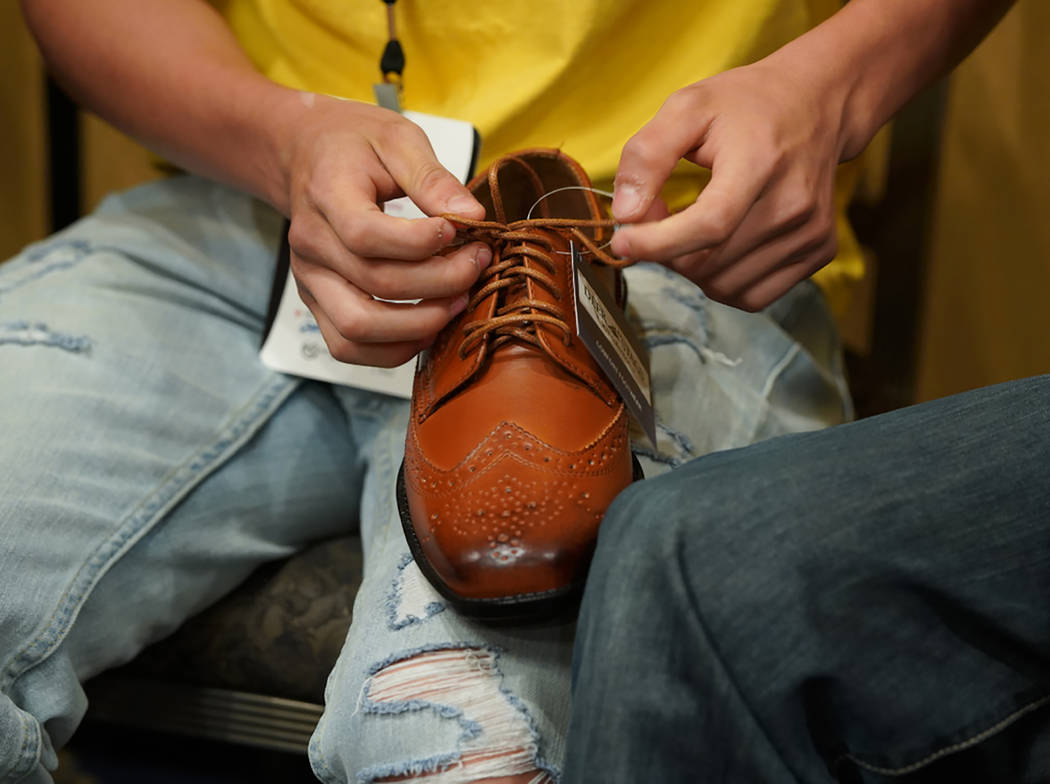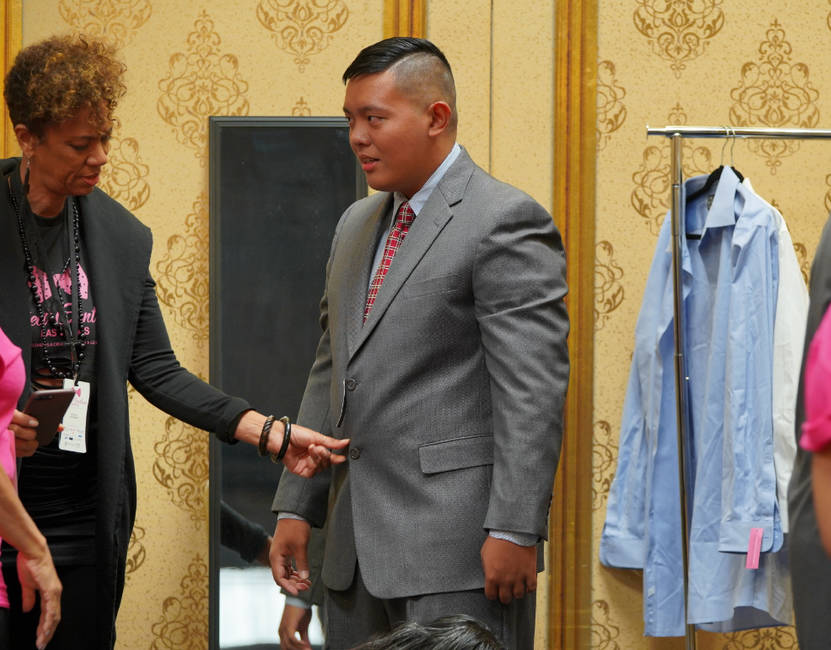 Gerald Griffin had no desire to go to prom last year. "But I signed up for this, and there was a free suit," he said. "So I told myself, 'I'm going to prom in a suit.' "
He was surprised about the difference it made — walking around in a suit.
"You step outside your house in a suit, and all of a sudden your neighbor looks at you different," Griffin said. "I don't have a lot of occasions to wear suits unless it's an interview, but (people) definitely notice something different. It definitely changes their point of view."
Griffin was one of more than 30 young men who attended last week's Project Gentlemen event at Westgate. He also attended the inaugural Project Gentlemen event last year at at the M Resort.
"There are a ton of guys and women showing you what it is to be a gentleman," Griffin said. "The fact that they're showing you the necessities: how to tie a tie, hygiene, how to hold yourself — it's really cool because my mother has never been a full stickler for posture or anything really strict. I don't care where you go, you can carry this anywhere."
A division of I Am Gentlemen Inc., based in Chicago, founded by Jermaine Anderson, Project Gentlemen was created when he and executive board member Robin Price noticed male graduates in Chicago were wearing basketball shorts and T-shirts under their graduation robes.
"We thought about the fact that there are always programs for young women, but there were no programs for young men," Price said. "When I came here, it had been so successful in Chicago that I knew it was needed everywhere. We believe every young man should have a suit. We want these young gentlemen to know they matter — that they are important, that they are the future, that we're here for them."
Price, also a team coordinator at Westgate, discussed the event with colleagues, who offered to host this year's event at the hotel.
"She came to us six months ago and told us about the event in Chicago," said Cami Christensen, assistant general manager at the hotel. "Right away, the more she told us about it, I knew we wanted to get involved."
Shoes for the event were donated by Zappos. All shirts and suits came from private donors, including David Siegel, Westgate's owner.
"He told me several years ago that when Hurricane Katrina had gone through, there was a warehouse of suits left behind," Christensen said. "He bought that building and I was wondering if he still had access to those suits. I called him and explained what we were doing and he said we could have anything we wanted out of the warehouse. The store manager told us we could have them all, about 300 or 400, but we stuck with 100. They were brand new suits."
The daylong event included a how-to-tie-a-tie session, a suit-fitting for the students by personal shoppers, and speakers including Christensen, Geno Iafrate, Westgate's president and general manager, and Nevada Health Centers dental director Tyree Davis.
"It's the start of manhood," said Dhane Stagger, an 18-year-old aspiring actor and student at the event. "Every man has to have a suit in his closet. This event helps you in becoming mature, helps you focus more, helps you understand the way life actually is."
Price says the program is essential and hopes to continue it.
"When they leave, shoulders are back, hair is cut — they have a whole new perspective about themselves," Price said. "Now that they have a suit, they can go to interviews, they can get a job, they can go to church, they can have that confidence."
Contact Mia Sims at msims@reviewjournal.com or 702-383-0298. Follow @miasims___ on Twitter.