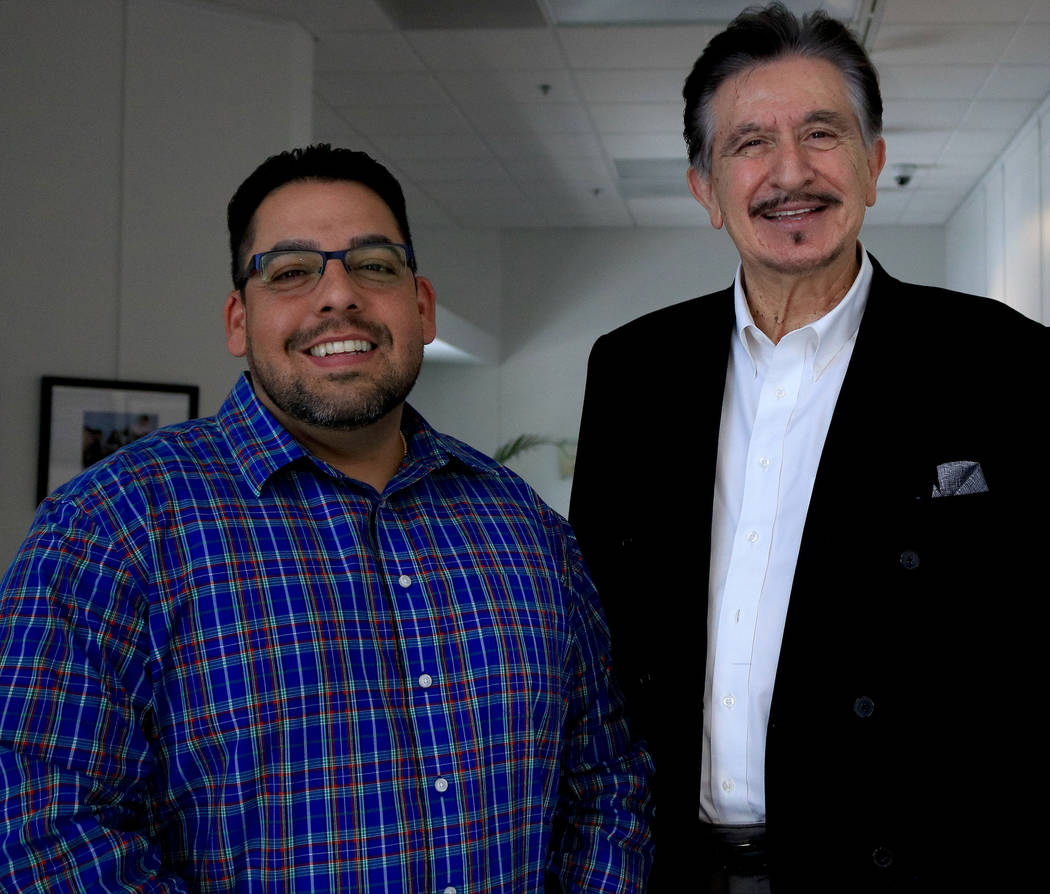 White students are a minority in the Clark County School District, but you'd never know that by looking at the School Board.
While Hispanic or Latino students account for 46 percent of the district's enrollment — compared with 25 percent for white students — six of the seven officials elected to represent these children are white. The lone exception, Linda Young, is African-American.
Lack of school board diversity is not a unique problem to Clark County. It's an issue that speaks to broader challenges like voter turnout and community engagement, experts and former education officials say.
But with outgoing Trustee Erin Cranor leaving in August, some in the education community are urging the board to appoint a Hispanic member to represent the eastern Las Vegas Valley, where 57.5 percent of students are Hispanic or Latino.
It's a worthwhile goal, but not one that's easily met, said Yvette Williams, chairwoman of the Clark County Black Caucus.
"We always want to promote diversity, and the board could certainly use more diversity," she said. "It's hard though finding good, qualified candidates from the diverse community to participate in the process."
Diverse history
The School Board has been more diverse at times.
Jose Solorio realized the importance of having a voice for the Hispanic community when he was appointed to the board in 1992 — the first Hispanic to hold the position. At the time, Hispanic or Latino students hovered just below 15 percent of total enrollment.
Two years later, Larry Mason became the first Hispanic elected to the board.
As the Hispanic and Latino population soared to become the majority demographic in the district, other Hispanic members served on the board. Yet aside from Mason, all of them have been appointed — Rene Cantu in 2012, and Stavan Corbett in 2013.
Several of the former board members say their ethnicity and experiences helped them better understand the challenges faced by Hispanic students and speak on their behalf with fellow board members.
But Cantu also argues that Hispanic voters need to make diverse representation a priority.
"We need to have diversity on the board," said Cantu. "But gosh darn it, we're going to have to work and get somebody in there. If we don't get out and vote, we reap the consequences of what we sow or fail to sow."
At least four candidates of color have run for the office in the past five years. Except for Young, none has won.
In 2014, Corbett, representing the district with the largest Hispanic and Latino student population, lost to Kevin Child. Teacher Ileetha Groom, who is black, didn't make it past the primary for the District F seat held by Carolyn Edwards.
Groom doesn't blame her race for the loss, saying lack of awareness was a bigger obstacle.
"I don't think that people voted for Carolyn over me because I was black and she was white, because I don't think anybody knew I was black," she said. "I don't think I ever got an opportunity to make myself known."
Abysmal voter turnout
Some experts say low voter turnout in black and Hispanic communities nationally is often an important factor in the lack of school board diversity. But so is voter indifference when it comes to down-ballot races.
In Clark County, for instance, turnout in the general election in 2012 ranged from 82 percent to 85 percent, but the percentage who cast ballots in the three School Board races was only 62 percent to 63 percent.
The problem becomes more acute in off-year elections.
Only 30.5 percent of voters in District D turned out for the 2014 general election, for example, and only about 23 percent voted in the school board race.
Mason, the first elected Hispanic trustee, said he believes diverse candidates often aren't as aggressive and politically savvy as their competitors.
"If you want it, you've got to go get it," he said. "You've got to put your name out there, you've got to be seen, you've got to let people know you're really interested."
One would-be replacement for Cranor seems to have learned that lesson: Lillian Babcock, an 11-year Nevada resident and Mexican-American, announced this week she is interested in being appointed to finish Cranor's term, which ends December 2018.
Finding the best candidate
Linda Young says she listens carefully to the voice of her community, which has the biggest share of the district's 13.8 percent African-American students and encompasses North Las Vegas and the Historic Westside.
When the controversial Achievement School District tried to convert schools into charters, she fiercely defended the underperforming schools in her district and berated the initiative for particularly attacking communities of color.
She insists, however, that she fights for all students.
"The difference you see in my community is I mostly have a lot of black students and Latino students, more than maybe the other areas," she said. "My fight is usually against a lot of the inequities that are perpetuating against many of these students."
But she and other current members of the board stress that pursuit of diversity can't trump the need to appoint the most-qualified candidates.
"My first responsibility would be to say no matter what the culture or the background of the person, that they can be someone that is committed to public education and committed to the education of all students," Young said.
Trustee Lola Brooks, whose son attends a predominantly Hispanic school, also said the color of her skin doesn't prevent her from advocating for the diverse student population in her district.
"I don't think it's difficult for me to represent students that I've actually seen grow up since they were in kindergarten," she said.
Contact Amelia Pak-Harvey at apak-harvey@reviewjournal.com or 702-383-4630. Follow @AmeliaPakHarvey on Twitter.
Previous minority School Board members
— Bernice Moten, 1973-1976
— James Gay, 1976
— Virginia Brooks Brewster, 1977-1984
— Yvonne Atkinson Gates, 1985-1992
— John Rhodes, 1992
— Jose Solorio, 1993-1994
— James McMillan, 1992-1996
— Shirley Barber, 1996-2008
— Larry Mason, 1993-2010
— Rene Cantu, 2012
— Stavan Corbett, 2013-2014
— Linda Young, 2008-2020