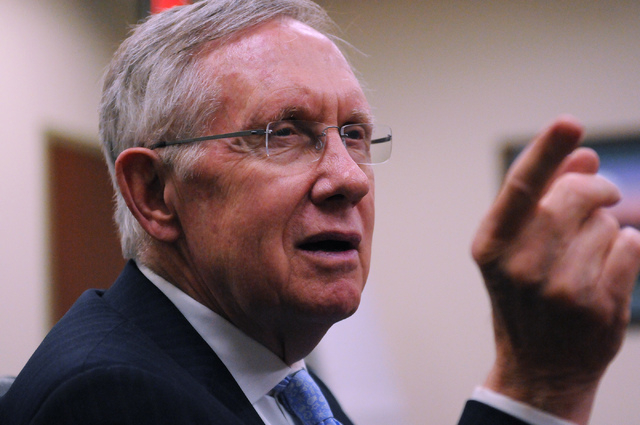 U.S. Sen. Harry Reid on Friday met with student leaders at the University of Nevada, Las Vegas to promote a Senate bill that aims to reduce the $1.2 trillion debt burden graduates face across the country.
Some 40 million students have taken out loans to pay for university, college or other post-high school education, according to Reid, as tuition has increased 300 percent over the past decade.
"There's more student debt than there is credit card debt and that should give us all pause," Reid said at a news conference after meeting privately with about 10 student leaders at UNLV.
He said that a week from Wednesday the Senate will vote on a bill that would allow students to refinance their loans during a two-year period to current rates: 3.86 percent for undergraduates and 5.41 percent for graduate students. More than 250,000 Nevada graduates would be eligible to refinance, saving an average of $4,500 in interest.
Reid said when he attended college he was able to work his way through school and, with the help of his wife who also got jobs, pay for his own education. Now, jobs are too hard to find and higher education is too expensive, he said.
"I put myself through college, (but) you cannot do that anymore," Reid said.
Reid noted that growing student loan debt is bad for the economy, too, since graduates put off getting married, purchasing houses and spending money on other things because they must pay off loans first.
Nationwide, the average outstanding individual loan balance is $29,000.
At UNLV, the average debt burden of the 2012 graduating class was $21,126 per student, the university said, providing the latest statistics available. Some 40 percent of the 2012 graduating class had taken out student loans. With a class of about 3,000 students, the total debt burden for the class of 2012 would be about $63 million.
Many borrowers are locked into high interest rates — 7 percent or higher — according to Reid's office, and are struggling to keep up as one in seven borrowers default on federal student loans within three years of beginning repayment. As of September, 40 percent of student loans were in default, forbearance, or deferment, Reid's office said.
Although the student leaders said debt was a problem, they said the more urgent issue is a proposed 17 percent tuition hike over four years that they're facing, which in the end could boost student debt as well.
The Nevada Board of Regents plans to consider the proposed tuition hike at its June 5-6 meeting in Reno, the students said.
Tianna Winters, the editor of UNLV's Rebel Yell student newspaper, and a reporter for the publication, Alexia Shurmur, both asked Reid about the tuition hike and whether he thought it was fair to place more burden on students instead of having the state increase education funding.
Reid agreed with the students, saying that both Democratic and Republican governors of Nevada and the Legislature had "let down the students of the state by not adequately funding education."
Asked by the Rebel Yell whether he is opposed to the proposed tuition hike, Reid said, "I would hope we would not have a 17 percent tuition increase."
After the meeting, Winters said she sees a linkage between the tuition issue and growing student debt.
"That's going to affect students now," she said of the proposed tuition hike. "It goes hand in hand" with student debt.
Elias Benjelloun, UNLV's student body president, was in the meeting with Reid and said the students brought up the tuition problem. He said student government had come out against any tuition hike.
"Both are big problems," Benjelloun said of debt and tuition increases. "But I think for student government, right now for us we're focused on tuition. … We'll have a united front opposing the hike."
Now, the tuition at UNLV for the fall of 2014 is $191.50 per credit, not counting the cost of books, special course fees or housing.
Undergraduates taking 15 credits would pay $3,270 per semester or $6,540 a year if they are in-state residents. For out-of-state residents, the tuition would be $10,225.05 per semester or $20,450.10 per year, according to UNLV.
Contact Laura Myers at lmyers@reviewjournal.com or 702-387-2919. Find her on Twitter: @lmyerslvrj.