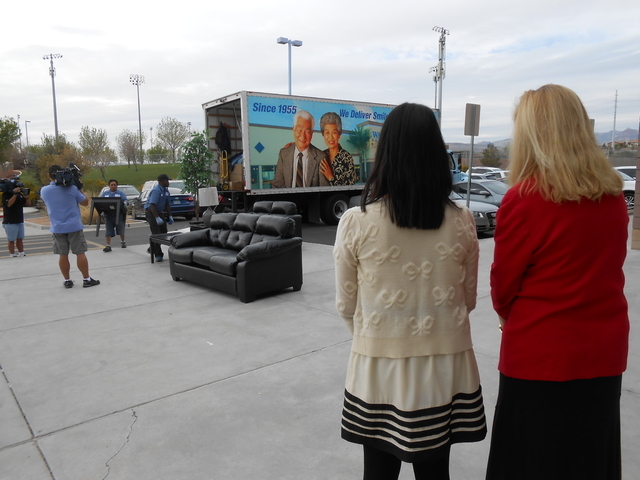 Most Las Vegans are aware that Walker Furniture gives away furniture to families in need around Christmastime. But it also has a similar program for schools: the Valentine Teacher Appreciation Day contest.
The winner is chosen based on a letter written by a student, describing his favorite teacher. This year, for the 15th annual contest, Rogich Middle School, 235 Pavilion Center Drive, was the recipient. The furniture company brought in a dark brown sofa, a loveseat of manufactured leather, tables, a bookcase, wall art and a lamp to brighten up the teachers' lounge.
"We haven't had new furniture in there since the school opened," said Lori Figgins, history teacher. A wall plaque showed that the Clark County School District opened Rogich in 1999.
Linda Alterwitz, director of community projects for Walker Furniture, who organizes the Teacher Appreciation Day program, said, "This annual competition is rewarding and gratifying for everyone involved. … The letters we receive are very heartfelt and touching. They remind us of how many wonderful teachers are out there."
The donation would never have occurred had sixth-grader Esther Hong not written the company about Figgins. In her letter, Esther told how Figgins keeps her students engaged by enhancing textbook terminology with practical examples. She said that Figgins relates her own stories, "which is important because we can get emotional appeal. … she taught us the true knowledge that will help our future."
Esther added that when she was in fifth grade, her history grade ranged between a C and a B. She credited Figgins with helping her raise it to an A. Figgins had praise for her, as well.
"Esther is just a joy to have as a student," Figgins said. "She listens; she participates. She just seems to soak in everything we're talking about. (Her straight A's) are from hard work. English is not her first language, so her communication skills affected her a little bit at first. … she goes over and beyond anything I ask her to do."
The furniture truck pulled up to the front of the school March 11, and two workers began unloading everything. They then carried the pieces across the courtyard and to the teachers' lounge, located just off the cafeteria. Esther and Figgins watched, both wearing smiles.
Patti Gerace, marketing director for Walker Furniture, has helped deliver furniture to schools each year.
"When we're done," she said, "the teachers come in and say, 'Wow, this is amazing. We've never had anything so nice.' It's a place for them to relax when they get a little break in the middle of their crazy, hectic day."
When the height of the triptych wall panels didn't match, it was decided to see how they'd look with intentionally different placements.
"I like the staggered look, actually," said Alterwitz, standing back to assess the effect.
Alterwitz has been creating display vignettes on the store's floors for 20 years and directed where everything went, creating a cozy feel. She said the school district did not have the luxury of doing anything beyond providing the basics.
"They put in what's functional, what the teachers need," Alterwitz said. "We're giving them that extra, the comfort, the feeling that, yeah, you're in the teachers' lounge, but this little corner is a place to relax, sit down, pick up a book and get comfortable."
Esther received $100 in cash, and her class was treated to a pizza party. Figgins received a Walker Furniture gift certificate worth $150.
"It's nice to know you're appreciated," Figgins said.
To reach Summerlin Area View reporter Jan Hogan, email jhogan@viewnews.com or call 702-387-2949.