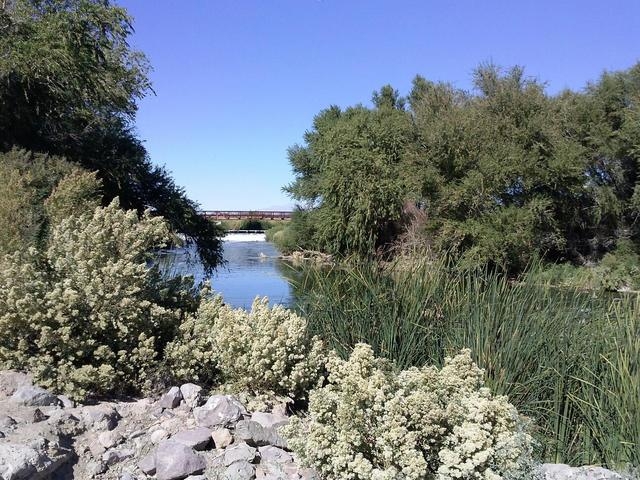 How much would you pay for the secrets behind The Mirage's volcano eruption or an insider's look at Siegfried & Roy's Secret Garden & Dolphin Habitat? How much is a tour behind the scenes at the Adventuredome, Bellagio's fountain show or the Shark Reef worth? These and many other venues in town are set to invite the curious in free as part of the Las Vegas Science & Technology Festival, set for April 24 through May 2.
Festival co-founder Marilyn Gillespie, executive director of the Las Vegas Natural History Museum, said the genesis of the festival began when a board member who works with museums around the country noticed science festivals popping up in other places.
"We decided for a change to put Las Vegas ahead of the curve instead of behind the curve," Gillespie said. "So, we started the science festival. It has just been a huge success, and we are very pleased at how the community has received it."
Now in its fifth year, the festival is packed with more than 40 programs, with highlights set to include the College of Southern Nevada Science & Technology Expo, slated from 9 a.m. to 1 p.m. April 24 at CSN's Cheyenne campus, 3200 E. Cheyenne Ave.
"It's very cool," Gillespie said. "The kids (primarily bused in from middle and high schools) can run all over campus, go into the classes, talk to the professors and talk to them about their different fields. It's a really interesting day for these kids."
The Cheyenne campus is also set to host a science and technology film event, with screenings planned at 10:30 a.m. and 2 p.m. in the Telecom Auditorium.
Festival director Kate Yoshida said she's partial to Science is Everywhere Day, which is set for April 26.
"It's so amazing that our community pitches in and opens up these places that we're not normally allowed to see," she said. "All these places do it out of the goodness of their hearts. And we get to see the science and technology we don't even think about most of the time."
In addition to tours at The Mirage, Bellagio and Mandalay Bay, participants may have a chance to see organs in the Nevada Donor Network's Organ Perfusion Lab; learn about sign science at the Neon Museum; learn about the fish in the Silverton aquarium; go on a twilight guided walk at Clark County Wetlands Park; see the inner workings of the LED display at the Fremont Street Experience; tour the Every Age is the Information Age exhibit at the Nevada State Museum; peek inside the Level 1 Trauma Center at University Medical Center; find out how they make waves and clean the water at Wet'n'Wild; or tour the press room at the Las Vegas Review-Journal to see where the newspaper is printed.
Space for all programs is limited. Reservations for many are necessary, and some have age- or activity-level restrictions.
Science is Everywhere Day visitors can also check out open houses with all-day activities planned from noon to 5 p.m. at the National Atomic Testing Museum, 755 E. Flamingo Road; from 11 a.m. to 4 p.m. in the gardens at the Springs Preserve, 333 S. Valley View Blvd.; from 3 to 6 p.m. in the immersion dome at the Downtown Container Park, 707 Fremont St.; from 1 to 4 p.m. at the West Flamingo Animal Hospital, 5445 W. Flamingo Road; and from 11 a.m. to 4 p.m. at Las Vegas Hackerspace, 117 N. Fourth St.
The Las Vegas Natural History Museum, 900 Las Vegas Blvd. North, plans Ologist Day from 1 to 4 p.m., with scientists on hand to talk about careers.
The Las Vegas-Clark County Library District plans to get into the mix with a session on disc jockey science, binary computer coding and a tour of the system's high-tech radio frequency sorting system. Youth Services coordinator Mary Nelson said the library system is always actively involved in STEM (Science, Technology, Engineering and Math) programming, but it steps it up to participate in the festival.
"We do STEM programming because it supports our early literacy goals and school success initiatives and hands-on activities that engage kids and help them in all areas of learning," Nelson said in an email.
Everyone is encouraged to "geek out" April 27 through May 1, with scientists visiting schools and science in the community events planned, such as a science in magic show featuring sleight-of-hand artist Apollo Robbins and UNLV researcher David Copeland at 6:30 p.m. April 30 at Cashman Center, 850 Las Vegas Blvd. North., and science-friendly First Friday downtown arts festival activities from 5 to 9 p.m. May 1.
The festival culminates with the Giant Science & Technology Expo from 10 a.m. to 6 p.m. May 2 at Cashman Center, with hundreds of science booths, activities and demonstrations planned.
"I think the expo is a lot of people's favorite," Yoshida said. "It's an entire day of learning."
While many of the activities are geared toward kids and families, Yoshida said, this year more than ever, it's clear the programs are for everyone.
"We have some programs geared toward adults," she said. "You know the Booze District tours (on Science is Everywhere Day) in Henderson will be popular for adults, and the Story Collider (at 7 p.m. April 28 at Inspire Theatre, 501 Fremont St.) is geared toward adults. It's an on-stage event and a podcast where people will be sharing true personal stories about how science has impacted their life in some way."
For a complete schedule of events, visit lasvegassciencefestival.com.
Contact contributing reporter Ginger Meurer at gmeurer@viewnews.com or follow her on Twitter: @gingermmm.