Scores of North Las Vegas residents seek to retain services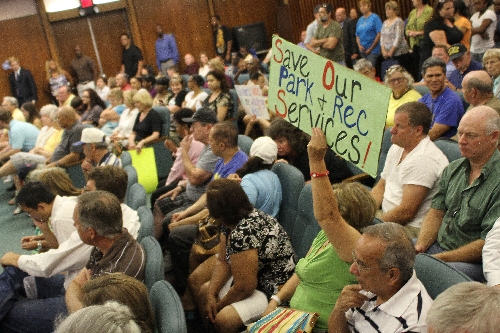 North Las Vegas residents, many of them senior citizens, again turned out in force Wednesday to protest the potential closing of neighborhood recreation centers as a way to save money in the cash-strapped city.
"I was quite lonely until I found out about the senior programs here," Connie Cabasag, 77, told the City Council. "I never thought I'd be lonely. I'm a widow, and I need friends. Please consider our situation, because you will get old too."
It was the second council meeting in a row to draw scores of residents worried about the city's plans to plug a $4.9 million hole in its fiscal 2012 budget.
The shortfall has decreased from $6.1 million in recent weeks in part because of job vacancies and cuts to supplies.
The city, which has undergone several rounds of budget cuts and layoffs in recent years, has little left to cut. City staff last month recommended a plan that includes laying off dozens of employees, likely leading to the closure of city recreation centers and pools.
The proposal drew hundreds of residents, including children in their karate uniforms, to both meetings.
John Gilbert, 83, clutched a handmade sign that read "Seniors Matter" as he addressed the council Wednesday.
"I go to these centers a lot and meet friends," he said. "I'd appreciate you keeping them open."
The council again decided to postpone a decision on the cuts in hopes the city can come to an agreement on contract concessions with its police unions to bridge much of the gap.
"We are still working with our unions," Mayor Shari Buck said. "Our goal is to find a way to keep these rec centers open. We are working as hard as we can … to find solutions to these problems."
North Las Vegas' original budget, approved in May, had cuts to cover a $30.3 million shortfall. The cuts included more than 250 positions across city departments, among them those of police officers and firefighters, unless concessions could be reached with employee unions.
That budget was thrown into disarray when police won a court decision that prohibited the city from proceeding with layoffs of its union members.
A judge also barred the city from laying off firefighter union members. The firefighters union since has come to a concessions agreement with the city to save jobs. The police union and the city have been unable to reach agreement.
Meanwhile, North Las Vegas has to look elsewhere for the money it would have saved with the public safety cuts.
Residents said the city should not target recreation centers.
"A lot of people don't drive, and they just need a place to go," Maxine Delisle said.
Rec centers are "good for the kids, safe for the kids, and that's what the kids need today," George Armfield said.
Some residents at both meetings criticized the police unions for not offering up more concessions sooner.
"In difficult times, everyone needs to take concessions," one woman said Wednesday. "Our children are at risk. Our seniors are at risk."
Police union officials have criticized the city for foolish spending and failing to support public safety the way it should.
Police officers in the city average $92,400 a year in salary, plus $50,300 a year in benefits. Police supervisors up to the rank of chief average $147,700 a year in salary, plus $72,600 in benefits.
"We have salaries that are out of control and unsustainable," North Las Vegas resident Scott Sauer said Wednesday.
Others have long complained that some city employees aren't concerned about potential cuts to services because they don't live in the city.
About 25 percent of the city's police officers live there, North Las Vegas officials say. Fewer than 10 percent of the firefighters live in the city.
The city employs about 1,300 people, including about 850 public safety workers.
The City Council in March approved residency requirements for new executive-level staff members, saying such a policy would foster more ownership in the community among employees.
Councilwoman Anita Wood said at the time that some employees had suggested not opening city parks as a way to save money, "knowing it's because their kids don't live in North Las Vegas. If their kids did, they would know what a sacrifice that is."
Contact reporter Lynnette Curtis at lcurtis@
reviewjournal.com or 702-383-0285.